Arizona Trail Food Resupply
My Arizona Trail food resupply planning combined both cooking and cold foods. On my last long distance hike I had cold soaked, and had quickly grown tired of my food choices.
On my last two section hikes I cooked my dinners, and even some limited breakfasts. Cooking on these two short hikes highlighted how much I enjoyed a hot meal at the end of the day. I love food, and would literally sprint to camp in anticipation of a cooked meal!
In order to support a cooking strategy, I mailed resupply boxes and resupplied in towns. This allowed me to have a variety of foods, and more nutritious foods.
Cooking vs Cold Soaking
Cooking vs Cold Soaking is a debate that comes up often among long distance hikers. On some of my past longer hikes, I used a cold soaking approach because of the simplicity. I wanted to hike bigger miles and did not want to worry about the hassle of cooking. I maybe saved about 10-15 minutes by cold soaking my dinners.
Weight was also a contributor I used to justify cold soaking, but I'm not sure I saved that much weight. The tuna packs were heavier than the dehydrated proteins in my dehydrated meals (I don't eat Tuna unless cold soaking), and the water needed to cold soak while I hiked, which added some weight. I've decided I would rather carry the few extra ounces associated with the stove, pot and fuel.
So, for my Arizona Trail Resupply strategy, I planned for cooking and town purchases. In the case of this trail, fuel was a little bit of a hassle. I ended up carrying the larger MSR Canisters for my Pocket Rocket Stove.
Related Articles: Backpacking Cooking Kit Review; Arizona Trail Planning
Arizona Trail Resupply Strategy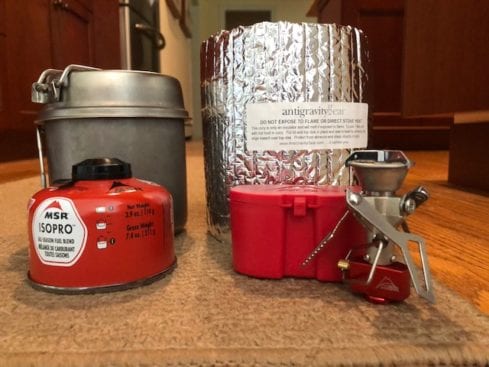 Supplying myself was the first consideration. Ultimately, I decided to use the 8 oz. MSR Canister, and my cook kit consisted of the following:
Stuff Sack
Stove
Pot
Spork
Two small bic lighters (one as back-up)
Fuel
I nested the fuel inside the pot, and put everything else in the bottom of the stuff sack. I made sure I kept the pot and canister dry, or the canister would get rust on the bottom of the pot. I also stored some of my other items in the cook kit stuff sack, like a bandana and my water filter, just to keep the kit from rattling around in my pack.
The download for my original resupply strategy is below.
Arizona Trail Food Resupply and Fuel Strategy
Arriving in town the day before I hike is something I've always done. I like to check out the town, and make sure I have everything I need. In this case, I arrived early enough to go to REI and get two 8 oz fuel canisters. I planned to only cook dinners, and this mainly consisted of just re-hydrating the meals.
The first MSR canister was for my leg up to Kearny, AZ. I rented a small car and took a box of supplies and my second canister up to the General Kearny Inn (Post here), and my plan was to purchase my third and last canister in Flagstaff, AZ.
Related Article: AZT Day 1 – Superb Weather!
Arizona Trail Food Resupply Strategy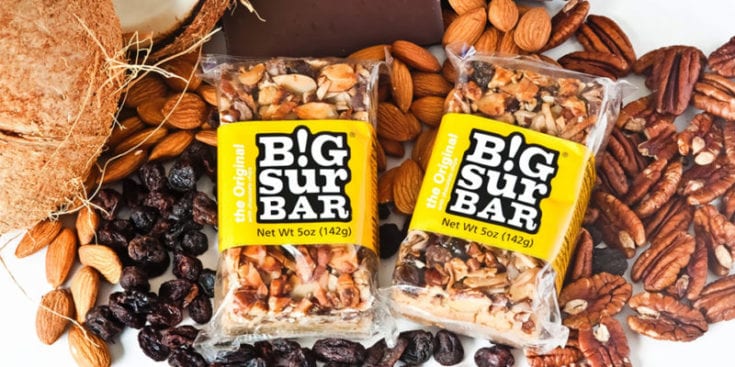 My food resupply strategy was pretty straight forward. Breakfasts consisted of only one "experimental" cooked breakfast, which I ended up not trying this time. Breakfasts also included cold cereals, pop-tarts, and Big Sur Bars (favorites!). Lunch was mostly tortillas that I found homemade in Patagonia (they were SO good), and Dinners consisted of a variety of dehydrated and freeze dried meals.
Arizona Trail Resupply Plan Meals & Food Selections
Below are a few of the foods I took with me.
Breakfast
Nido

– Whole Powdered Milk that I add to the ziploc with the cereal. It is ready to just have water added and be eaten in the morning.

Arrowhead Mills Cereal

– I add walnuts (high oil content), Nido, and freeze dried fruit. It tastes good and sticks with me a while.

Annie's Organic pastries

– I like these better than regular Pop-tarts. They have less sugar.
Big Sur Bars – I freeze these, and then have someone at home put them in a Ziploc bag and add them to the resupply box right before they ship.
Lunch
Tortillas

– I'll try and find whole grain or whole wheat tortillas in whatever small town I pass through. They are not hard to find in Arizona.

Instant Hummus

– I'll add this to tortillas, or eat it with crackers. I also like to add my Blue Agave Sriracha to it when I mix it up.

Justin's Honey Almond Butter Packs

– I had to take a jar on the first leg this time. Amazon was out when I ordered. It leaked all over my food bag b/c I left the Ziploc bag open. I'll stick to packs from here on out. I know better.

Bonne Maman Strawberry Preserve Packs

– I don't use jelly cups. They break open and leak. You can also find other packs from distributors on-line if you prefer grape. I use both.

Mary's Gone Seed Crackers

– A little fru fru I know, but I LOVE them with my hummus, and they stick with me a while, while my tummy chews on them.

Wheat Thins

– Good with everything – cheese, hummus, PB&J, etc.
Dinners
The dinners I tried on this hike are listed below. I also keep a full list and ranking of meals I've tried (see below).
I tried the meals below before applying my Blue Agave Sriracha Sauce, which I've discovered is good on ANYTHING…almost.
Good-to-Go

– Chicken Gumbo – Best of the Gumbos

Mountain House – Spaghetti

– especially good with Sriracha. It reminds me of the canned spaghetti when I was a kid.

Alpine Aire – Chicken Gumbo

– good to go was better with a little more spiciness.

Trailtopia – Cajun Smack Chicken and Rice

– pretty good but reminded me I will need to take my own salt and pepper in the future

Alpine Aire – Spicy Cheddar Bean Dip

– 5 stars – favorite meal of the trip! I might have to try it at home.

Good-to-go – Herbed Mushroom Risotto

– pretty good, but also a bit bland.
Snacks
Trail Mix

– I often make my own, or grab what is cheapest. The trick is to really mix it up. I never make the same thing twice, and on a long trail I might eat 20 different kinds. I really like – reeses bits, milk chocolate bits (melting is a PIA), banana chips, all dried fruits really, pretzels, all nuts, but definitely walnuts, cashews, high oil nuts.

Belvita

– I love these! The banana and chocolate is my favorite flavor. They have good protein, and anything is better than most BARS.

Nature Valley Peanut Butter Bars

– I don't really consider these bars. This is my favorite flavor and bar. I love the crunch. They are also great with coffee! I like plain also, but not the chocolate.

Colby Jack Cheese Sticks

– They might get a little "greasy" but are fine for several days. Definitely put in Ziploc bag.

Tate's Chocolate Chip Cookies

– Probably not the best hiking food, but I am ADDICTED!
Most ALL Bars – Yuck, but I still do grab some for emergencies (cold, wet days when I don't stop for lunch) at whatever store they are available in town.
Related Article: Easy Backpacking Food
Post Hike Thoughts on my Arizona Trail Food Resupply Plan
The Corona Virus ran me off the trail just before Summerhaven, AZ. I plan to go back in the fall and head south after I hopefully finish up the Colorado Trail. I'll just have to wait and see how things work out for our country.
Even in those first two weeks though, there are a few things I would tweak a little. I'm overly ambitious on EVERY hike.
First – I would not carry seven days of food from Patagonia, AZ to Summerhaven, AZ. There were some good climbs, and it was not a lot of fun. I would definitely send myself a resupply box at Colossal Cave.
Second – I would have taken a light weight fleece or wind shirt. Nights were a little colder than I expected. Oh wait! This is food. I'll talk about that later.