Prior to My LightHeart Rain Jacket
The LightHeart Rain Jacket Review reflects my journey back to silnylon. I've decided that when hiking hard, in cold or warm weather, there is no such thing as "breathable." When I work hard and sweat, that moisture is staying right on my skin – unless the jacket material is literally capable of sucking it away! Unfortunately, I've yet to find that jacket.
I've used expensive "breathable" jackets from companies like Marmot, Arcteryx, Patagonia, etc., and I've yet to find one where I'm not soaked after strenuous hiking or climbing. Even with pit zips and temperature regulation, truly breathable is tough to find. There are a few that have provided some measure of breath-ability, but at the end of the day zippers have proven the most effective means of regulating temperature for me.
The higher end jackets are also expensive. Not only do I end up not staying very dry, if I don't regulate my activity closely, but the treatments and coatings ultimately wear off. I have a closet full of $200-$400 dollar rain jackets that appear to be in good shape, but the coating is worn and they are no longer waterproof. I've tried "retreating" a couple of them, but never end up with the same quality of "water proofness."
After 10 years, I found myself beginning to look at less expensive silnylon again, and finally settled on the LightHeart Rain Jacket.
Related Posts: Gear Reviews; Women's Voormi River Run Hoodie Review; Kula Cloth Review; Arizona Trail Clothing Layers
LightHeart Jacket Decision
After a lot of reviews and reading I had decided to take a basic silnylon jacket with me on my Colorado Trail hike. The only requirements I had when looking for a jacket were the following:
light weight
pit zips
deep hood
loose fit
I checked several manufacturers, scoured numerous reviews, and finally settled on the LightHeart rain jacket, size XL, color – Cranberry.  They had good reviews from sources I trusted, like Sectionhiker.com.  
Gear Reviews
One note on finding trusted gear reviews is that it is sometimes tough to find reviews that are "real," meaning the reviewer has actually tried using the gear. I'm sure many reviewers order items and take a look at them, but I like reviews that are not in a "10 Best" list, and provide the good, the bad and the ugly. I also have attention deficit disorder, and don't want to read a 10 page review on a sleeping bag. I read the specs, look at field user comments if any, and then order.
There are two sites that are go-to sites for me when looking for new gear (Other than my own of course…:-). These are SectionHiker (which I mentioned above), and OutdoorGearLab. I know both these sites and authors have extensive gear experience, and I'm going to get solid review based on use and experience.
LightHeart Rain Jacket Manufacturer
LightHeart is a small entrepreneur/manufacturer located in North Carolina. I always like to support the "little guys," and it has been interesting to watch these companies grow over the years. LightHeart first came on the scene with handmade tents, mostly seen on the Appalachian Trail, and they now offer rain apparel, jackets, poles, stuff sacks, etc.
LightHeart Jacket First Impressions
I received the LightHeart jacket last week, and was pleased with the quality. It met all of my requirements, and was well made. The hood was nice and deep for my large head, with a brim to keep out the rain. It is aggravating when the really light jackets cinch up around my face. I feel like I'm hiking in a large sausage casing.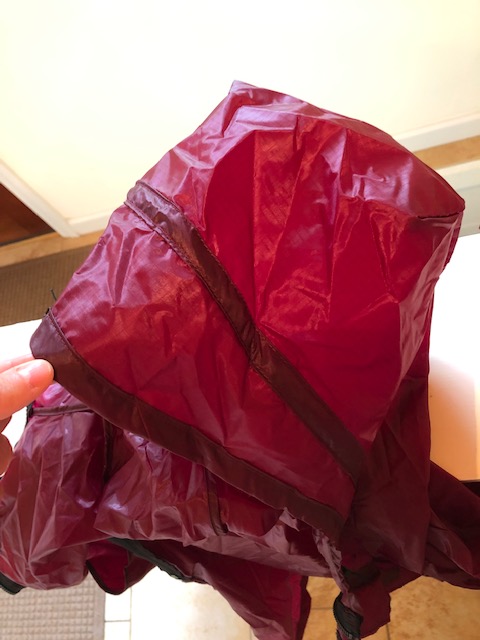 I appreciated the nice long pit zips that were easy to reach and use. They are like really long side zips.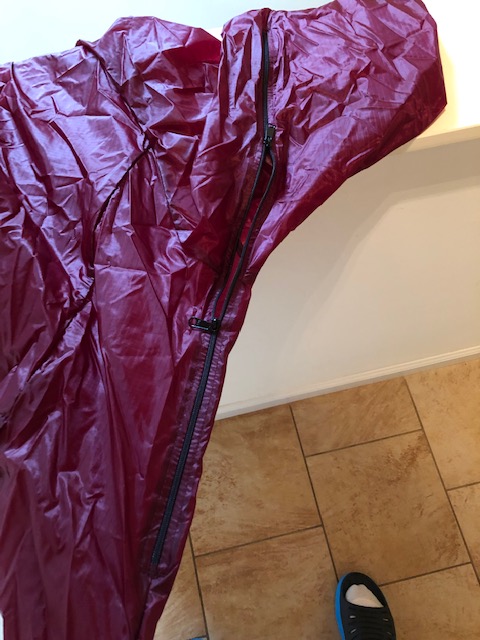 The only pause for me were the two pockets on the outside of the jacket, with no zippers. I use hiking poles, so I don't put my hands in my pockets much. I also won't be able to put my snacks in them since they don't close, but I do like that they are nice and deep.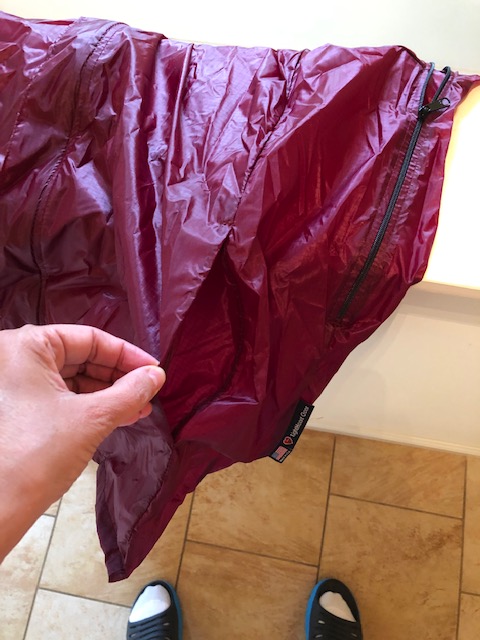 There are two waterproof pockets inside the jacket, which is nice. I can put maps, phone, etc., in these.
I swim in the XL a little bit, but I like rain jackets looser. They always bunch up under my pack, and I don't like to feel constricted when I'm hiking. I also like a rain jacket that can easily fit over several layers in colder weather. The added benefit of this one is that it is so long that it may even cover my shorts!
I'm looking forward to trying out the jacket. My favorite thing about it, was the small tag that clearly stated it was "NOT BREATHABLE!" They were honest.
LightHeart Rain Jacket Post Hike Review
The hike on the Colorado Trail lasted two weeks. During this time I used the jacket three times. The first time I used the LightHeart rain jacket was during down pours that lasted about 3 hours. The second and third time I used the jacket was during wet, rainy days with intermittent showers. In all instances the jacket performed well.
LightHeart Rain Jacket Size
I purchased the rain jacket anticipating a snugger fit, much like my jackets of the past. That was not the case. If anything, the rain jacket runs a little on the larger size. My jacket was large on me, but this was not a problem. I would rather the jacket be too large than too small. If ordering again though, I would probably order the Large.
LightHeart Rain Jacket Performance
The LightHeart Rain Jacket definitely kept me dry. The long armpit zips made it easy to regulate the temperature in the jacket, and I was able to unzip them as I hiked. The jacket was comfortable and also kept me warm on chilly mornings. Other than the large size, the performance was as expected.
LightHeart Rain Jacket Pockets
In my original assessment of the jacket, I had mentioned my disappointment in not having zippers on the pockets. These were actually unnecessary on the hike. I kept my electronics and map in the inside pocket where they stayed quite dry. The outside pockets were unnecessary for me since I use hiking poles. Not having zippers was not an issue.
LightHeart Rain Jacket Review Summary
My experience with the LightHeart Rain Jacket was very good, and I would recommend this product. It is reasonably priced and well made. I would definitely take a look at this jacket for your next hike, especially if price is a consideration.
Hi! Some of the links in this post are affiliate links. This means that when you click on one of these links, I earn a small commission at no extra cost to you. Also, as an Amazon Affiliate, I earn from qualifying purchases. Thank you.