The Big Agnes Copper Spur UL Platinum 2P is another innovative tent manufactured by Big Agnes. I'll discuss why I chose this tent for my two-week Colorado Trail Hike. I'll also review my first impressions and the performance of the tent during the hike.
This ultralight tent has plenty of room for one person and their gear, but it is a little tight for two people. If you are focused on reducing your weight and you take care of your gear, then this is a tent to consider.
Why I Chose this Tent
I've backpacked for about 30 years and have tried about every shelter on the market. I started with pop-up tents from K-mart and graduated to a Sierra Designs Clip Flashlight for my first long-distance hike. Then I got swept up in the ultralight movement and moved on to silnylon and cuben fiber tarps and tarp tents. I tried hammocks for a while, but I'm a side sleeper and could not get comfortable in hammocks.
Now I'm old and less patient. I'm tired of looking for rocks to hold down stakes, condensation dripping on my head, and mosquitoes dive-bombing me under my tarp. Welcome the Big Agnes Copper Spur 2 Platinum @ slightly under 3 lbs. My requirements for the Big Agnes tent include those below.
Separate fly and tent wall
Freestanding
A 2 Person tent with plenty of interior room
It is 3 pounds or less
Copper Spur 2 Platinum First Impressions
Lifting the box the tent was shipped in, the first thing I noticed was the weight. Being used to my 1lb. tarp tent from Z-Packs, the weight difference was noticeable. Shaking out the tent and fly, the thinness of the tent material also struck me. It was almost translucent; it was so sheer. It would be interesting to see how it held up under normal wear and tear on a hike.
Tent Set-up
Even though it was windy out back, I found it relatively easy to set the tent up quickly. A few of the things I appreciated during the set-up included the following:
The poles were color coded to match the stake-out tabs on the tent. This made setting up the tent very quick – easy to determine back from the front.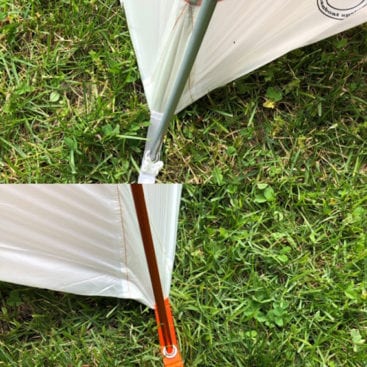 2. Having the color-coordinated clips on the fly to match the tabs was also very helpful for a quick set-up.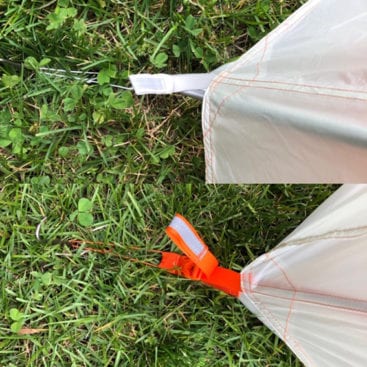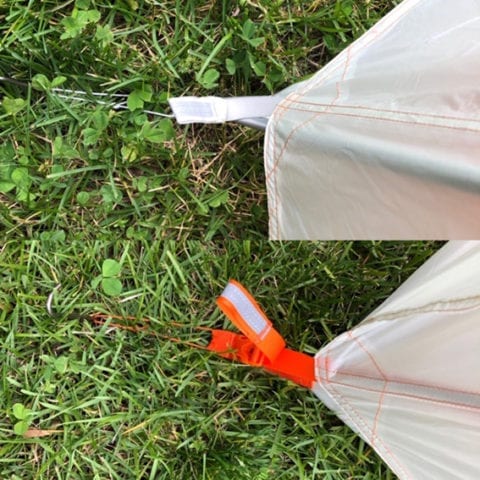 Roominess
There was plenty of room for me in the two-person tent. I had room to stretch out my gear on either side of myself, including my pack, poles, and shoes. I'll explain why that was important later. The tent would have been a little tight for two people. They would need to use the vestibules, which seemed to be a little shallow, to protect gear from splash during heavy rain.
Materials
The floor material was so thin that I cautiously slid across the translucent material, leaving my feet poking out the door. Having my shoes on the delicate material made me nervous. I did not get the BA footprint, but I would carry a piece of Tyvek for a footprint. Tyvek is great, although it can be a little loud until it is well-worn. It is right up there with duct tape – tough, multi-use, and light.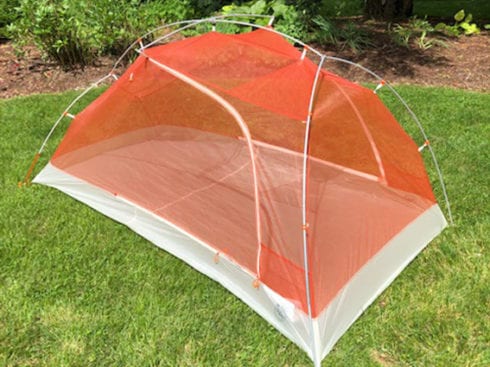 Copper Spur 2 Platinum Final Impressions Summary
All in all, I liked the Copper Spur 2 Platinum tent. The next hike would be much more relaxing with no big-mile days. I was looking forward to stopping a little earlier, reading, and taking my time. Also, it would be nice to have room to spread out and not have to worry about condensation and moisture.
Single Negative
There was only one slight annoyance, which may have been a user error. The tent stash attachment for the fly is opposite the side of the door where the tent door zips closed. The fly vestibule has two stakes – one for each side of the vestibule. If I had the fly on and staked, I had to crawl under the fly to unzip the door, as the side of the fly vestibule that rolled up and stashed was opposite where the zippers came together on the tent door. It would have been nice to have had the zippers on the side that rolled up.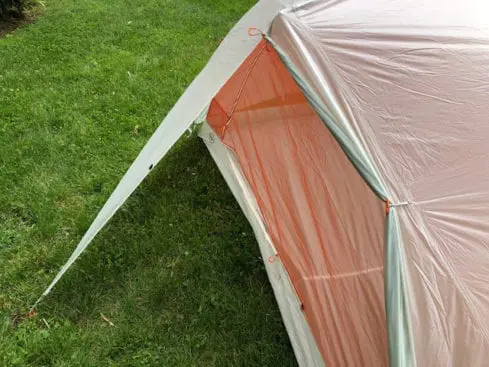 Post Hike Thoughts
My ten-day Colorado Trail hike was a good test for the Copper Spur 2 Platinum tent. I camped on varied terrain, including dirt, rocks, and grass. The tent was rained on, hailed on, and wind gusts rocked it around a few times. Yet, throughout the journey, the tent kept me safe and dry. Below, I've gone through the list of items I noted in my initial impressions and the final performance broken down into positives and negatives.
Materials
Materials were fragile, as expected, but overall the tent performed well. This is a good tent for shorter section hikes, but I would probably not carry it on a thru-hike due to the wear and tear it would receive. In addition, I don't think it would hold up well to the abuse it would receive daily for multiple weeks.
Positives
The thin nylon material held up well in both hail and hard rain. I was surprised I had no misting and remained dry as a bone in some significant storms. This is the first tent I've used a ground sheet with, and I cut a piece of Tyvek to go under the tent and part of the vestibule area. Besides waking up every creature within a quarter mile as I shook the Tyvek out in the mornings, it worked well as a groundsheet.
Negatives
Three items stood out due to the lightweight materials.
Poles – One of the poles cracked on the third night. It was a two-inch crack that started near the connection. I have no idea how this happened and noticed it when setting up the tent the next night. I was very gentle with the poles, which was a little frustrating.
Pole Cords – I noticed that the elasticity in the cords seemed a little "stretched," as if they had been used for some time. However, they worked on the trip, and only time will indicate how long they maintain their "stretchiness."
Zippers – The zippers were a pain. I had to be very careful, especially if the fabric was wet. The material ALWAYS caught in the zippers, and after it rained, I often got soaked as I attempted to "unjam" a soaking wet fly in the mornings.
Dry/No Condensation Issues
Positives
As with most double-walled shelters I used, I had no condensation issues. As a result, it was nice not to have to worry about my sleeping bag touching the sides of the tent. Tossing and turning were also not a problem, as it did not rain on me when I hit the sides of the tent. In numerous downpours, I stayed dry, always ensuring to stake out the fly as far as possible since the bathtub floor was not very deep.
There were no negatives, other than a tiny bit of spatter one night when I camped on a dirt pad. This was admirable, considering the deluge of rain all night.
The one thing I will note is the deepness of the vestibules. I would still cover at least the bottom of your pack if keeping gear outside. However, the vestibules are not deep enough to prevent splash on any equipment. It is a trade-off, though, because a larger tent fly would make it tough to set up the tent in anything but a large open area.
Roominess
Positives
There was plenty of room for me in the two-person tent. I was able to fit EVERYTHING inside. After some critter ate my hiking pole handles, I left nothing outside and ran off with a pair of my socks. My pack, poles, shoes – everything went in the tent, and there was still room to spare.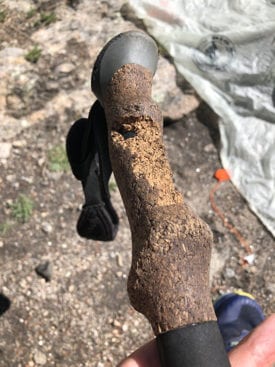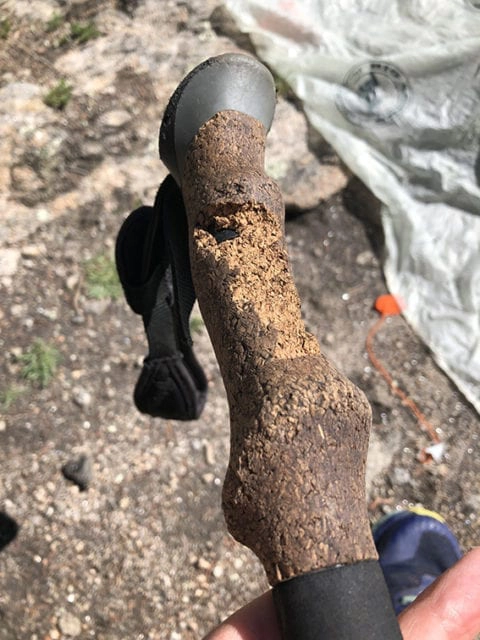 The two large mesh pockets over my head were great, also. I kept those things I needed to grab fast up there – light, knife, bandana, etc., which left even more room on the floor.
Ease of Set-Up
Positives
The tent was easy to set up. Everything was color-coded, from the poles to the clips. The light weight made it a bit challenging in ANY wind, but I stayed below treeline due to the storms, so this was never really an issue.
Negatives
I'm sure I would have gotten better in time, but setting up the tent in the rain was a hassle, and I always ended up wet. I found my tarp tents MUCH easier and faster to set up in the rain. On a side note, I was surprised to see the material slowly draining out after it got wet. What took me about 20 minutes to dry out with cuben fiber took me a good hour with this particular nylon. I would usually wait to stop for lunch to dry out the tent, so lunch occurred when there was the sun, no matter the time.
Big Agnes Copper Spur UL2 – Platinum – Summary
Overall, the tent gets two thumbs up for the section hike. The cracked pole and zippers were probably the biggest frustration, but they were not show-stoppers. I liked the roominess of the tent and always staying dry. Would I use this tent on a long thru-hike? I probably would not, for several reasons – durability and weight. But is it great for a section hike – yes?
As far as comfort, this tent has my tarp-tent beat hands down. Convenience was a different matter. I had to be careful with the thin material, and it was not much fun to set up in the rain. My tarp tent sets up much more efficiently, and I get far less wet. I may have a longer hike coming up in March, and although I love the Copper Spur 2 Platinum's roominess, my tarp tent will probably join me on the Arizona Trail Hike.
This page has affiliate links for products and gear I purchase and use. If you click on one of these links, I receive a small commission at no extra cost to you. There may also be Amazon links and as an Amazon Associate I earn from qualifying purchases.If this review has been helpful, please consider purchasing through the links above. Proceeds are used to purchase additional gear for review. Thank you. You can read more about my thoughts on affiliate marketing.