I've titled today's day hike the "Mount Egbert Hike" because that was the only "summit" on today's route. I use the term "summit" loosely. Included in the hike were Morgan Stewart Shelter and a pleasant meeting with a local trail maintainer and his friends.
Logistics
Start – Route 55 Trailhead – 41.5897,-73.6592
State – New York
Maps/Guides – "The AT Guide" & Guthook App
Miles – 11.2
Difficulty – Moderate
Time Hiked – 5 Hours
Trail – Appalachian Trail
Gear
Nike Day Pack
Rain Jacket/Pants
Shorts (Generic)
Knife (Gerber)
Feathered Friends Down jacket
Headlamp
First Aid Kit – Neosporin, Tinactin, Band-aids, Advil
Glasses
Gloves
Fleece Hat
Hoka One One Trail runners
Smart wool Lightweight socks
Marmot Dri-clime Jacket
Early Morning
It was frigid when I woke up this morning. The thermometer said 24 degrees, and I live an hour from the mountains! Lu trailed me around the house, awaiting the slightest indication that she would be included in today's hike. The trails are made for a dog like her. She is athletic and fast, with fantastic endurance, but she suffers one fatal flaw – her complete intolerance of all other dogs. Lulu is a rescue with a tough past, and I suspect that other dogs will never be her friends. I keep her leashed when we are out, but most hikers I pass don't keep their dogs on a leash, and I don't want to put her in a bad situation. We walk 3-6 miles around the neighborhood daily, but we have driveways to run up, and all passing pooches are leashed.
My pack was sitting in the mud room, and I grabbed it, along with my hiking poles. My gloves, jacket, and hat were in my other hand. Why I did not have these things in my pack is beyond me. I'll chalk it up to no coffee yet.
Breakfast
The highlight of these day hikes, other than the hiking, of course, is breakfast. Leo's has an awesome Everything Bagel with cream cheese, and I get one for breakfast and lunch, along with a large coffee for the ride. Hiking calories burnt to justify almost any food! If at home, I would be eating a bowl of steel rolled-outs. The bagel is enough to get me up in sub-freezing temperatures!
Leo's was "Out of Order!" Their cash register was not operating. With a big grin and a thick southern accent, I offered to pay later. Leo just stared at me. Once a week is not enough to be a regular, I guess. Devastated, I headed down the road to Dunkin Doughnuts for a "Fake" bagel.
Trailhead
Arriving at the trailhead, I gathered my scattered belongings. Where were my gloves and neon orange vest?! My Down jacket was bright red, so I would have to hike in that today. I usually don't hike in Down, but save it for lounging. Hopefully, it would be enough to keep from becoming a target for hunters. It was probably cold enough that I would not sweat in the thick jacket, and the forest was open, so I expected no snags. The jacket would be safe from too much wear and tear.
The phone beeped, and I looked down to see a text. "Your gloves are lying in the middle of the driveway." I was a mess this morning! Sometimes I had to force myself to focus. Clearly, I had failed this morning. My mind always runs about four steps ahead of me. Hiking is one of the activities that quiets the noise. I can be in meetings, driving in rush hour – places where I should be focused, and my mind completely wanders. The wilderness focuses my mind, drawing me into the sounds, scents, and sights. I'm always locked into the now around me. It takes no effort – instinctual, I guess.
The parking lot at the trailhead was well-used and probably held about 4-5 cars when full. Wearing a mid-weight Icebreaker thermal, Marmot Wind Jacket, and Feathered Friends Down jacket, I zipped up tight and stepped out of the car. It was cold!
A short spur trail took me straight back to the AT and a small kiosk. I hooked a right and headed down the trail, moving fast. Signs announced it was hunting season and that there were Lyme-carrying ticks. I did not need to worry about the ticks.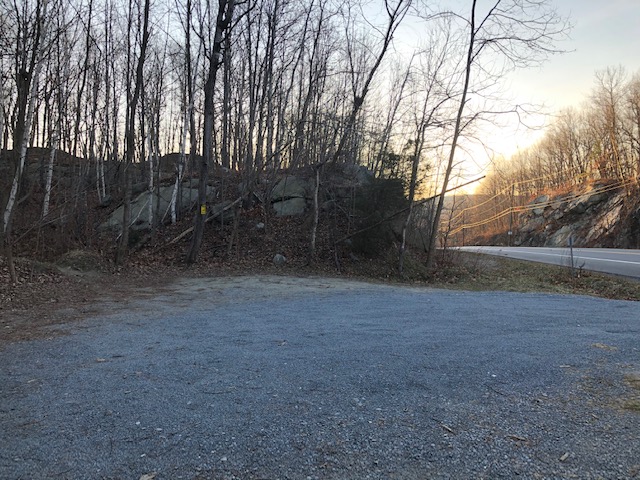 Trail Conditions Near Route 55
The first mile or so was fairly easy, crossing under some power lines, back over Route 55, and then over Old Route 55. The woods were quiet and cold, and I picked up speed, working hard to increase my body temperature. Pushing warmed-up blood out to my frozen hands was the immediate goal! I alternated pockets as I tried to warm my hands up, holding my hiking poles under my arms as I jogged. Stumbling over leaf-covered rocks, I knew this was a minor disaster waiting to happen. My balance was questionable enough without running over hidden rocks with my hands in my pockets.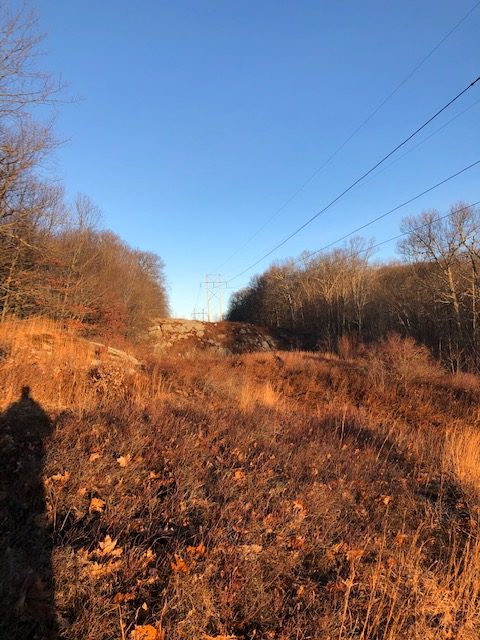 Tracks or Tread
Passing over some railroad tracks, I noticed a new paved hiking/biking path was built next to the tracks. I saw three people and a Labrador ambling down the middle of the railroad tracks. Smiling, I waved and stepped into the trees on the other side of the embankment. It was a good thing that the expensive walking path had been built.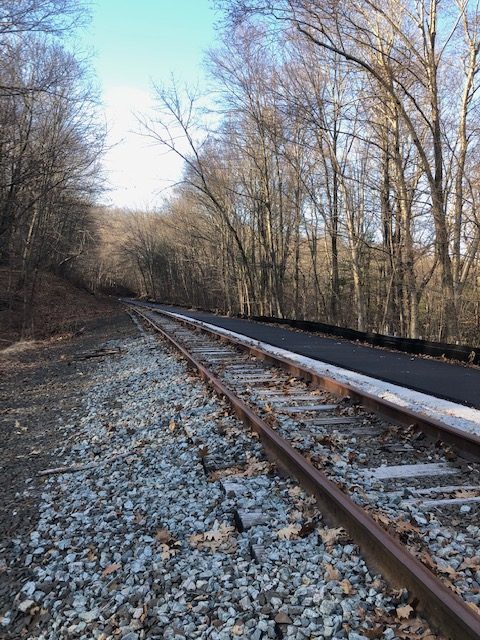 Trail Over to Depot Hill Road
The rest of the trail to Depot Hill Road reminded me of why the New York trail often results in grumbling from thru-hikers. I passed over a small creek and began my rocky climb up to the ridge line before the trail leveled out. A rocky roller coaster followed this for the next mile and a half.
If heading north, Pennsylvania is the KING of rocky hiking. New Jersey lets you sigh of relief, and then along comes New York to kick you in the ass again. Not only are some of the rocks back, but NY throws in steep little climbs and descents over rough crumbly boulders. There are even a few ladders to give it a "Maine-like" feeling. After Pennsylvania, hikers are a little grumpy, so New York does not always get a lot of love.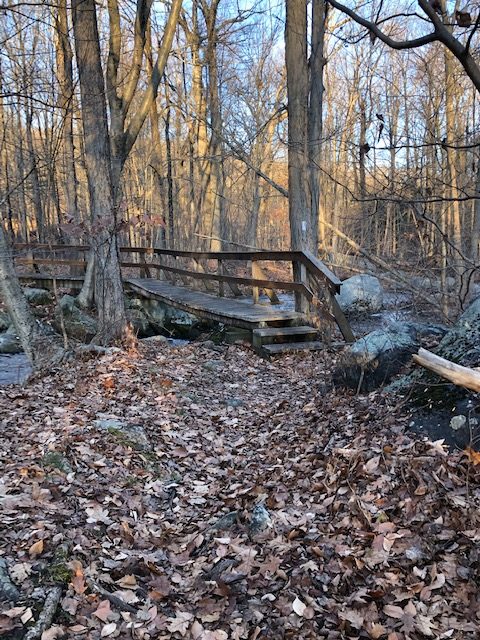 Morgan Stewart Shelter
Morgan Stewart Shelter came up quickly, and I was startled when I looked up to see it just ahead. It's an older shelter, but it has been well maintained, and it was nice to see the shelter's history in an article posted on the front of the building. There was an old foundation out front, so maybe there had been a cabin or fire tower at some point?
The water source was a well down the hill, and hikers were advised to treat it before drinking. Like the CT water, it has bacteria in it. I had carried in plenty of water for the day and probably would not have used it for anything other than cooking. I'm not a Guardia fan.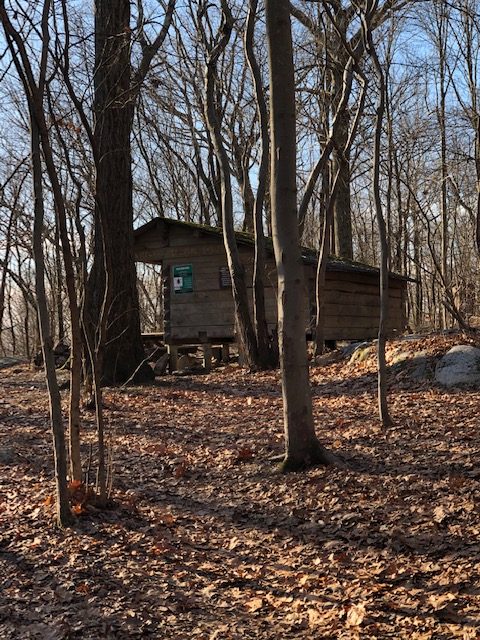 Mount Egbert Summit
Mount Egbert Summit was about a tenth of a mile past the Morgan Stewart Shelter, but I must have blinked hiking through and coming back. I did not see either a plaque or a USGS Marker, and I'm not sure the lump of rock I took the first picture from was actually the summit of Mount Egbert.
The ridge past what I think was Mount Egbert had the better views, but the wind was picking up, and I did not stay long. Regulating my temperature was proving challenging. I had warmed up on the climb over to Depot Hill Road, but after Morgan Stewart Shelter, I began cooling off again.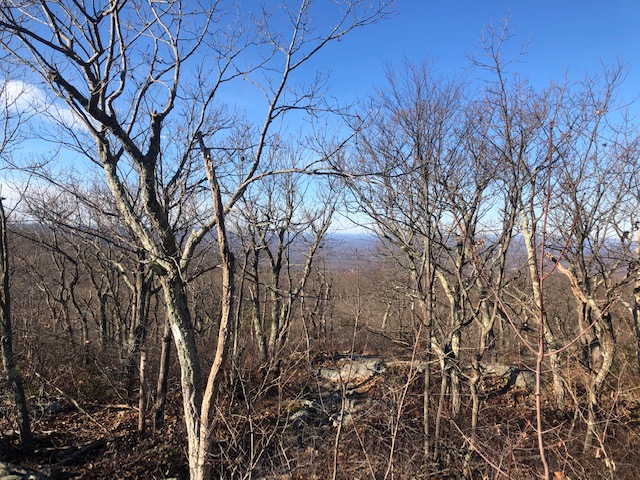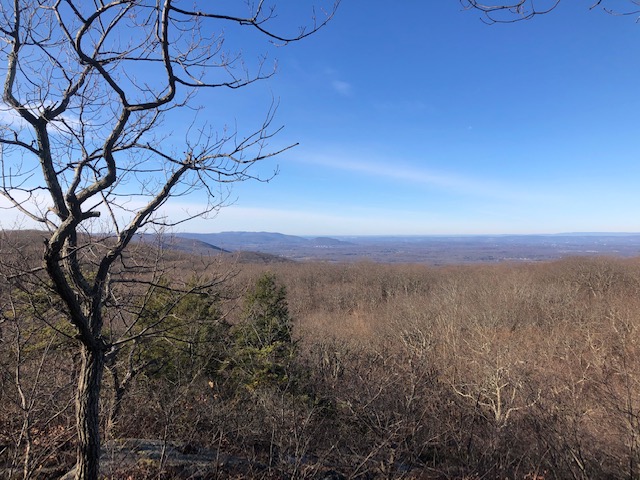 Blue Blaze Trail Past Mount Egbert
There was a steep little descent, and I might have detected a slight switchback, but basically, I just climbed down many rocks, as expected. After the descent, the trail was relatively easy until I reached a blue-blaze trail.
I passed the blue blaze trail a mile past Mount Egbert but could not find much information on the trail. These side trails always pique my curiosity, but I need better maps before checking them out. Getting lost in the Appalachians is something scary movies are made of, and I've seen most of them.
Trail Maintainer
I heard the voices before I saw the three men hiking toward me. One was the trail maintainer for this section. I thanked him for his work on the trail. It was in good shape. They remarked on my lack of gloves and shorts. I did not mention I was wearing shorts, did I (Don't judge!). I hate hiking in pants, so it has to be in the teens for me not to wear shorts. Even stopping to talk, my legs were nice and warm.
They were out to check the trail before the next day's storm. We chatted trial for a few minutes and exchanged contact information. I don't know many hikers in this area, and I always feel that as much as I've used our country's trail systems, I should give back more than I do, so I offered to help do trail maintenance if they needed the help.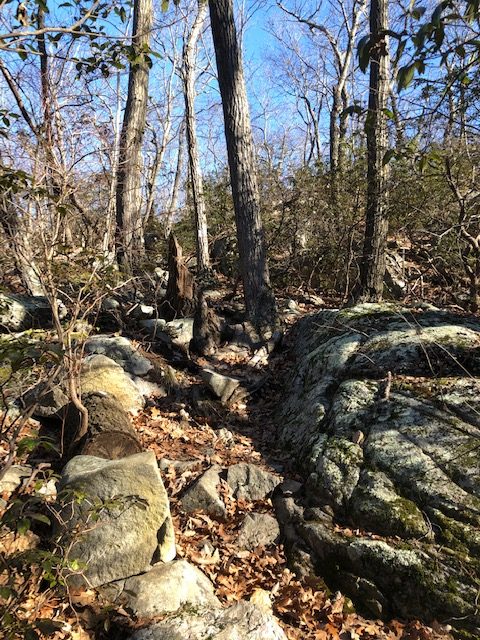 Hunter
Guns had been going off all day. Bright orange signs had been posted at every road crossing, announcing the need to wear blaze orange. I had even considered turning back at the last volley of shots, so I was not surprised to see the bright orange hunter moving slowly down the trail ahead of me. Hunters cannot hunt within trail boundaries, but I've seen hunters use the trail systems in every part of this country. I remember walking with a bow hunter for over three miles in Montana. The trail is the path of least resistance.
As I caught up to the man, he drug his sled about 20 yards off the trail. He had a large sled very large gun and looked like the camouflaged Michelin Man. He was moving slowly and probably about two miles from the closest road. That was a lot of work, but sometimes the hunters enjoyed the process almost as much as the kill. He waved and smiled as I passed him. I waved back and nodded.
Grounded
There was about a mile to finish the hike when I caught up with two tall, lean fellas. One was in a t-shirt, while the other stood by in a light jacket. A few minutes later, I heard them approaching from behind, and I stepped to the side as they loped past me. Mr. T-shirt now had a light jacket on. I was relieved to see that for multiple reasons.
I watched as they skimmed over the rocks and let out a long sigh. My fitness is far better than it was six months ago, and I also thought I was skimming down the mountain. I now realized I was slowly lumbering down the mountain. Three months left until my next long-distance hike, and I clearly needed to step up my fitness regimen.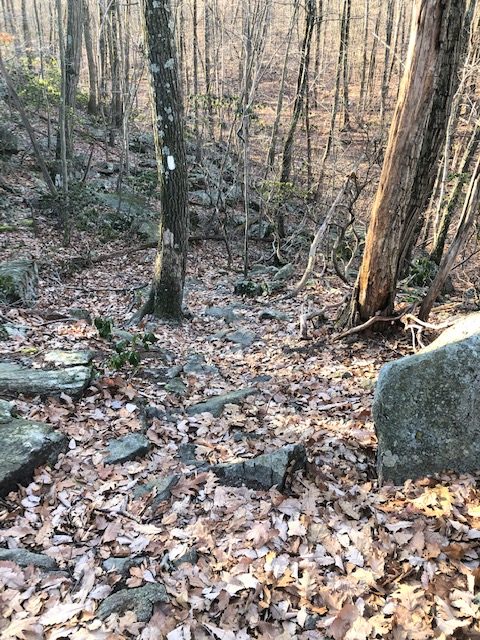 Mt. Egbert Hike Summary
Besides the cold, the hike from Route 55 to I-84 on the AT in New York was enjoyable. The trail offered varying terrain – uphill with rocks, downhill with rocks, moderate with rocks, etc. Moderate is probably the best description. Although a little rocky, it is not a very difficult section.