2020 Will Be a Busy Year
This upcoming year is shaping up to be busy, and planning for the Arizona Trail (click link to the left for planning page) hike has crept up on me quickly. I'm planning on an early spring hike in 2020. In addition to two small businesses that I hope to roll out in Q1 and Q3 of next year, I'm also planning to go back and hike the Colorado Trail at the end of the summer. These four things, coupled with a wedding, will definitely keep me hopping!
Arizona Trail Description
The Arizona Trail stretches across Arizona from Mexico to Utah. This National Scenic Trail is approximately 800 miles long and designated primitive, traversing numerous mountain ranges and ecosystems along it's length. I fell in love with desert hiking in Southern California and New Mexico, and I'm also one of those crazies that loves the Great Divide Basin. Although the Basin is not really desert, it still has that open, arid landscape that I find beautiful.
In addition to the open desert landscape that I enjoy, I'm also pretty excited that the trail travels through the Grand Canyon. Believe it or not, I've never actually visited this National Park. Being able to hike straight down through the canyon is going to be a highlight of the trip for me!
Arizona Trail Planning – NOBO Start
I'm planning to start the Arizona Trail early Spring, on the Mexican border, and head north up to Utah. Based on weather reports for March and April, I may see some weather extremes. Temperatures can range from the low 20's to the mid-50's at night. During the day, I could see mid-50's to mid-80's.
As with most backpacking, a lot depends on elevation. Snow this early in the season is not uncommon. In other words, I could wake up to below freezing temperatures in the morning and hike down into a mild oven a few hours later. Being a cold weenie, I'll be taking my 10 degree sleeping bag, and carry it for the entire trail.
Arizona Trail Hike – Resources
The Arizona Trail has a strong community, and the Arizona Trail website (azt.org) provides good resources for all users of this trail. I would recommend becoming a member, and taking advantage of the valuable resources and updates they provide.
Trail Maps/GPS
I'll be using on the hike. I can download it on my phone, and it has proven very useful on other trails. The App provides not only good GPS information, but it also has an interactive feature that allows hikers to leave information for water sources, towns, detours, etc. The water source information will be especially important on a hike in the desert.
In addition to Guthook, I'll also be taking the topo maps provided on the Arizona Trail website (azt.org). They are available with a membership. I see more and more people using only a GPS or GPS App for their hikes, but I always take a compass and maps. Electronics can be less than dependable in bad weather or very cold temperatures. I'm a firm believer in contingency planning.
Trail Guides
The Arizona National Scenic Trail Guidebook is downloaded on my phone via Kindle. The Guide provides great information about the trail, ecosystem, history, etc. Downloading it on my phone means I don't have the extra weight. I'm not an ultralight hiker, but I still try to keep my base pack weight below 12 lbs.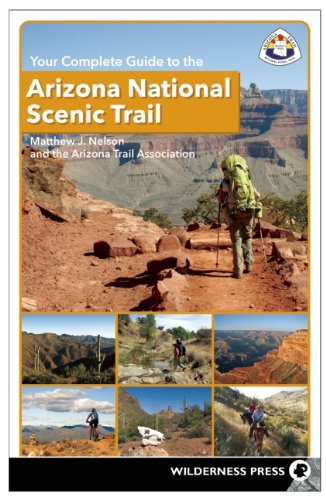 Databook
The azt.org provides a Databook with a membership. This Databook includes mileage, water sources, elevation, campsites, etc., and a lot of useful information which is only available to members. On many, well marked trails, I've often found I used the data books almost exclusively. This was the case for me on both the AT and the PCT.
Trail Community
The Arizona Trail has an active community. They provide good information on their website, and they keep it updated. Their Facebook Group is active, providing timely updates and assistance to hikers. If you join their group, and have questions, you can expect to get a multitude of quick responses. I've watched as hikers inquire on rides, and often get multiple replies.
Arizona Trail Planning – Logistics
Since I will be hiking NOBO on the trail, I'll plan to fly into Tucson. To reach the southern most point on the trail I'll shuttle out to Coronado National Memorial Visitor's Center and Montezuma Pass, and then hike south 1.8 miles to the monument on the border. From the monument I'll turn and begin my trip North.
Resupply
On my last couple of hikes I did not cook, and resupplied in the towns I passed through on the hike. Following my last 10 day hike I happened to go to the Doctor for some tests, and was shocked at both my cholesterol and glucose levels. Once I gave the results some thought, I was not really surprised. Junk food is the name of the game when I hike. The sugars, carbohydrates and fats are great energy boosters, and being able to eat anything I want and still lose weight is addictive.
When I hiked across Connecticut for a few days during the Fall I took my cook set (See Fall Post Here). I took healthier foods, and really enjoyed the hot meals. I realized eating had become a chore for me, and I had forgotten how much I enjoyed the variety of food found with cooking. Dehydrated food, combined with the cooking kit, was no heavier than cold foods without the kit. On the AZT hike I will be cooking, and I'm looking forward to it. I plan to try a multitude of dehydrated and freeze dried foods, and provide some feedback on each one. My hike after that might even include some of my own dehydrated foods!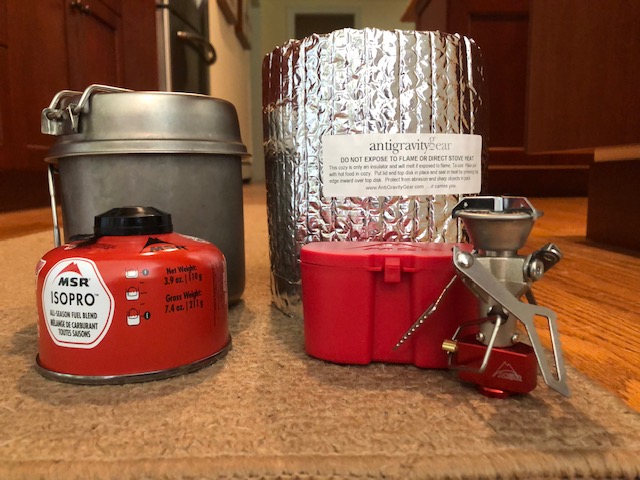 Because of my cooking changes I'll plan to mail my resupply packages to towns along the trails. I'll be able to ensure I have food I like to eat, and food that is healthier. I'm sure I'll supplement some along the way, but I'll prepare most of my food ahead of time. A good list of all towns or "Gateway Communities" is also listed at azt.org.
Timing
My plan involves averaging 20 miles/day. Based on terrain and elevation I expect this to be reasonable. This includes going into towns for resupply, and staying over night to clean up. Many of the trails on this town are small, so in some cases I'll just grab my packages and head out. I have to be home for a wedding by the beginning of May, but even if I take a little time for the Grand Canyon, I expect to have time to finish.
Arizona Trail Input
I know there are some Arizona Trail Alumni on my social media. As with all trails, I welcome all feedback and opinions. First hand knowledge of trails often trumps any guidebook or map information, so please feel free to leave any comments or feedback you may have on this trail. Thanks!
Hi. Average Hiker purchased this product and does not write sponsored posts or receive compensation for reviews. Some of the links in this post are affiliate links which means that when you click on one of these links, I earn a small commission at no extra cost to you. Also, as an Amazon Affiliate, I earn from qualifying purchases. If this review has been helpful, I appreciate you considering your purchase through one of the product links. Thank you.