Sages Ravine and Race Mountain Day Hike
Sages Ravine and Race Mountain were my destinations for the day. Today was going to be Chilly up in the mountains, but it was also a gorgeous day for a hike. I threw on my down jacket, fleece hat, and shorts and headed for the mountains. In my day pack, I had the following:
Wind Shirt – I hike in this
Rain Jacket – Always carry for bad weather
First Aid – Band-aids, Neosporin, Ibuprofen, Tinactin
Headlamp – In case I'm caught after dark
Lunch/Water
Knife – Larger than a pocket knife. JIC
Protein Bars (2) – Definite emergency. I hope never to eat!
Undermountain Parking Area
Undermountain Parking Area was where I would park again. I had parked here on my last day's hike. There was plenty of room, and my car had been safe previously. There were always different vehicles when I started and left, and the parking area appeared to get a lot of traffic, although I had never seen many people on my last two hikes. There seemed to be a mini-bubble I entered in this particular hiking region. I loved having the trail to myself for the day.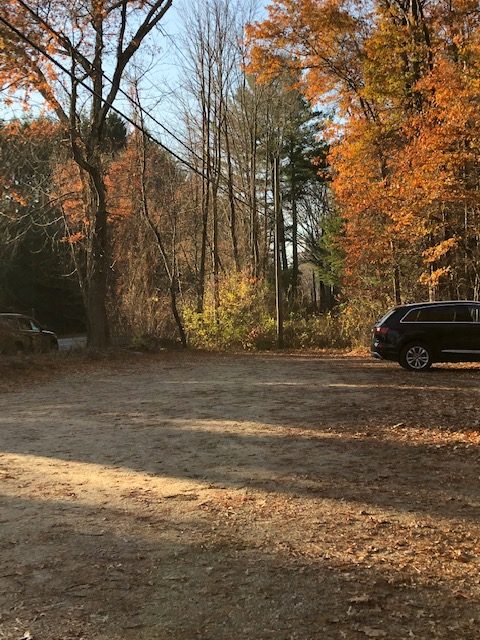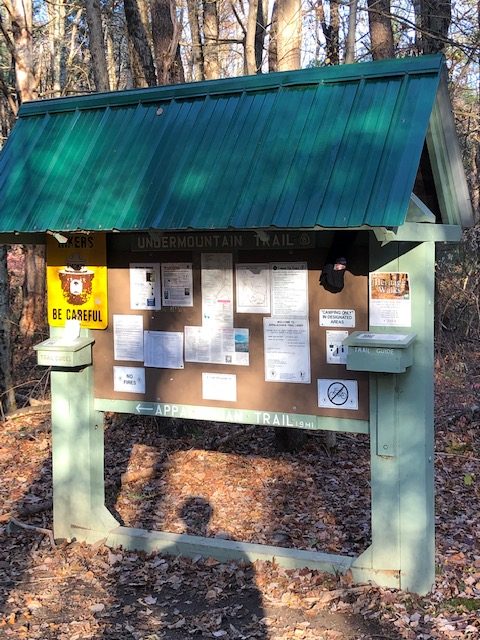 Paradise Lane Trail
Instead of following Undermountain Trail up to the Appalachian Trail, I turned off about 1.1 miles early onto Paradise Lane Trail this time. Paradise Lane traveled beneath Bear Mountain Summit instead of going up and over. I climbed Bear Mountain on my last visit and was going a little further and taking it a little easier today.
Bird Paradise
I shuffled along through the leaves, up and over small hills. The trail was about a moderate grade and had excellent hiking tread, with very little loose rock. One of the highlights was "Bird Sanctuary." Growing out of a small pond were bushes full of what I think was Red Winterberry. I heard the birds before I arrived, and they all took flight as I walked up to the pond's edge. This was a Birder's paradise. There were different types of birds, and I watched as they slowly settled back into the bushes full of red berries. If anyone reading this knows the name of these bushes, I would love to know.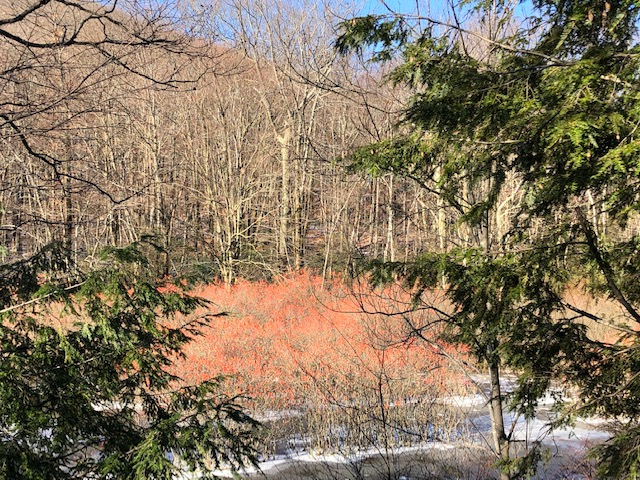 Icy Bridge Crossing
The first icy bridge came up right after Bird Sanctuary. It was early, and the morning melting had not yet started. I stopped when I got to the log bridge and eyed it closely, knowing there was probably ice under the thin coating of snow. I'm not the most coordinated person, so I'm always wary of potential falls. This is typically not successful in minimizing my falls, though.
Tippy-toeing gingerly across, my foot shot out from under me as I reached the end and leaped to the other side. I lunged forward, managing to come down with all my weight on my other foot, but I did not even have time to breathe a sigh of relief before that foot slid away on the snow-covered leaves. The next thing I knew, I was lying on my back, staring at the blue sky. The fall had happened so fast – I think too fast to cause many injuries. I was a little stunned. Finally, I did a bone check, rolled over, and sat up as I brushed off leaves and snow.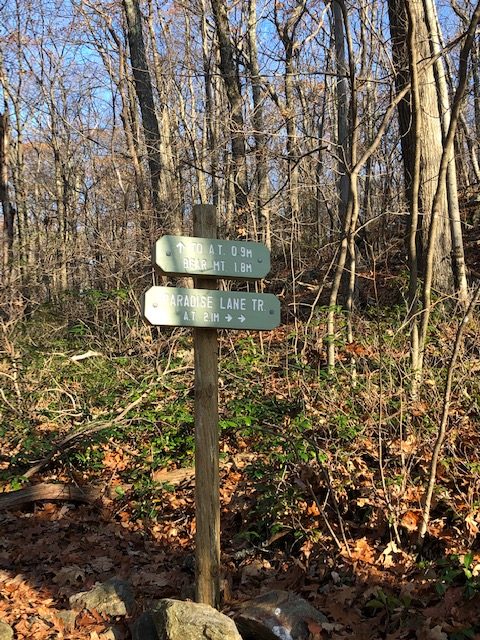 Sages Ravine
Reaching the Appalachian Trail, I turned right and began following the white blazes down to Sages Ravine. I could feel the temperatures dropping as I drew further down the Ravine, approaching the water.
My wind shirt was not enough over my lightweight thermal layer, so I paused to add my fleece hat. I remember being in NYC with my Dad. It was far below freezing, and he wore a thin Members Only jacket as we played tourist. He finally said it was too cold and he would get something to wear. He returned with a small wool beanie on his head, and that was it! I was shocked. Now, I get it.
The temperatures had to be below freezing in the Ravine, but I immediately felt warmer with my fleece hat. Ice cycles along the sides of the Ravine were not even dripping. It was cold.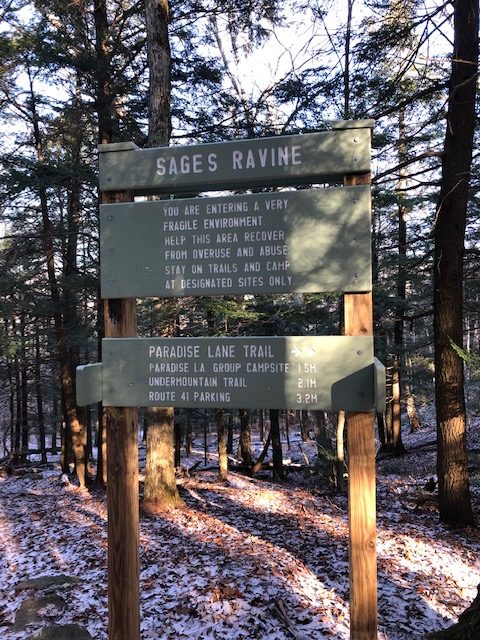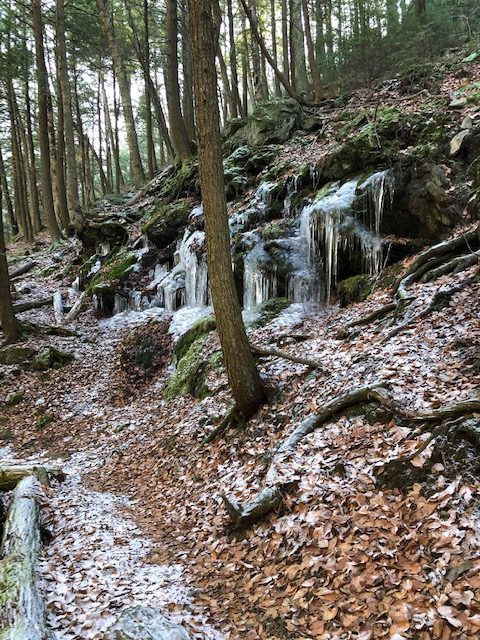 Creek Crossings
There were a couple of creek crossings as I traveled through the Ravine. The first crossing had a log bridge that appeared frozen, but I had learned my lesson. I traveled up the creek until I found some boulders that did not look slick and easily hopped across. The only frustrating part was pushing my way back down to the trail through the scratchy brush. My bare legs might not feel cold, but they certainly think tiny sharp whips!
I frowned as I stared down at the second creek crossing. Looking up and down the large, wide creek, I could see nowhere to cross without walking through the water. With many long-distance hikers still in me, I sighed, stepped into the stream, and started wading across. It was cold! The deepest section only came about halfway up my calves. Not too bad, and my trail runners would dry quickly as I hiked.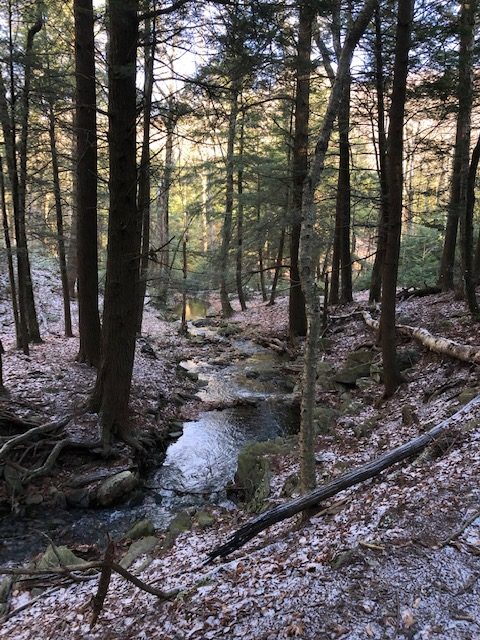 The beauty of the Ravine
Today was a cold winter's day, but this in no way dulled the beauty of Sages Ravine. Listening to the gentle gurgling of the large creek, broken up by the intermittent rushing of the falls, I could understand why this was such a popular spot for hikers. However, this is also a soothing environment. I studied the tiny plants and mosses, easily destroyed by tramping feet.
CT and MA have worked hard to protect this area. I passed several signs requesting that campers only stay in designated areas. It is definitely to the benefit of all visitors to follow the few simple rules in place.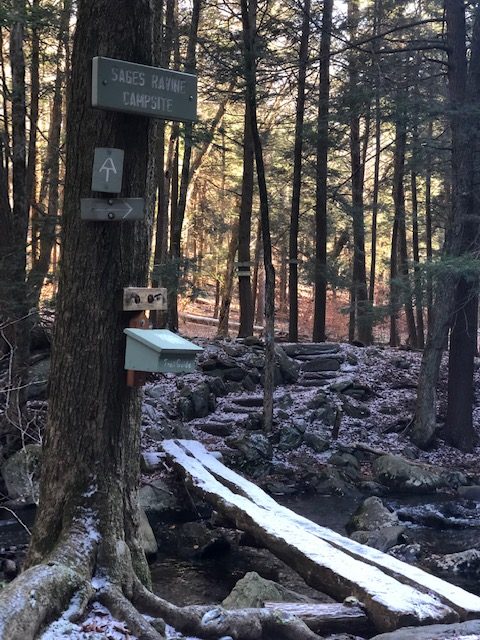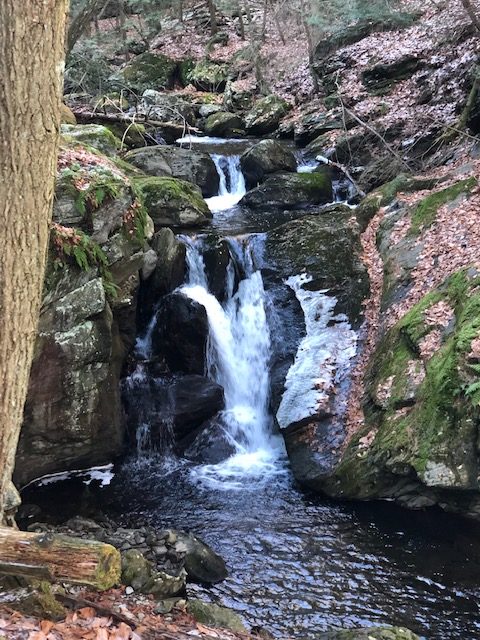 Mt Race
My trek to Mt. Race began with a short steep climb up and out of Sages Ravine. This did not last long, though, and leveled out once I reached an old woods road. Unfortunately, I was only on the old wood road for a few minutes before resuming my steeper climb back up the mountain.
The climb was moderate, and it did not take long to reach the new Laurel Ridge Campsite. I was excited to find there was a privy, and I picked up speed as I drew closer. The large coffee I'd picked up on my drive to Salisbury had me moving fast!
Leaving Laurel Ridge, I began my ascent to Mt. Races Ledges. There were a lot of little ups and downs through this section and some of the grand old spruce forests that I loved to hike in on this trail.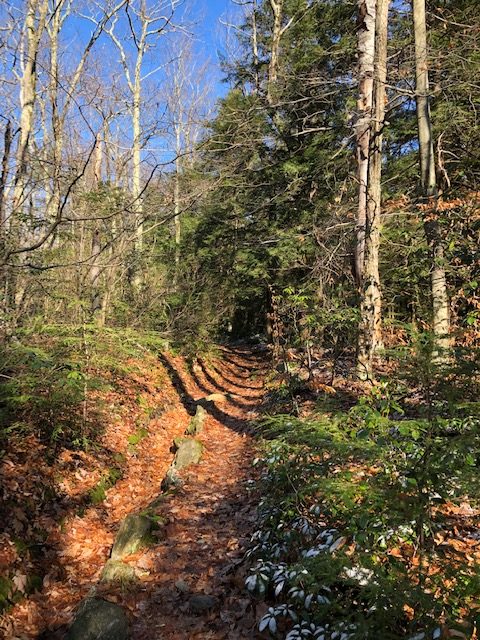 Mt Race's Ledges
Mount Race's Ledges was where I was aiming to be for lunch. The views were fantastic, looking out over CT and MA. Today's clear skies offered perfect conditions for these views I loved.
Stepping onto the first ledge, I drew a soft breath and smiled. These long valley views took my breath away. I gazed off into the Appalachians, Rockies, Sierras, Winds, etc. My reaction was the same to all of the distant views. I never grew tired of the beauty and felt the gentle, constant pull to wander off into distances that never ended.
After pausing for my "Mountain Jolt," I turned left and started the half-mile traverse of Mount Race Ledges. This was one of the hike's highlights and did not disappoint. I constantly stopped to gaze out over the valleys and mountains. Every step brought a new vista, and as usual, I slowed to a crawl as I hiked up the rocky granite, wanting to look off into the distance and not at my big clumsy feet. This section called for a bit of care, though, so I would take a few steps and gaze, take a few steps and look.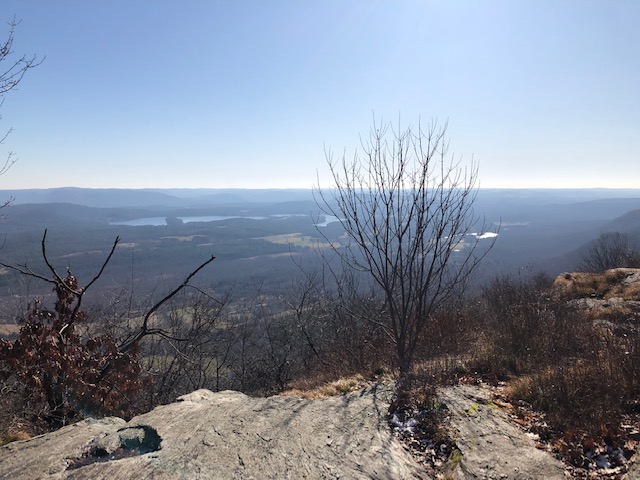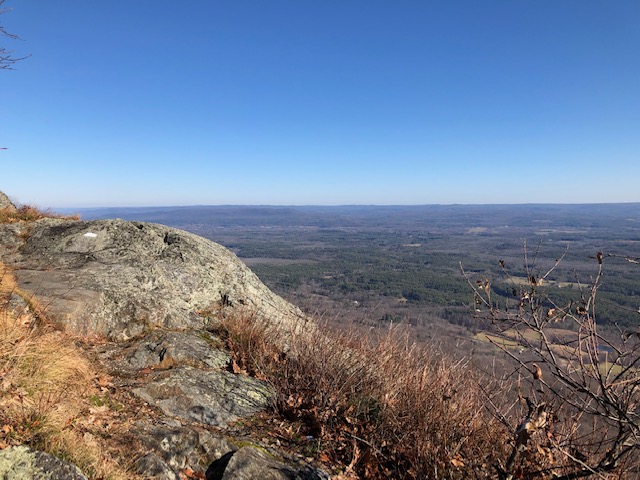 Mt. Race Summit
Finally leaving the ledges, I angled off to the left and began climbing up Mt. Race Summit. It was a winter wonderland; the sun sparkled off the ice and snow-covered stunted spruce. I tried to dodge the small trees but continued to get rained on as I climbed. Finally, reaching the top, I looked out along the frosty ridge line. This was a beautiful mountain. I had picked a perfect day.
It was too cold to have lunch at the summit of Race Mountain, so I climbed back down to the Ledges. I had seen a small grassy spot right on the edge of the granite. Putting on my jacket, I tucked down on the grass between some rocks to ensure I was out of the wind. These were some of the best lunch views I'd had in a long time.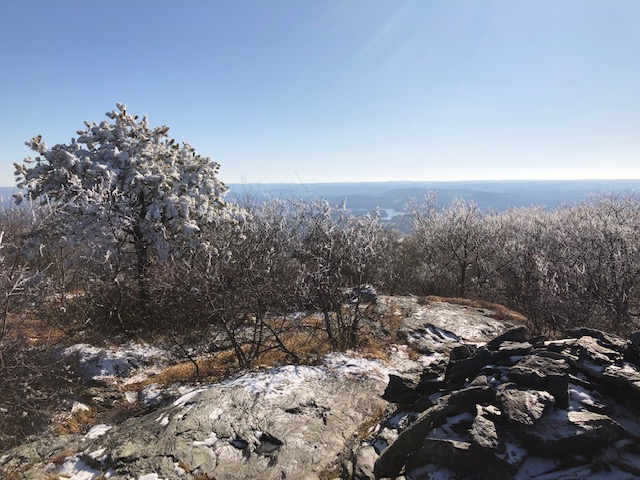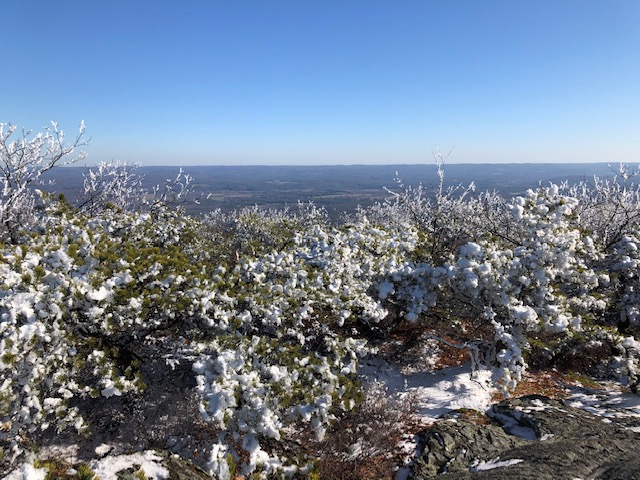 Paradise Lane Group Campsite
The hike back was quick. It was getting cold, and I was getting hungry. I hardly even noticed my second slog through the creek as my mind whirred through dinner options.
I did take a short detour through Paradise Lane Group Campsite on my way back from Sages Ravine and Race Mountain. The campsite was in good shape and an excellent place for the site. The hike in and out was also straightforward on what looked like an old logging road. I would certainly recommend it to any groups seeking camping in the area.
The rest of the hike back down Undermountain Trail was only 1.1 miles to the trailhead, and they went by quickly since it was all straight downhill. I passed one hiker all day, and this was on the last half mile. He gave me practically running up the mountain. After a few seconds, his giant Labrador flew around the corner, looking like a big BEAR! My heart only stopped briefly. I would love to bring Lu, but the loose dogs would never work out for her. I keep her on a leash, but I think I'm the only person that does. She would have very little patience for loose dogs anywhere, even close to us – my zero-tolerance angel.
Sages Ravine and Race Mountain Summary
Today's hike to Sages Ravine and Race Mountain was approximately 14.8 miles. I would call it moderate to strenuous. The middle sections were everything except the climb up out of Sages Ravine and some small areas just before Mt. Race Summit. This is also a beautiful day hike that should not be missed.