Reunion Breakfast
Breakfast was a minor reunion, with Katie finding me at "The Daily Pie." She had been part of the group that started the trail with me at the Mexican Border. Mornings are not a strong time of day for me, so I hid behind my Albuquerque Newspaper sipping on a cup of really good coffee. Katie prattled on about something, and occasional grunts and nods on my part kept me just this side of the being completely rude line.
The Toaster House had been warm, and I had not slept well. Finally dozing off around 3:30AM, I was jarred awake around 4:30AM by the long, slow screech of a dusty barnyard rooster. I had the bunk room to myself, so cursed softly and threw off the sleeping back/quilt. My muscles were tight from all of the road walking the day before, and I was HUNGRY! I dressed quickly, worked on my journal for a while, and then headed to breakfast.
The Daily Pie
There was a choice between The Daily Pie and The Pioneer. The waitress was unlocking the door to The Daily Pie when I walked up at 7:15. There were already 5 regulars inside sipping coffee. They must all have keys. The waitress looked a little frazzled as she moved quickly around the restaurant getting ready for breakfast. I relaxed, with the cup of coffee dropped quickly in front of me. I would have about an hour of quiet time.
Town Chores
Following breakfast, morning chores were wrapped up. There would be no pie until lunch, so I had decided to hike out in the afternoon. This was Pie Town. I could not leave without having had a piece of pie.
Trail rumors, journals, second hand information – information was passed along the trail highway from hiker to hiker. Some of it was reliable, and some just wishful thinking or the result of a bad day on the trail. My cell phone beeped as I walked in circles trying to locate the mysterious cell signal in front of the Post Office. I had a signal! This piece of trail information was correct. The cell signal was found exactly where it was supposed to be.
The PO mistress was a wealth of information. Hikers were in and out of the post offices all the time, and news was passed on, along with boxes, lost items, etc. Some post offices, on other trails, even had "Hiker Boxes." Take what you want and leave what you don't.
Reunion with the Guys!
Everything was packed and ready to go, so I headed out to go get lunch and my much anticipated piece of pie. The Daily Pie was packed when I arrived. It was the only show in town today, and full of a mix of locals with a scattering of tourists. I guess I fell into the raggedy tourist grouping.
I had stood to leave when the front door to The Daily Pie swung open. Mr. K stood in the doorway with an eager expression on his face. Grinning, I shouted his name, and strode towards him. He grinned back, his eyes wandering past me to the menu. We were thrilled to see each other, but food was always a hiker priority. Catching up on trail gossip, I sat with him for an hour while he ate. This was a good time for another piece of pie.
Rest of the Gang
Mr. K had a box at the PO, so I walked with him before heading back with him to the toaster house. Waiting outside the PO, I looked down the road to see Ron, JB and Robbie coming up the road. I was literally dancing on my toes in excitement as I yelled out their names and waved my arms excitedly. The line of men began to move in my direction, hiking poles swinging rapidly!
The trail is a funny microcosm of humanity. It is one of the few places where people from all walks of life can come together for a few weeks, or even days, and become best friends! Backgrounds may vary greatly, but out here we all have the same goal, the same thing in common. In these moments the trails are our lives, and the people around us become part of that singular focus. We laugh, cry, fart, eat, hurt together, and as quick as we come together, we part ways.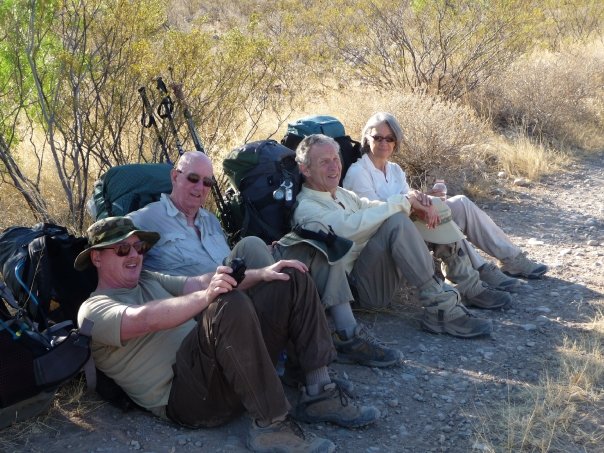 Pleasantries took about 10 seconds before I was asked "Where is the Diner?" Another hour was spent catching up, but this time I had a second lunch and some more pie. It had already been a couple of hours since lunch, so it was time to eat again. Hike hunger is fierce, and not a myth. The men were glad to hear I had seen Katie, since they had last seen her at Apache Creek climbing into some strange woman's car.
Leaving Town
I chatted with the guys as we all walked back to the Toaster House. They tried to talk me into staying one more night, but my feet were itchy. Cowboy Jim and his horse Butch were at the house when we arrived, and we all sat around chatting for a bit. It was finally time to leave though, and I hit the dirt road around 3:30PM.
There was road walking for miles after Pie Town. The dirt roads were lined by barbed wire, and around 8PM I began looking for a place to camp. Finally, spotting some Pinon trees, and no cattle in the area, I climbed under the fence and headed around behind the short trees to set up my tarptent. I scraped away dried cow dung, and packed the dung into an ominous looking hole a few yards away from my camp. Hopefully, nothing would come visiting tonight.