Twin Lakes was about a mile down to the mountain, so we did not begin hiking until around 7:00. We started later knowing that nothing would be open in the tiny town until about 9:00. The trail wound it's way down, eventually transitioning to a very rocky service road. As we approached the bottom, we passed several car camps. My stomach rumbled at the smells of coffee and bacon floating up from the large dome tents.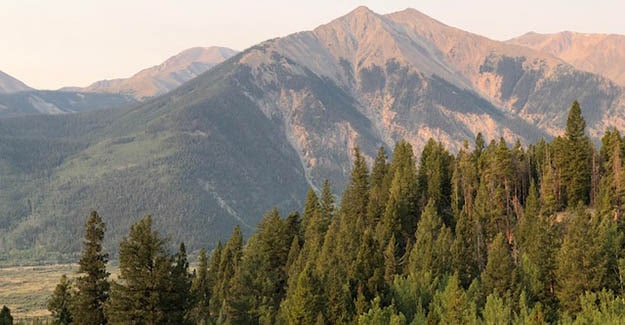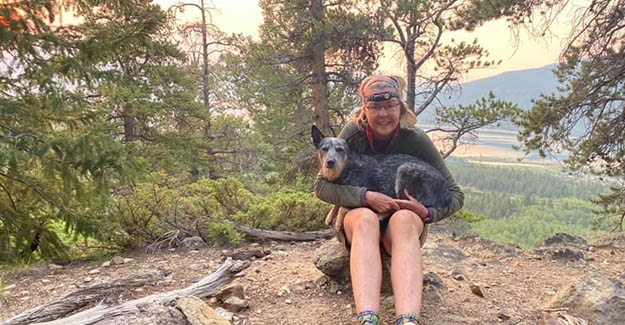 As I picked my way down the rocky service road, and approached the main paved road into Twin Lakes, I saw what looked like a cooler under the tree ahead of us. I was excited – could this be Trail Magic?!
Everyone craves something on long distance hikes – ice cream, carbs (pizza, pasta), fresh veggies, etc. Mine is soda – specifically Pepsi. I have no idea why, but I can drink 2 or 3 at a time, and a full pitcher of bubbly liquid if combined with a pizza. Pepsi is the first thing I search for when I get to a town.
Well, guess what ice cold nectar was in the old, white cooler left by Trail Angel "Caveman!" Sam and Shy watched and laughed as I yelped and did a little dance of delight. I had to force myself to only take one!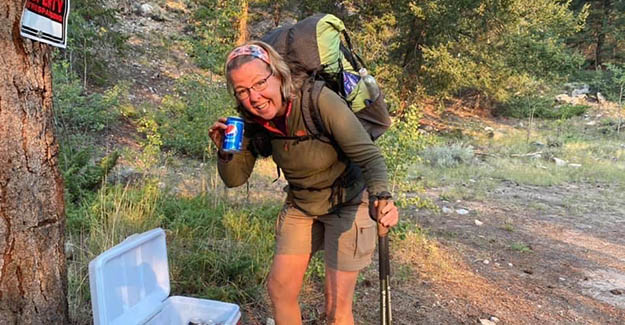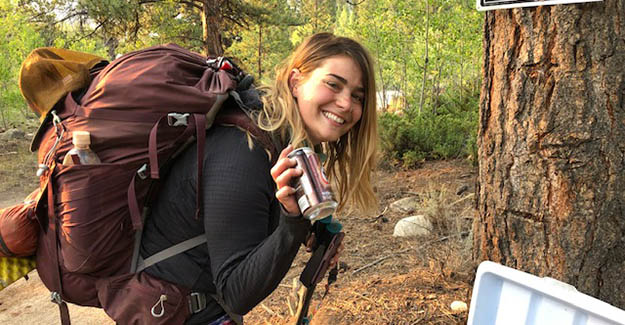 The walk into Twin Lakes was short, and we headed straight for the General Store so I could get my resupply box and the fuel canister I had mailed to myself. We arrived at 8:00, and the store did not open until 9:00, so we settled down to wait. The General Store had provided tables, chairs, an awning for shade, and an electrical strip to charge devices. Everything a hiker needed to hang out.
Hikers began wandering in, and before long there was a full house – probably about 8 long distance hikers. This was people watching at it's best. People watching and "Big Fish Stories" – I love both! Long Distance Hikers have great "Big Fish Stories."
I quietly listened to tales, and watched as a couple pounced on the hiker box. There was very little left by the time they had stripped the box of it's contents. I don't think they actually had to purchase any food at all.
I had seen a VW Bus food truck that served breakfast on my way into town, and I headed over as soon as it opened up. Ordering an egg and chorizo burrito, and a latte, I headed to the back of the bus to wait on my food. This little bus was amazing! It was sparkling clean, incredibly organized, and more inviting than most bougie coffee shops I had visited, AND – the latte was actually really good.
I chuckled as I walked my stinky, dirty self back down this street in the middle of nowhere with my excellent latte and chorizo burrito. It looked like the Colorado Trail was going through gentrification.
The store finally opened and I grabbed my resupply box. They could not find my fuel, so I waited 30 minutes, tracked the box, and went back in to tell them USPS said they had received it. I also provided the date and time of deliver. I've found that specific data often changes many responses. It was a small box, but they were finally able to find it.
By the time we had finished packing up, it was 11:00 and the other Food Truck had opened for lunch. We got burgers, fries, and two beef patties for Shy Dog, and headed across the street to a picnic table. By the time we had finished, it was quite smokey and I was stuffed!
My goal for the afternoon was to get over Hope Pass and camp at the first flat spot I came to – about nine miles – no problem. I will admit to pausing as I looked at the sharp pointy mountain on my map with the 3,305 foot climb. I've got this I mumbled to myself, looking across the hot valley floor towards where I knew the climb awaited.
I had decided to head across the valley and "river" to the trail head, but first we had to find our way. The faint trail ended about 200 yards out, so I checked my map, determined where I would go if I was a trail, and set my course.
We forded an ankle deep stream, did a little bush whacking, stopped a mountain biker, and a mile later we popped out at the trail head where the climbed started immediately. Setting our turtle pace, we stopped once for water, and began the steep climb.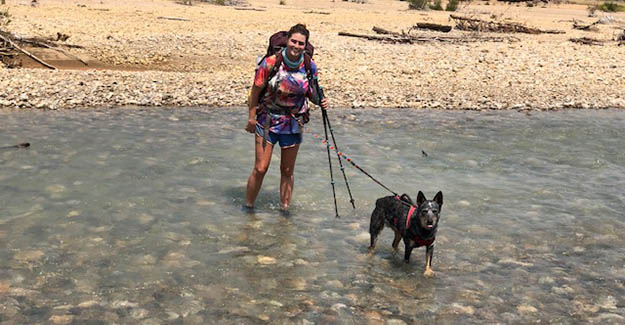 The climb went by faster than I expected, with trail runners passing us on the way down every half hour or so. I think this was the weekend the Leadville 100 had been canceled, so they were probably running off the frustration. I couldn't imagine running down that hill without spending most of the time doing face plants. Kudos to them (all women) – that trail was steep!
Some hikers consider the climb to Hope Pass one of the toughest, but there are some sections of the trail I find harder. The trail up to Hope Pass was well worn, and once I set my pace it was not that bad. We stopped for water, but other than that we were able to maintain a steady, albeit a slow head down pace.
As we wound our way up through forests of hardwood and spruce, we passed open meadows sprinkled with old broken and dilapidated log mining and homesteading cabins. Life on this mountain must have been bitter and brutal in the long winter seasons. The closest resupply towns were miles away.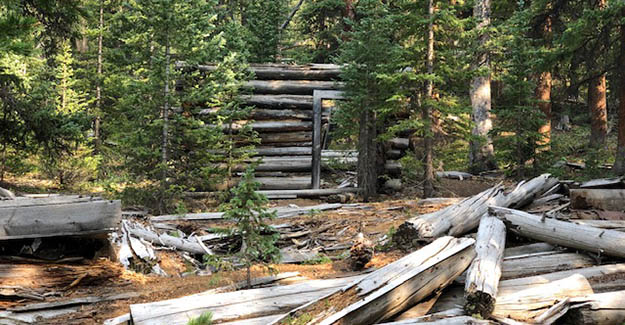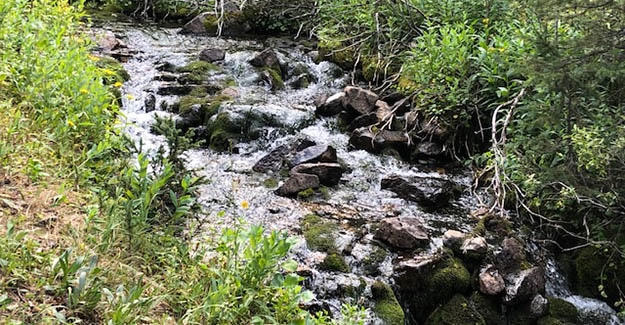 Finally rising above treeline, long shadows indicated we were well into late afternoon. We could make it over the Pass before dark, but we would be racing the setting sun to find a decent campsite. We located sites in the open meadows, telling ourselves we would get up at 4:00 AM and climb the last half mile to watch the sunrise from Hope Pass. All good plans…
Sam and Shy camped at a meadow above me, on the other side of some thick brush. A few minutes later a young man came over and set up his sleeping pad and quilt about 40 yards from my shelter. His name was "Hobbit" and he ate dinner with us before we all went our separate ways for the evening.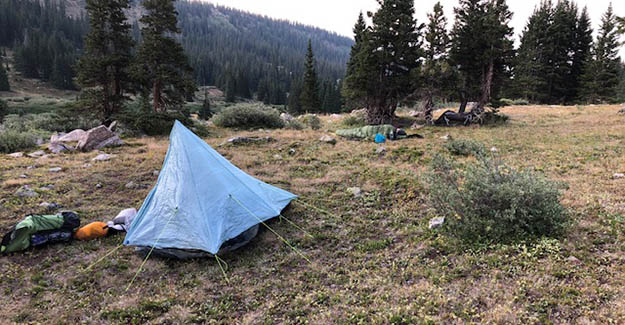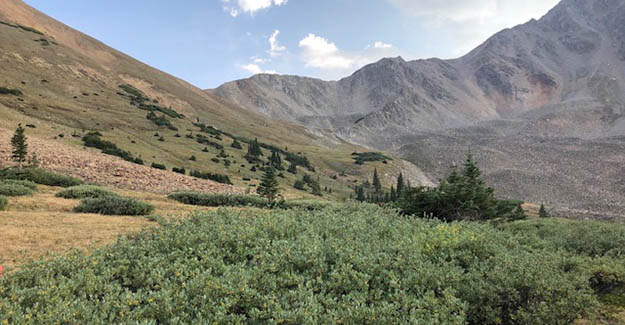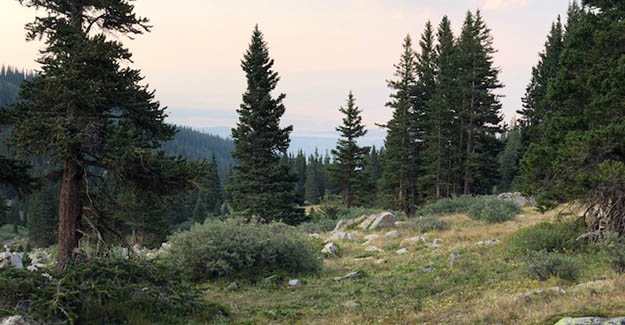 Hobbit was cowboy camping, it was cold, AND he had a quilt. I had a quilt also, but was in a shelter that cut some the wind, just below the saddle above us. I watched him lay all of his belongings around himself on his thin foam pad, and then pull his beanie down well over his ears as he squirmed down into his quilt. He was a tougher soul than me.
Hobbit told me he slept warm, but the next morning he told me it had been a tough night. Sleep is right up there with food and water for me. A good night's sleep makes my hikes more enjoyable, and also increases my endurance. I have to be warm.
This page has affiliate links for products and gear I purchase and use. If you click on one of these links, I receive a small commission at no extra cost to you. There may also be Amazon links and as an Amazon Associate I earn from qualifying purchases.If this review has been helpful, please consider purchasing through the links above. Proceeds are used to purchase additional gear for review. Thank you. You can read more about my thoughts on affiliate marketing.