Up With The Chickens!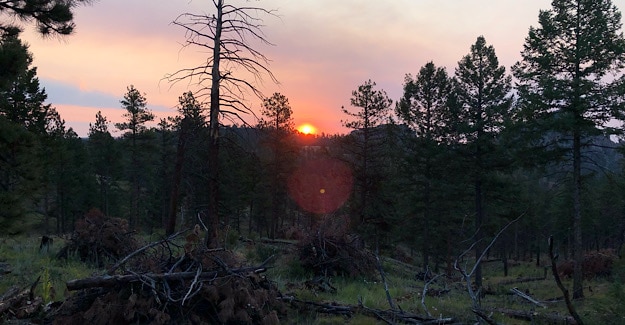 I was up with the chickens! I'm usually wide awake by about 4:30, and putz around for about a half hour before beginning to pack. General putzing tendencies run strong in the Thomas family.
Tyler asked if I was awake and said something had been tugging at the bear bag he had hung, so to be careful. He then paused before saying "So you are really getting up now?!" I smiled and said yes. With the chickens!
I tried to be quiet but everything I have crinkles or rattles – sleeping mat, compactor bag, tent. I'm sure Tyler was glad to see me go so he could get a little more sleep.
Fire House Break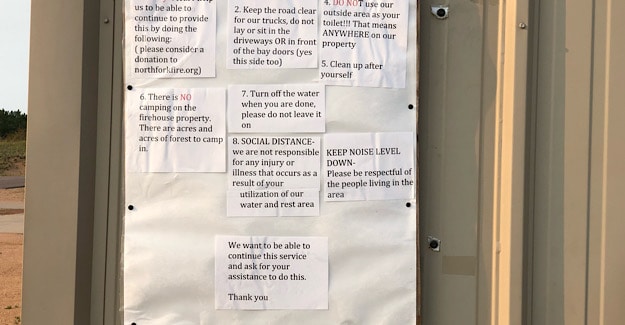 Hiking was easy, and I arrived at the Firehouse early. There was a spigot on the corner of the building, along with a very long list of rules. I hoped they were not so long because hikers had done so many things to require them! This would be an important water resource to lose.
I don't remember seeing "no eating breakfast" on the list, so I spread out on a bench and ate my Granola Parfait with Greek Yogurt from Stowaway Gourmet. It was a tad sweet but pretty good.
In the morning I'll often burn off previous night's dinner calories, and then stop for breakfast a couple of hours into the mornings hike when I have a good view, it has warmed up, or I am stopping for water.
Hearing footsteps on the pavement, I turned to see a young woman pop around the corner of the firehouse with her empty water bags. I had seen her and another hiker camped on my way to the firehouse. Thankfully, they had abided by "the rules" and camped off the property. I think their names were Danielle and Katie. She was quite friendly and we chatted for a few minutes. I've not seen them since that morning, but have a feeling they may show up again.
Little Scraggy Trailhead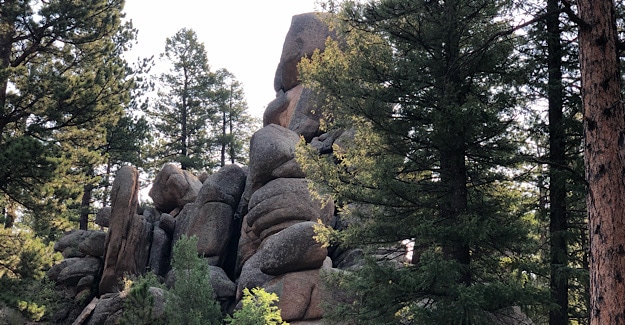 I was excited about Little Scraggy. There was a pit toilet there! It might be hard for non-hikers to understand but being able to use a semi-real bathroom while long distance hiking is sometimes a highlight of the day!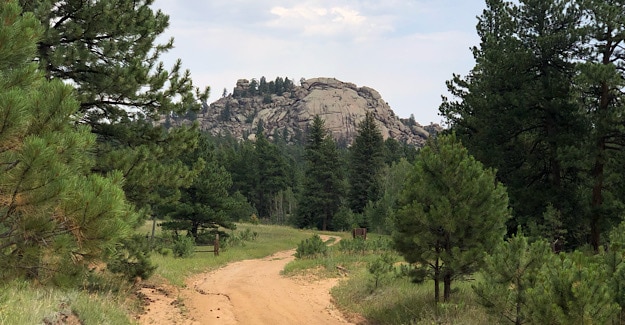 Mountain Bikers!
Little Scraggy is the land of the mountain biker! I think 234 zipped past me over the course of the day, and I spent an extra 1,000 calories leaping off the trail. Another 1,000 was burnt by adrenaline induced panic as they raced around curves so fast I almost had a heart attack!
On the other hand they ALL said thank you and were quite pleasant. My favorites were the bikers with bear bells, aka hiker bells, on their bikes. I could hear them coming in time to move without falling off the trail or clinging to a tree. Love the bells!
Water Along the Trail
Water along the trail has not really been an issue. I carry a little extra to be safe, but Guthook does a really nice job with updates. Guthook is an interactive map application where hikers leave comments. If you backpack you should be using Guthook. There is a map for most long distance trails.
One note on electronics. While Guthook is my primary logistics tool right now, I also use GAIA and carry maps and A compass. I enjoy maps, and always like to have a back up for electronics. This is a personal choice and many hikers only use electronics now.
Buffalo Creek, an awesome water source around mile 36, was a surprise for me. I came through the trees to a raging creek! WTH! It was on Guthook but listed with a road emblem instead of a water emblem. You have to look out for this sometimes on Guthook.
I stopped for a late lunch at Buffalo Creek where I spotted a man with a giant telephoto lens taking a picture of me through the trees! Weird until I realized he was photographing a fella running up behind me. Still a little odd.
Big Climb
There was a 3,000 foot climb after Buffalo Creek, and I knew I would be dry camping so I drank a liter and grabbed enough for cooking dinner. There were seasonal creeks listed on Guthook but I never trust them 100 percent.
I then began to climb up what were some pretty steep sections. Sections of the trail were quite rocky, much harder than smooth trail that allows for my shuffling baby steps.
Camp for the Night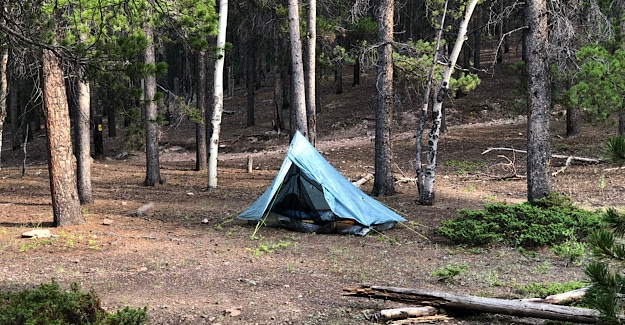 There was supposed to be a large level area just before Lost Creek Wilderness and I reached it after a long climb. Across the clearing two other women had set up camp, and I waved as I set up my tarp-tent on the other side of the clearing – outside of loud crinkling noise range. I always feel bad waking up others with all my putzing and rattling.
The agenda for the night was dinner and blister management. Dinner was Shrimp Gumbo from Stowaway Gourmet again. It was impressive, mostly because the shrimp tasted like shrimp and not small rubber erasers. With Siracha sauce it got boosted to 5 stars!
Blister management occurred after dinner. My two last toes on my right foot are never team players. I even proactively wrap and baby the little princesses and still they get massive blisters. I guess they always will, so every night I lance and drain them with a tiny needle, smear on Neosporin, and allow them to dry out over night before wrapping them again the next morning (bandaids). By day five they have given in, toughened up, and are good to go.
I could tell it was going to be a cooler evening at around 8,700 feet so I hooked my Katabatic quilt into one of its lines secured to my Neoair pad. Temperatures ended up dropping into the mid-50's.
Curling up under the quilt I listened to storms approaching. Clear days and cool evenings with overnight showers was perfect hiking weather for me. That with few bugs or snow make August one of my favorite months to backpack in the big mountains out West.
A Few Closing Stats
Miles hiked – 20.3
Day Temps – low 80's
night Temps – Upper 50's
Hiking – moderates
Challenges – end of day climbs but not overly difficult, just long
Breakfast – Cereal Parfait
Lunch/Snacks – whole-wheat Tortillas, peanut butter crackers, granola bars, Nathan almond butter with honey
Dinner – Shrimp Gumbo w/Siracha – Stowaway Goirmet
This page has affiliate links for products and gear I purchase and use. If you click on one of these links, I receive a small commission at no extra cost to you. There may also be Amazon links and as an Amazon Associate I earn from qualifying purchases. You can read more about my thoughts on affiliate marketing.