Helluva Climb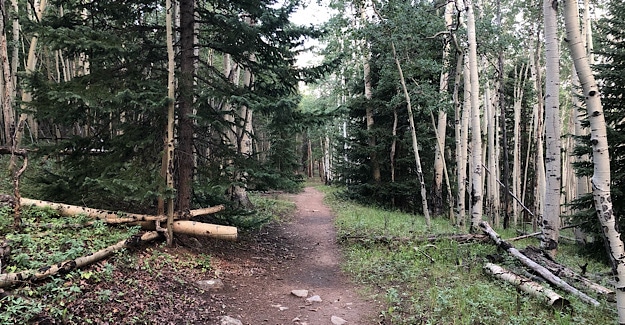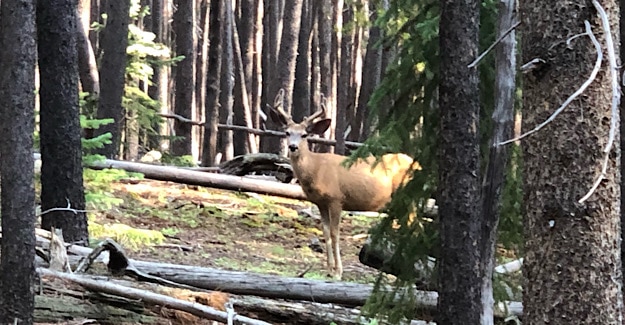 I was up and resuming my 3,000 foot climb at first light the next morning. There was no movement from my sleeping neighbors, so I don't know if they were Colorado Trail hikers. I tried to minimize all the crinkling and zipping but it was tough!
The hiking was steep and rocky which is hard mostly in that I can't get a good rhythm going. I'm constantly weaving around rocks and searching for foot placement.
Suddenly, I heard branches breaking up the slope to my left, and watched as a buck plunged through the spruce and cleared the trail with room to spare. He was a magnificent animal, and instead of disappearing into the woods he turned to stare at me.
I watched him for a minute, took a few pictures, and resumed my climb. A few minutes later I looked over to see him following through the trees. He would follow for a bit and leap ahead before coming out on the trail 30 yards ahead and then disappearing back into the trees. This went on for at least a half hour before he finally disappeared. We were both fascinated with each other, and it definitely made the climb go buy more quickly.
Six Mile Meadows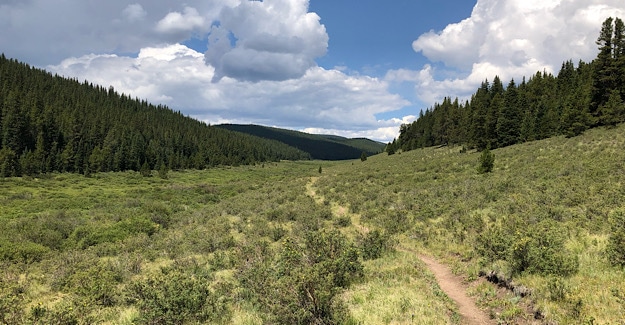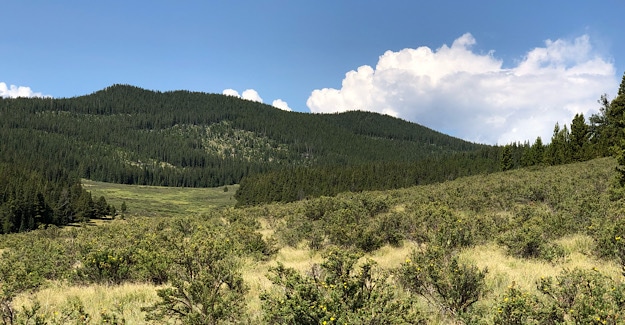 Reaching the top of the climb I began a long easy descent to what I refer to as Six Mile Meadow. It is a beautiful hike where the trail runs alongside a meadow that slowly ascends to a high point of about 11,000 feet. The large, marshy meadow has plenty of water and some great camping in the woods that skirt it's edges.
It was in the Meadows that I met Salty and Double Orca, two young thru-hikers that I ended up flip flopping with for the rest of the day. They appeared to be doing big miles and would probably hike until dark so I knew I would not see them again.
Campsite
Dropping about 1,000 feet out of the Meadows, I loaded up on water at a small creek at the end of The Lost Creek Meadow. There was a lot of cow poo in the area so I was careful with the water and made sure I filtered it.
The creeks in this area were also reporting Bear activity, and there were some deep scratch marks on a couple of trees. I climbed about a half mile above the last creek and noted storm clouds starting to build. It was time to stop and make camp.
Topping out on the climb I started to look for camping. I noticed someone else setting up and moved on down out of sight before going about 50 yards back into the woods and finding a nice flat area.
I settled in between two short stubby spruce and quickly set up. My camp routine was usually the same. I would immediately set up my shelter in case it rained, and then boil water for dinner. While my food was rehydrating for about 15 minutes in it's cozy, I would finish unpacking and get settled. By the time I finished dinner was usually ready.
My routine on this hike has changed. It is more casual. I'm not doing the bigger mile days where I hike until dusk. In the case of higher mile days I usually cook in the late afternoon and then keep hiking. I also like to eat away from where I sleep.
Now I'm camping away from water (where living creatures frequent) and eating where I sleep. I'm stopping earlier so I can do some writing and reading. I'm just very careful with my food. Ultimately though, I still prefer to eat and then hike some more. If I was further north in Grizzly country, this would definitely be my routine.
Listening to thunder approach I began cooking quickly. Just as I settled in to write a little it began to rain. The rain began tapping hard against the tarp and as lightning cracked I realized the rain had transitioned to hail. The weather did not last long though, and the storm had passed through within 20 minutes. The storms are fast out here!
Daily Short Stats
Miles hiked – 19.7
Day Temps – upper 70's
Night Temps – lower 50's
Hiking – easy to moderate
challenges – avoiding the bears and cow poo water
Breakfast – Granola Parfait by Stowaway Gourmet
Lunch/Snacks – whole wheat tortillas, Nathan's almond butter, crackers, cheese nibs
Dinner – Elbow noodles with dried squash and pesto sauce – awful – one star. Even Siracha and tuna did not help. Will have to look up the company.
This page has affiliate links for products and gear I purchase and use. If you click on one of these links, I receive a small commission at no extra cost to you. There may also be Amazon links and as an Amazon Associate I earn from qualifying purchases. You can read more about my thoughts on affiliate marketing.