Crazy Bull Calf
I was up and hiking by about 6:15. It was chilly last night so I hiked for a couple of hours before stopping for breakfast. As it get's colder this will become my habit. I get up, pack quickly, and wait for the sun to stop and eat.
The hiking towards Kenosha Pass was beautiful, with rolling meadows, interspersed with Aspen, Spruce and wildflowers. I was a couple of weeks late for wildflower season, and just catching the tail end.
The trail looked busy as I passed numerous tent sites. A lot of hikers go into towns at this busy pass, like FairPlay and Jefferson. I've hitched into FairPlay and it's not a bad hitch. I was skipping these towns though, and targeting Frisco for my next resupply in a couple of days.
I came around a bend, about two miles out from the Pass, when a large black shape lunged up out of the bushes next to the trail. Bear! I turned to face the loud creature and was face to face with a young bull calf.
He could not have been over six months old, but was still a hefty guy. I breathed a sigh of relief just as he charged! WTF! I had never been charged by a calf, and I have seen A LOT of calves out here. I yelled at him, expecting that to startle him into stopping, but the little butt head just kept coming, so I stepped to the side and whacked him on the neck with my hiking pole. That only seemed to irritate him, and as he lowered his head to rush at me again, I stepped forward and whacked his nose a little more softly. He looked startled and backed up.
As we both stood watching each other, I caught movement from the corner of my eye. I looked over to see a GINORMOUS black cow walking slowly towards me. That had to be mom. Turning back to her son, I watched as he slowly trotted around me and towards the large cow. My moment as a Matador was over, so I picked up speed and jogged down the trail until they were well behind me.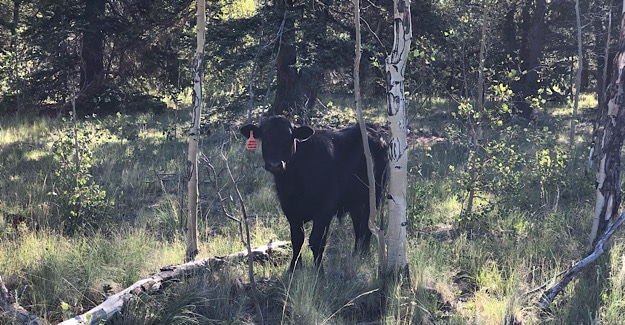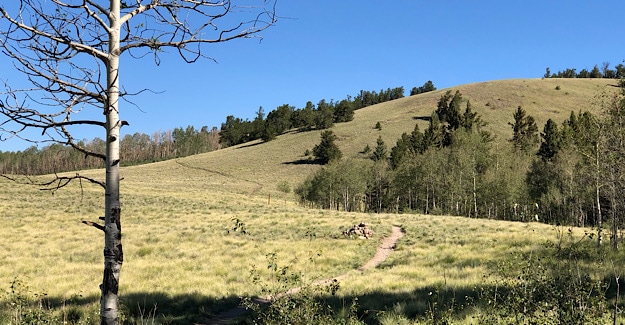 Busy Pass
I began seeing a lot of Day Hikers coming up the trail as I made my way towards Kenosha Pass. My mask was in my pocket, and I would put it on as they approached. I would say about 40 percent of the hikers passing me had on their masks. I don't wear one in the backcountry, as there is really no better social distancing.
One group of women was thrilled I had on a mask, and I heard them talking amongst themselves as I approached – "Oh good, she has on a mask." I ended up talking with them about the trip for about 15 minutes before moving on.
Kenosha Pass was busy, and I "froggered" across the highway before beginning a moderate climb back up the other side of the Pass. There was a campground on the other side, and I noticed creepy wooden teepees amongst the trees as I climbed. I think I even saw someone peering out of one.
Once at the top, I stopped for lunch, with beautiful views of the valley below and the big mountains on the horizon. The weather was perfect and soon another biker named Ashley stopped for lunch. Immediately after her was a family from my home state. Lunch lasted about 30 minutes and then it was time to move on.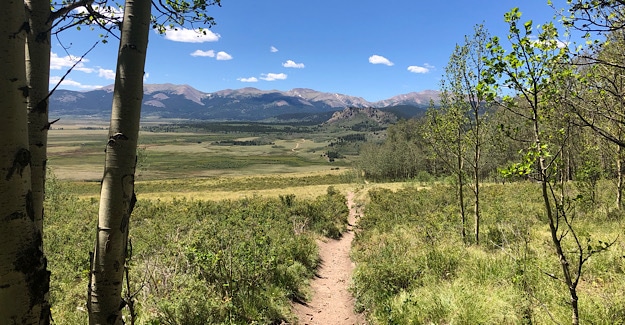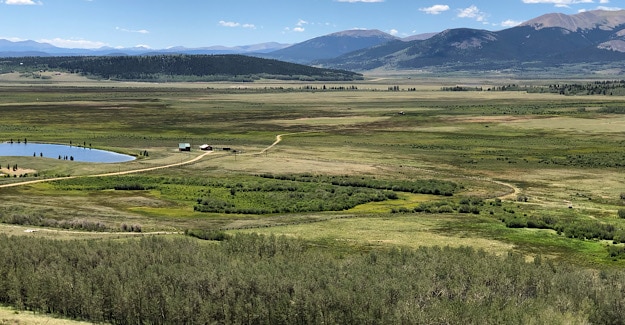 More Hikers
I continued on down through mountain meadows and over a couple of dirt roads before coming to Jefferson Creek. There I met a young man stretched out next to the creek having a cup of coffee. Luke was so easy going, and I could see he was thoroughly enjoying his hike.
We ended up chatting for about 20 minutes before a mountain biker rode up and offered us a beer back at his camp. The biker was a nice guy, but taking a detour of any distance on a long distance hike, unless for town food, is always something that makes me hesitate. It was late afternoon, so we thanked him and moved on up the trail.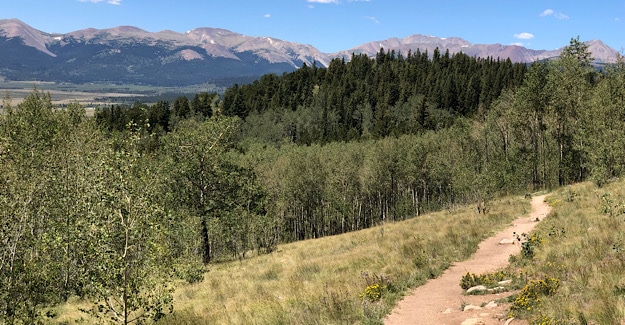 Camp For the Night
Luke passed me about thirty minutes up the mountain. I had stopped to talk to Brian and Dee, a couple climbing up to Georgia Pass. They were still debating the leap into long distance hiking, and we discussed gear for about 20 minutes before heading our separate ways.
I passed Luke near the last water source before the Pass, grabbed water for dinner, and hiked about a mile before finding the perfect small campsite off the trail. It was closer to the trail than I liked, but it was perfectly flat and nestled into the trees for a little privacy.
I settled in to set up and boil water for dinner, glad I only had two miles left to climb over Georgia Pass tomorrow.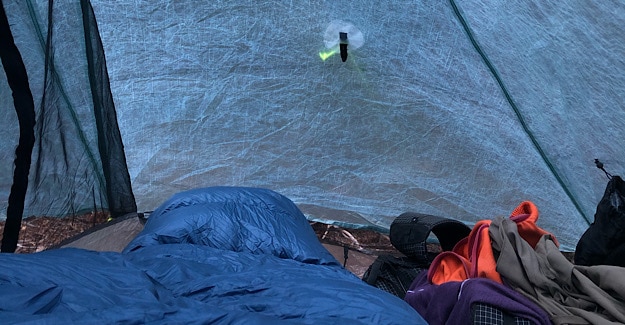 Daily Short Stats
Miles Hiked: 20.8
Day Temps: Mid 70's
Night Temps: Upper 40's
Hiking: Easy to Moderate
Challenges: Bull Calf
Breakfast: Big Sur Bar
Lunch/Snacks: Whole Wheat Tortillas, cookies, Goldfish
Dinner: Dehydrated Brussel Sprouts with apples and wild rice – 3/5 stars
This page has affiliate links for products and gear I purchase and use. If you click on one of these links, I receive a small commission at no extra cost to you. There may also be Amazon links and as an Amazon Associate I earn from qualifying purchases. You can read more about my thoughts on affiliate marketing.