I poked my head out from under my quilt and quickly tucked it right back under the warm layer. As expected, it was damp and cold camping next to the creek. Cold, moist air had settled into the valley and it felt like most of it had gathered around me.
Related Posts: Colorado Trail – 2020; Colorado Trail – Day 20
I pulled my hiking clothes off my backpack, and tucked the damp, cold and very smelly clothing up under the quilt with me to warm up. This southerner does not like cold, and if I became chilled it would take me well into the next climb to warm back up. Avoiding cold was always a priority for me.
It was still dark when I started packing. I ate a small snack, but would not stop for breakfast until the morning warmed up, hopefully at a nice view or after a big climb. As I took down my shelter I could hear the guys (Steve and Pat) moving around in the early, grey morning. I finished packing and walked down to say goodbye before heading out. I knew they would catch up with me since I was still moving slow, but I felt a hiker connection so a "Good Morning!" was in order.
They were bantering as I arrived, and Pat was just as "joyful" in the morning as he was at night, producing regular grins from Steve. I enjoy good energy, and started the climb up from Arkansas river with a smile on my face.
The switchbacks up out of the Arkansas River were excellent! Apparently trail on each side of the river was maintained by different groups, or had been funded differently. The trail was long and moderate before switching up to equally long and moderate trail, so I cruised up the well groomed pathway. Head down, I did not see Dorothy and Toto coming down, and was greeted by a sharp bark that made me stop abruptly.
Dorothy was about my age, and her side kick was a Pomeranian named Toto. He gave me the once over before going back to forest scanning for varmints. This was clearly his world, and the attitude of this small dog let me know he was King. They were both immediately likable, Dorothy for her positive personality and Toto for his take no shit personality. I wish they were headed north. We chatted trail and logistics for about 20 minutes before heading our separate ways. She and Pat would get along well. I may not see the guys for a while.
The hike up from the Arkansas River was nice and began to steepen as I reached the meadows before the Pass above Hancock Lakes. I passed another hiker, and we commiserated about altitude impacts on flat landers. He was well into the hike and said food still had no taste, as he hiked with very mild nausea. Altitude effects people differently. In my case it was all about the climbs and breathing. Fortunately, today was going better and I was doing more hiking and less sucking of oxygen.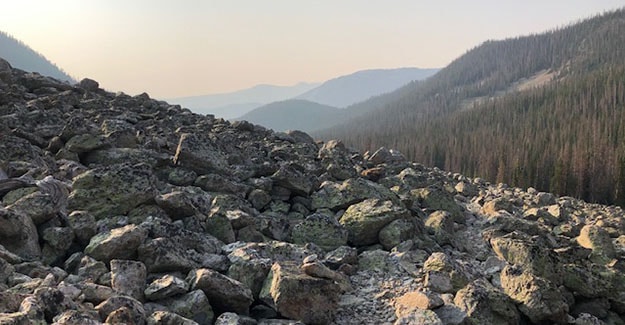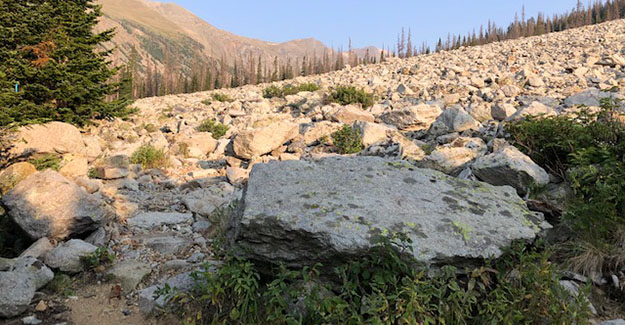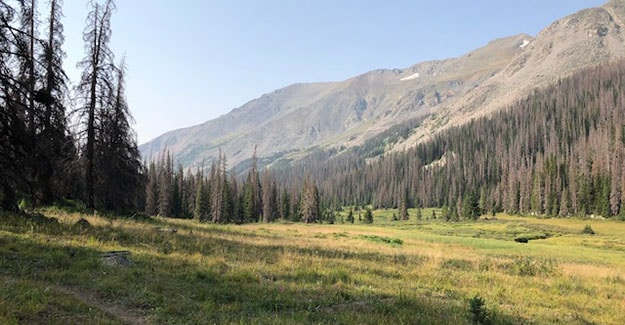 It was at the bottom of the Pass that I passed the Cruisers headed in the opposite direction. We were all picking our way across a boulder field, and so we were focused on our feet. As we met in the middle we all looked up and did a double take. I grinned and they looked confused. We paused and chatted for a bit as I caught them up on my stay in Salida and why I was back tracking to get the miles I had missed. They were still targeting 12 mile days, so I would probably see them again when I headed south again at Monarch Pass.
The view from the Pass above Hancock Lakes was spectacular, and would have been gorgeous without the smoke that had settled over this region. Hearing voices I peered down towards the lake and saw people dotting the shoreline. As I began weaving my way down the switchbacks towards the valley I realized the dots were trout fisherman. The small lakes must have pretty good fishing, at least the second lake.
Weaving my way through the valley I saw the a hiker making his way towards me. As he approached I realized it was "Half Knee." He was an older hiker I had met in Frisco, CO that was section hiking the CDT. We stopped and chatted for a few minutes before heading our way. He was taking a poll on what section to do for the Fall. My recommendation was the Winds in Wyoming.
I love the Wind River Range. As a matter of fact, Wyoming is my favorite state. I love the rugged, desolate beauty of the whole state. I always feel like I've gone back in time to what the West must have been like 100 years ago.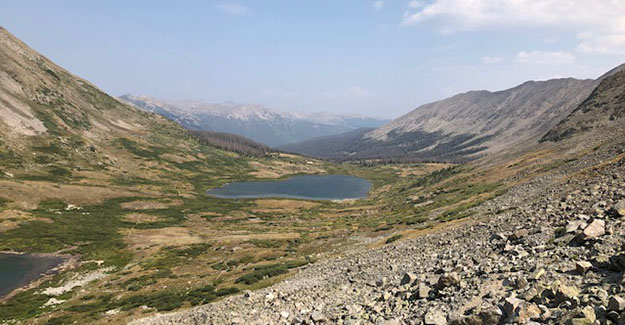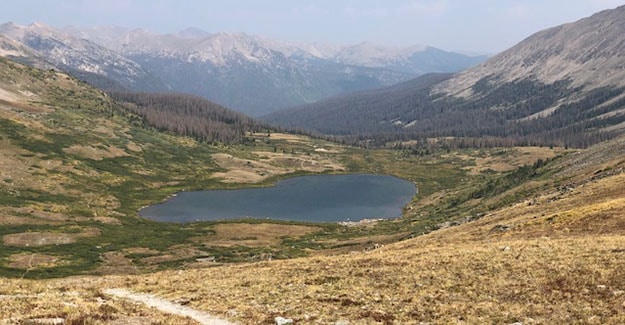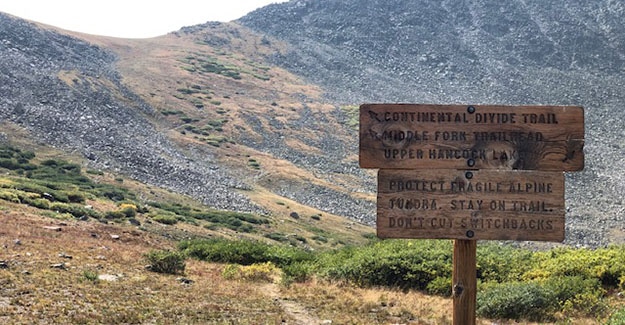 The road down to Hancock Trailhead was right up there with the road I hitched out of Indian Creek on a week or so earlier – awful. The road was a steep dirt track, interspersed with rocks and boulders that made it almost undrivable. I slipped and slid, only sliding down on my butt once. My HOKA Challenger trailrunners definitely did not have the traction I needed for this trail.
Campsites and turn offs dotted the sides of the road, with tents, campers and trucks parked at almost every turn off after the first quarter of a mile. This was definitely a popular area for camping, and some sites looked like they had been there for quite some time. ATV's and small off road vehicles zipped past me as I made my way to the trailhead, pausing to look for the creek. I needed water.
Stopping at the parking area, I saw the creek made it's way through a marshy valley, and looking to my right I saw a bridge. I headed that way to check it out, and arrived there about the same time as two other Colorado Trail Hikers, Lynx and Hot Legs. We all headed down under the bridge to filter water and take a snack break. They were nice young guys with tiny little packs, and had hiked several long trails. We had fun chatting trail and watching Ninja Moose.
Hot Legs had seen Ninja Moose when we arrived, as he reared up out of the bushes around the creek. He had trotted up the creek away from us. A few minutes later he had suddenly appeared on the opposite side of the bridge in other direction. Crazy Moose – how had he stealth walked over there so fast! Mr. Moose now had his trail name – Ninja Moose.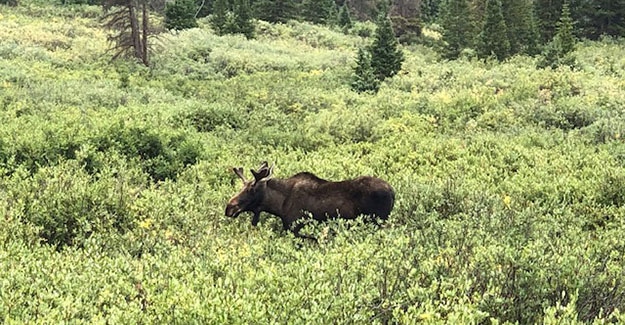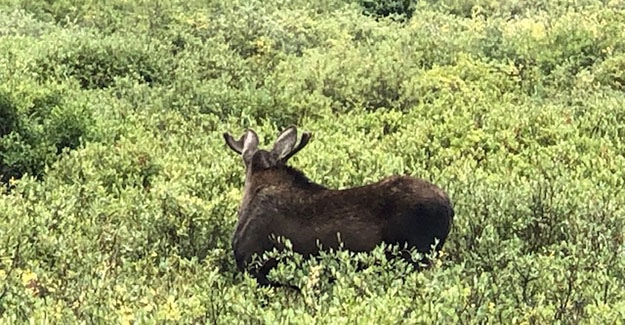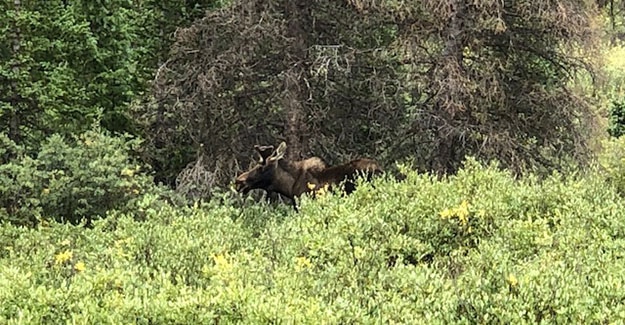 After a couple of Almond Butter Tortillas I headed back out. The trail heading north from Hancock Trailhead was an old railroad bed, so hiking was easy. Trains much have been much smaller in the past. I saw the spot where Steve and Pat planned to camp. There was a slightly wet spot in the dirt and nowhere to camp. I may see them later.
Reaching a trail turn off I met another hiker, and turned to climb straight up from the railroad bed. It always seemed like I was climbing up and awful lot on this trail. There had to be far more up than down. Fortunately, the climbs almost always took me to stellar views, and this was no exception. Unfortunately, it began raining as soon as I began the climb above tree line. This was usually the case. It wasn't windy so out came the umbrella!
My goal for the day was the North Fork of the Chalk River. This would give me about 16 miles for the day, and was definitely an improvement over yesterday's pitiful 10.5 miles. I would take it! I would probably stop about a half mile above the river, up on the side of the mountain if I could find a flat spot. It would definitely be warmer than the river. Choosing a campsite is something I give some thought.
I climbed up close to the divide, and then made my way along the ridge, before dropping back over an unnamed Pass in Guthook, and down to the meadows below. It was a beautiful hike, and as I headed lower into Spruce forests, I continued the descent along more perfect switchbacks. They were were long, wide and only moderately steep.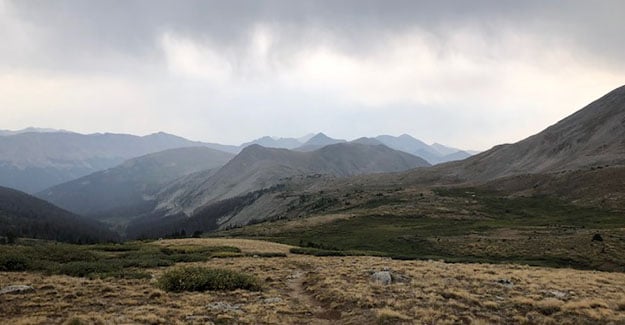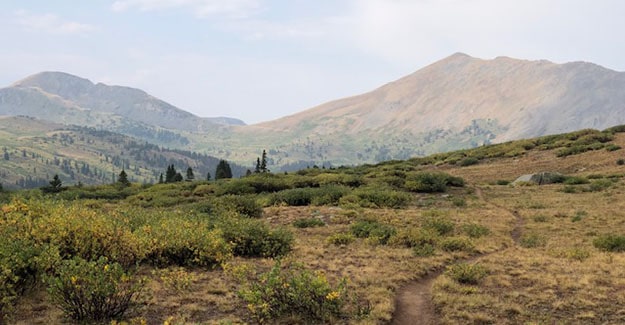 As I hiked down closer to Chalk Creek below I could hear the constant buzzing of motorcycles and ATV's. Yet another reason not to camp near the Creek – cold, wet, too many people. I began scanning the woods where the trail switched back, looking for campsites. Sometimes there are flat areas at the end of the switchbacks. It was only about 5:00PM, but there was another steep climb up from Chalk Creek, so I would go ahead and stop on this side of the Creek.
Rounding a corner I saw the perfect campsite. There was room for about two tents, and it was perfectly flat, located at the end of old trail that cut up the mountain. It was also a little less than a half mile up the mountain from Chalk Creek. It was closer to the trail than I normally liked, but it was such a good site and I would probably see very few people this late in the day.
As I made dinner I heard a voice I recognized. Looking up I saw Pat and Steve rounding the corner. They had hiked much further than I had expected. When inquiring, their response was "What were we going to do, just sit around camp?" They were beginning to sound like long distance hikers and I just smiled at the answer.
We chatted for a few minutes before they headed down to Chalk Creek. Like most backpackers, they cooked and needed a water source for the night. I usually carry my water and move on (Arkansas River was an exception) since all types of critters can be found around water sources and the big critters know that is where to find "hiker food."
Tonight's meal was Bison and Bacon Stew by Stowaway Gourmet. It is currently the best freeze dried meal I've ever eaten as far as favorite food goes. This will probably change over time, but they have set a high bar.
This page has affiliate links for products and gear I purchase and use. If you click on one of these links, I receive a small commission at no extra cost to you. There may also be Amazon links and as an Amazon Associate I earn from qualifying purchases. You can read more about my thoughts on affiliate marketing.