Leaving Town
I knew today would include a big climb over to Copper Mountain Resort, so I had my usual big breakfast at Bread & Salt before heading out. I always like to try and eat a good breakfast so I only need a couple of snacks and dinner for the day.
There are two options for the section to Copper. You can carry your backpack or slack pack. I choose to backpack the trails I hike, but many backpack and slack pack. Either approach is fine of course. If you choose to slack pack or day hike this section, you can catch a bus in Frisco or Breckenridge to Copper Mountain Resort and walk back without the weight of a full backpack.
After breakfast I went back to the motel and grabbed my backpack. The free shuttle bus picked up right out front. Frisco is definitely an easy town for resupply.
Meeting Shila
There was a 2,500 foot climb to hike over to Copper so I paced myself climbing up from the Gold Hill Trailhead. The first few miles were also pretty exposed due to what looked like an old burn and some logging work. Looking out through the stunted, blackened tree trunks I was struck by the beauty of the contrast between the dark trees, vivid new green growth, and the large blue-green mountains in the distance.
Crossing Miner's Creek Trail I made my way down towards a small creek. I needed water since I had only carried about a half liter on the climb. I usually drink a liter at water sources and carry very little if I can depend on the water sources ahead. The Guthook application definitely makes this easier with its real-time water information.
As I rounded the bend I saw a young woman and her Blue Heeler sitting near the creek. The dog barked and lunged at me snapping as I drew closer. She was clearly very protective of her owner and a little scared of strangers. I've found that is not always unusual when bringing dogs into the wilderness. This is a new environment for them. I also noted she carried no backpack and that her owner's Osprey Backpack was large. She was clearly carrying the dog's food.
As we chatted I learned her name was Samantha and the dog was Shila. Hiking the Colorado Trail would be their first long backpacking trip.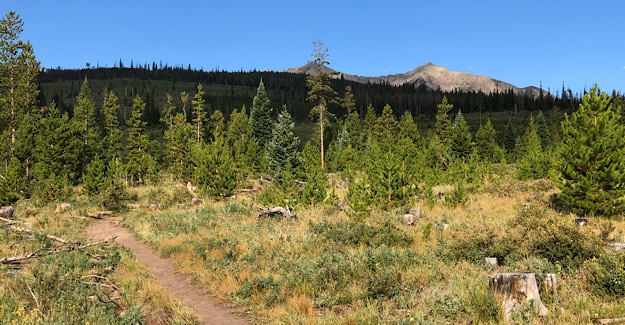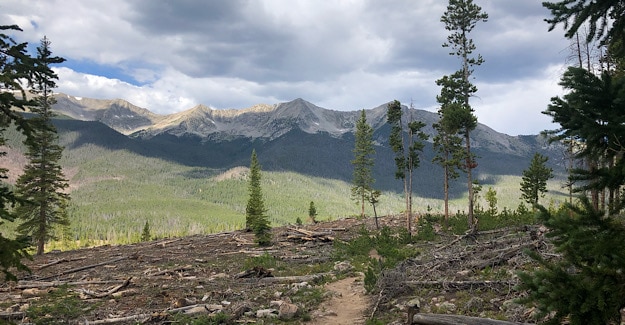 Steep Climb
As the climb continued it became steeper, and as I veered away from the creek I had been following I stopped for a snack. Before long Samantha and Shy caught up with me. This time I had snacks, and Shy was much friendlier. We bonded over Cheeze-it's.
Over the course of the rest of the day I hiked with Shy and Samantha. Sam carries Shy's food since the dog is seven and just beginning to get some arthritis. Shy was a very small boned dog but handled the trail like a nimble little goat. The Heeler was clearly at home on the trail.
The climb just before leaving treeline was very steep, and we all huffed our way up, stopping to take pictures on the rocks and switchbacks just before the Pass. The advantage of hiking with someone else is easily getting pictures of yourself. I carry a small tripod but rarely feel like setting it up.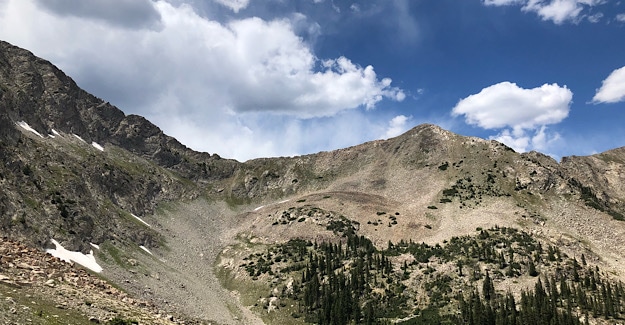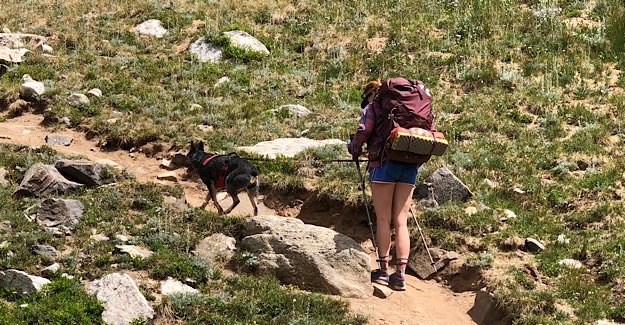 Finding Camp
Th next few miles after the Pass were beautiful, and above treeline. As we wound our way down towards Copper Mountain Resort I was glad their were no storms in the area.
Instead of camping down near Copper I suggested we camp above the valley. Cold air would probably flow down into the lower valley. It would be drier and warmer up a little higher.
The Fall
There were some steep sections on the hike down the mountain, and my head was throbbing. I've hiked up to 20,000 feet and never had issues with altitude, but that is the crazy thing about altitude. It can bother people on one hike and not another. This headache was surprising not only because of the severity but because it was making me slightly nauseous. I would need to slow down for a day or two.
I'm always careful going downhill. I'm tall and my poor tailbone has suffered in the past. Suddenly the loose gravel on the trail shifted and my feet shot out from under me. I watched, as if in slow motion, as a large jagged rock headed towards my butt. Slamming into the rock I some how managed to flip over twice in my backpack before laying sprawled on the side of the trail. Thank goodness there was no steep drop off.
The world whirled and a searing pain shot through my tailbone. Oh man, this was going to hurt for a while. I heard Samantha gasp and held up a finger. She started laughing before saying she had never seen anyone flip twice. As the shock wore off I also began to laugh. That is often how I deal with shock. I unbuckled my pack and rolled out as Sam reached down to help me up. Ugh….
As I write this on Day 18 I have a GINORMOUS black bruise. Getting up is difficult and I still have to shift from cheek to cheek because of the tailbone pain. I'm most comfortable when hiking, which is what really matters. Sitting and laying down are overrated. I'm so glad I brought my Thin-light pad.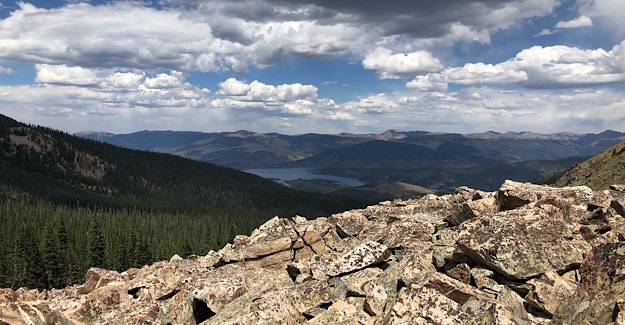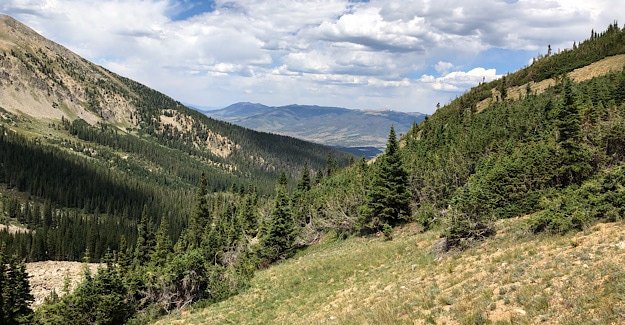 Camp
About a mile later I looked down the mountain to our left and spotted a large bench with an old fire ring. We had loaded up on water at a small spring earlier so this would be an excellent campsite. I grumbled as I hobbled sideways down the steep hill (there was no side trail). There was room for at least five or six tents.
Sam and I chatted across the campsite as we made camp and dinner. Shy repeatedly brought me sticks to throw. Today's Hike did not appear to have phased her energy levels. She really was a good dog.
My complaining tailbone kept me awake and I lay listening as the forest darkened around me. Small nocturnal creatures crept around camp. Humans had not camped here in some time. It grew cold quickly, probably the coldest yet. I snuggled down into my quilt and drifted off listening to the night come alive.
Daily Short Stats
Miles Hiked: 12.5
Day Temps: Mid to Upper 70's
Night Temps: Mid to Upper 40's
Hiking: Moderate to Hard
Challenges: Hiking Upright
Breakfast: Bread & Salt Restaurant
Lunch/Snacks: Oreos & Cheeze-its
Dinner: Outdoor Herbivore Pasta Primavera with a pack of Tuna – 3/5 stars – pretty good
This page has affiliate links for products and gear I purchase and use. If you click on one of these links, I receive a small commission at no extra cost to you. There may also be Amazon links and as an Amazon Associate I earn from qualifying purchases.If this review has been helpful, please consider purchasing through the links above. Proceeds are used to purchase additional gear for review. Thank you. You can read more about my thoughts on affiliate marketing.