Early Start
Last night was a lot of tossing and turning, so I was up and packing early. The cold morning temperatures had me moving more quickly than usual as I tried to change from my warm sleep clothes to my damp, cold smelly hiking clothes without loosing too much body heat. I usually pull my icky hiking clothes under my quilt to warm them up with me but I was ready to go this morning.
The climb down was steep, and I was amazed at how cold it became as I dropped down into the valley. The grey, still morning made it seem even colder.
I circled around the construction area at the parking lot and hiked back up behind Copper Mountain Resort. I had read the Starbucks at Copper was open and visions of hot beverages flashed through my mind.
I stood staring down at the dark Starbucks. It was closed. Some part of me wasn't really disappointed. I did not really feel like leaving the trail, and coffee and sugar burnt off fast.
Janet's Cabin
The 1,300 foot climb up to Serle Pass was more moderate than the day before. I think I was still adjusting to altitude.
As I sat eating tortillas and looking out over the valley below, Samantha and Shy caught up with me. We all ended up hiking together the rest of the day.
The trail wound it's way up towards Serle Pass. Everything was lush and green, and as we climbed towards a higher alpine area, and began to leave treeline, I looked over to my left to see my dream cabin. It was an off the grid cabin that held 10 people and could be rented. The cabin was solar and even had a wood powered hot tub. Linens were provided and renters just needed to bring food. It is in a completely tranquil setting.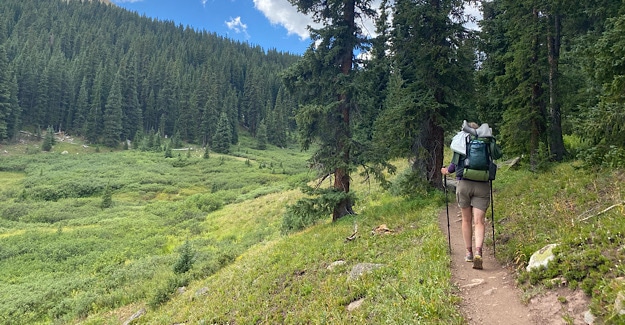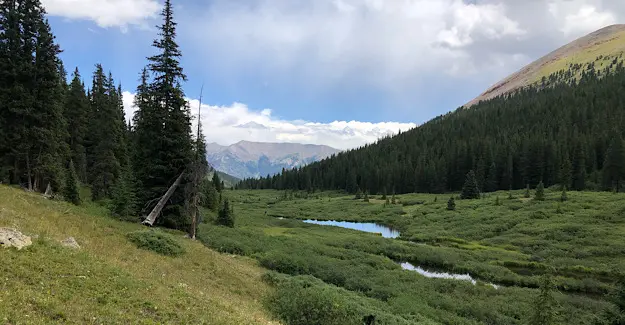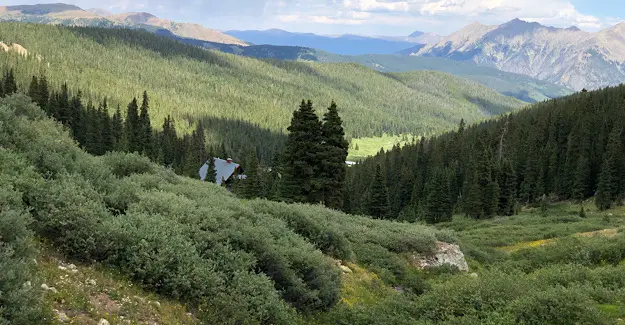 Kokomo Pass
The views over Serle Pass are breathtaking and so expansive. We paused to spend time at the top and soak it all in. These views were easily my favorite so far on this trail.
Above treeline, we wound our way down along the green mountain flanks before heading back up switchbacks to the ridge above. At the top of the ridge I was greeted by the marmot mafia. They appeared from amongst the rocks chirping and calling warnings to their neighbors in surrounding colonies. They really are the cutest little guys but don't leave out anything you want to keep from the little thieves.
The trail took a sharp turn over the ridge and headed straight down to Kokomo Pass. It's not too often you go down to a Pass. We took a couple of pictures and began the hike down towards the valley below.
Camp for the Night
A creek ran down through the valley below, and there was a lot of camping. We did not want to get too low, so we grabbed water and took our time heading down. Samantha had found a Fitbit earlier and as we passed a woman with her Golden Retriever she asked her if she had lost one, not expecting a yes. The woman eagerly jumped up from the grass saying she had lost one. What are the odds? We returned it to her and went about a half mile before finding a large open area to set up our tents.
We had stopped a little early to camp, but I was ok with that since I still had a pretty good headache. Fortunately it seemed to be easing and did not have the same vise grip like feel as the day before. I was adjusting to the altitude, just a little more slowly than I expected.
I cooked dinner, played a little stick with Shy, and was climbing into my quilt while it was still full light. I had not slept the night before and was asleep almost as soon as my head hit my puffy.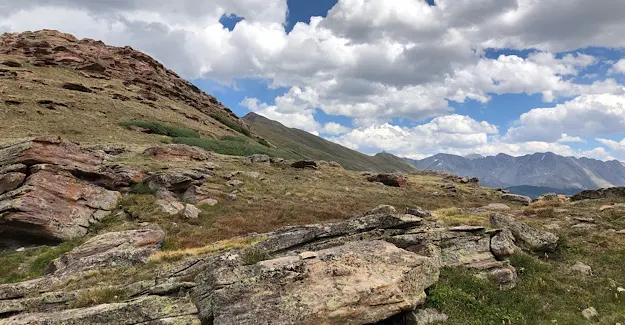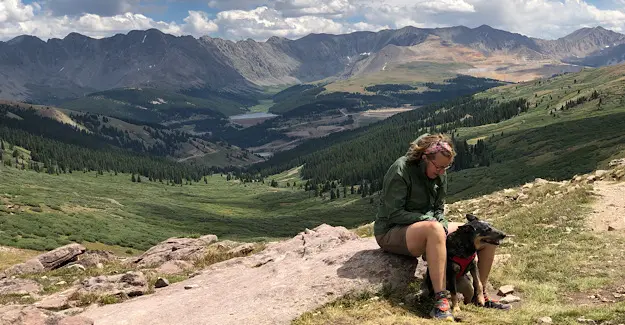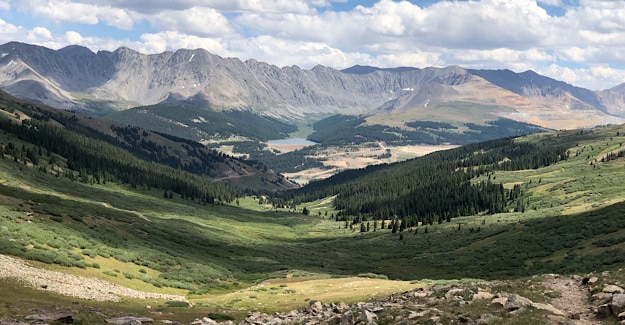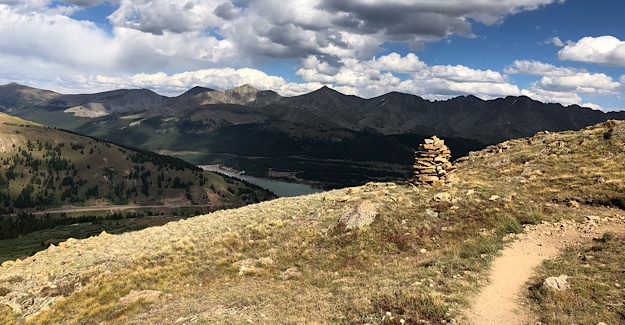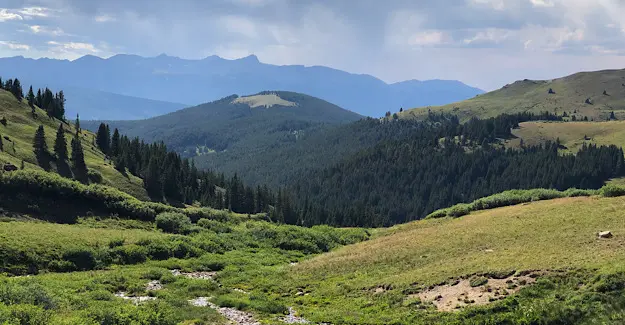 Daily Short Stats
Miles Hiked: 15.7
Day Temps: Mid to Low 70's
Night Temps: Mid to Low 40's
Hiking: Moderate to Hard
Challenges: Headache
Dinner: Stowaway Gourmet Bison and Black Bean Chili 5/5. This is the best dehydrated chili I have had So far.
Lunch/Snacks: Whole-wheat Tortillas, Nathands Almond Honey Butter, cookies, Cheese Nibs
Breakfast: Cereal with dehydrated fruit and Nido
This page has affiliate links for products and gear I purchase and use. If you click on one of these links, I receive a small commission at no extra cost to you. There may also be Amazon links and as an Amazon Associate I earn from qualifying purchases. You can read more about my thoughts on affiliate marketing.