NET Menunkatuck Trail – Section 8
The New England Trail, or NET Menunkatuck – Section 8 overlaps with section 9. In this post I began at the intersection with the Mattabesett Trail and hiked south to Section 7.
I actually hiked 22 miles from the start of Mattabesett Section 09, on the New England Trail, and finished at the Southern Terminus in Guilford, CT. I have written up each section separately. Reading through one of these section posts is dry enough. I can't imagine combining them all into one post!
Section 8 of the Menunkatuck Trail was mostly rolling forest. I started early in the morning and views were few due to fog and mist. The grayness was cool though, and reminded me of one of the Stephen King horror movies Sets. I hiked quickly!
NET Menunkatuck Trail Section 8 – Quick Glance
Miles: 5.10
Start – Trail Head & Coordinates: 5000 CT-77, Guilford CT – 41.419455, -72.689500 – Parking Spaces – 6
End – Trail Head & Coordinates: 132-280 Old Toll Road, Guilford CT – 41.353114, -72.684910
Additional Planning Information: Planning Page
Difficulty: Easy to Moderate
NET Menunkatuck Section 8 – Hiking
The Menunkatuck Sign looked brand new, like many of the New England Trail signs I saw at trail heads and intersections. It was hand carved with blue lettering and bolted firmly to a young, healthy tree. I wonder if there is a less obtrusive way to attach them?
The intersection for the Menunkatuck and Mattabesett Trails was not close to a road. There were a lot of forest service roads that did not appear to be used much in this particular area, but I have no idea which one in the maze would have brought me to the trail. I'll have figure it out for the start of the next hike.
So, I have since checked maps. If you want to start Section 08, the best way to get to it is to park on Durham Road and hike in about a mile. If you have a good off-road vehicle, you could also drive in, at least part of the way, on Crooked Hill Road. The walk from Durham looks to be much more direct though.
I'll have to ask my brother if he wants to race me in his 20 foot high truck. He will loose. Are you reading this Junior?
I was hiking down from Section 09, and I paused at the NET sign before heading on down the trail. It was not long before I came to a large kiosk letting me know I was in the Genessee Recreation Area. There were fire service roads, maybe old logging roads, that branched off in three directions, and the trail itself was clearly marked.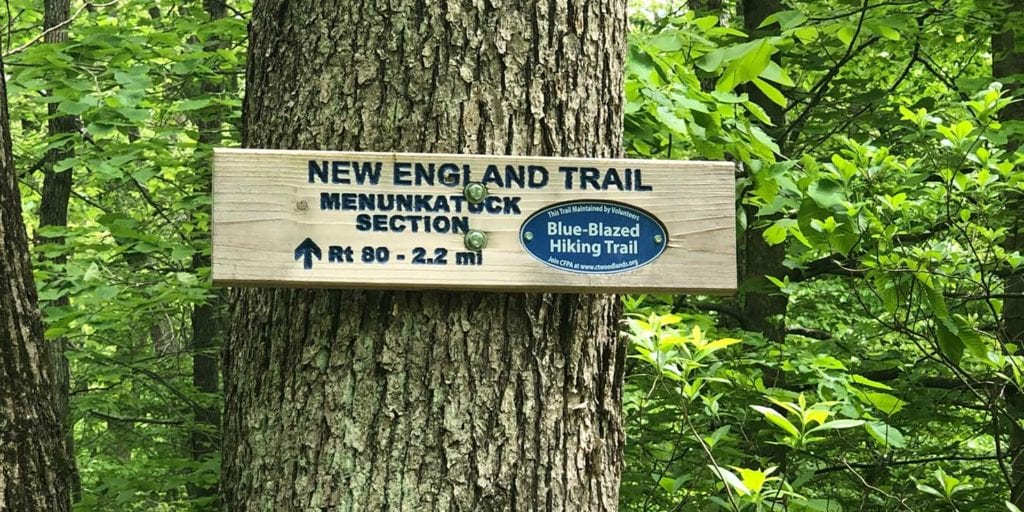 Forest Walking
After the Genesee Kiosk I spent a lot of time on under used forest roads, and slightly better used dirt roads. Four wheel drive vehicles appeared to be popular in some sections, and I noted a few hoof marks and bike treads here and there. This was definitely a multi-use trail.
Section 08 was a pretty unremarkable section, but the woods were pretty with there early summer greens. They contrasted with the dark, wet tree trunks and rich dark earth, making the forests appear to have more depth. When the animals grew quiet, the woods felt mysterious, almost ominous. The trees were watching.
I crossed over Rockland County "Road" which did not appear to be used much, and reached Goat Lot Road, which definitely got more use. Goat Lot had plenty of room for parking, but with all the mud, those 5-7 vehicles better be knobby tired 4-wheel drive trucks!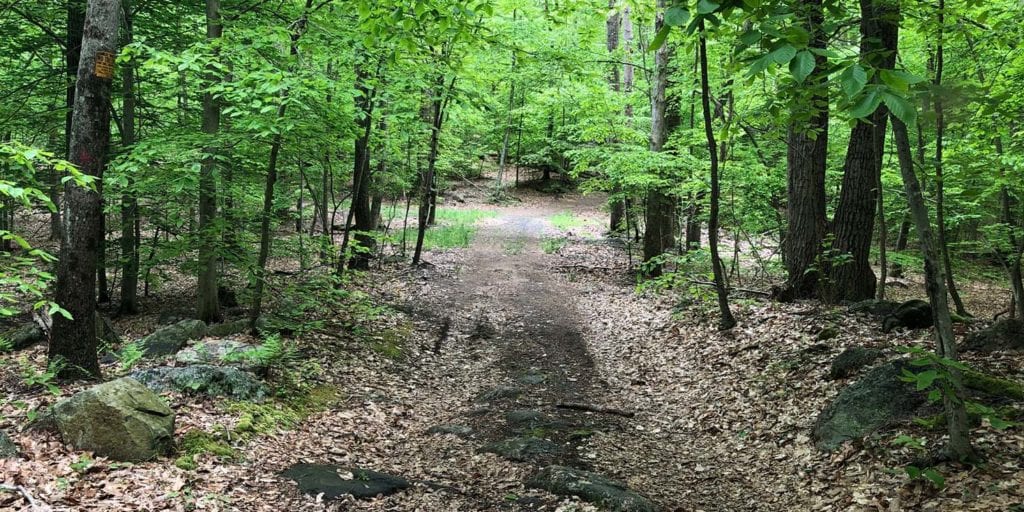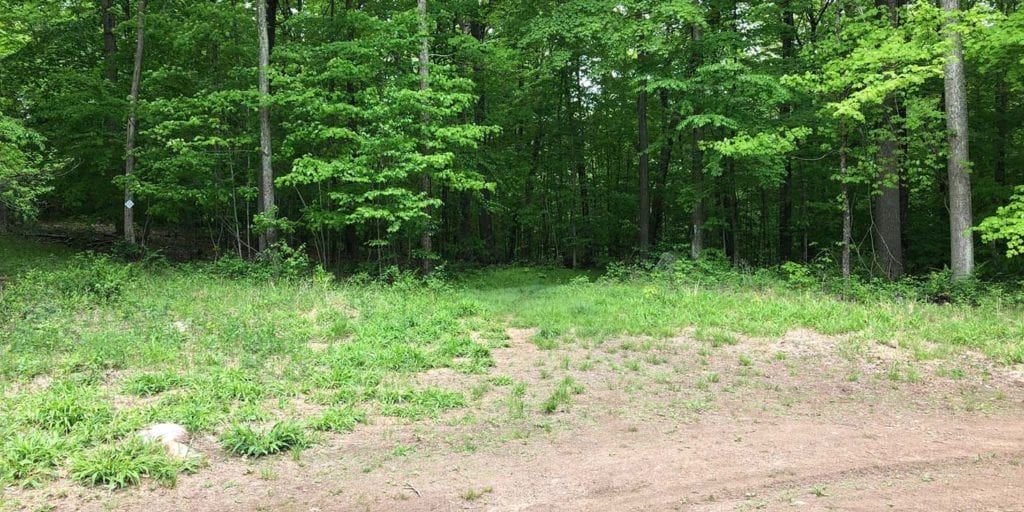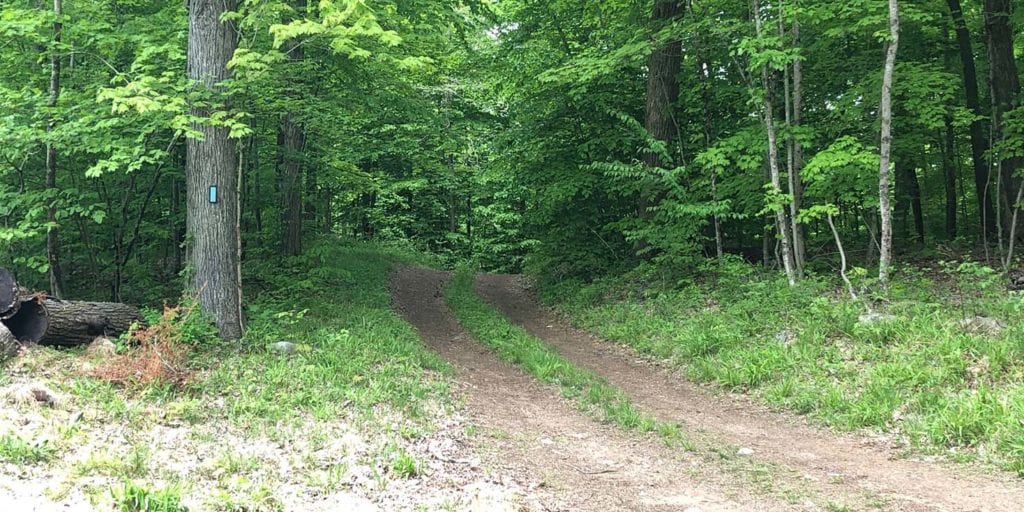 Wildlife Sighting!
Finally! My first wildlife sighting on the New England Trail. I'm not going to tell you what critter, but his profile pic is in the photos below. He was so handsome – a little prince.
Hiking was nice after Goat Lot Road. Terrain was all forest rambling with a few rocks and bumps thrown in here and there. Lot's of forest roads again, which is this section's main theme – forest roads.
The only negative for the section – and it has been expected due to all the standing water I've seen over the last few weeks – REALLY BIG MOSQUITOES…UGH. I mean these suckers were BIG, but this section also had the largest boggy sections so far on my hikes. The bogs were so large that they even routed the trail around the edges of some of them!
I put on the hated DEET today. The brand slogan should be "Melts your gear but not your skin!" These giant mosquitoes had to have been the parents. They were GINORMOUS, and even when I sprayed them, while they were perched on my legs taking blood samples, they barely moved – just kind of staggered around until I squished them. Yuck.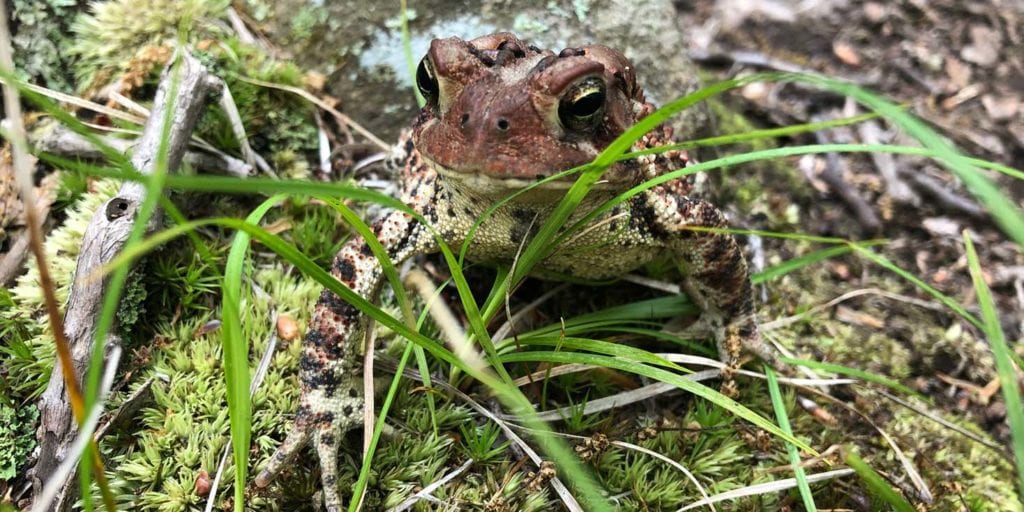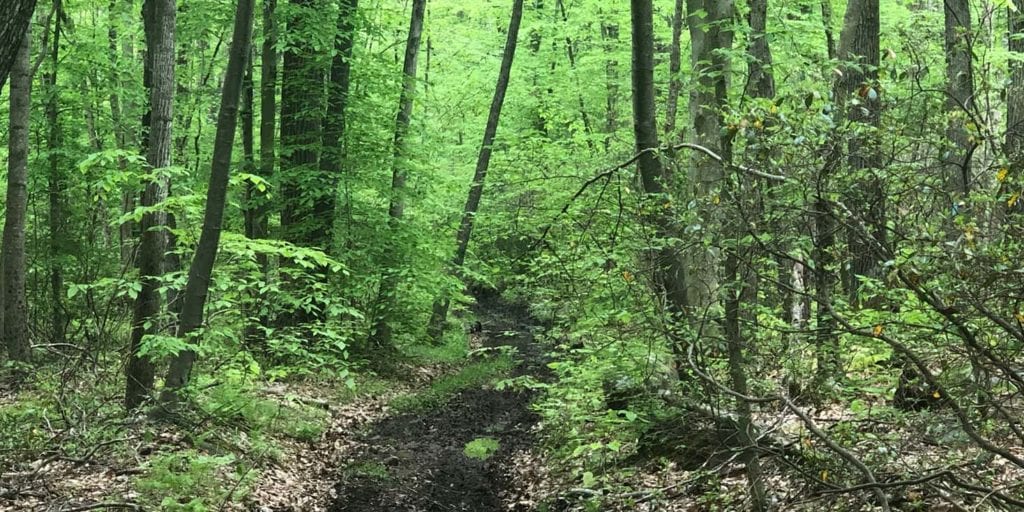 Gun Fire!
The closer I got to Hart Road, the louder the gun fire. By the time I reached the last stretch of very nice road/trail before Hart Road I was convinced I was paralleling a shooting gallery. There were a couple of times I actually ducked!
As I approached Hart Road I heard a loud mechanical rattling noise and looked quickly to my left. A HUGE Black knobby wheeled truck with BLACK tinted windows was waiting for an electric gate to finish opening. The gate was slowly wheeling back across a black top road. It had to be a government installation I thought, and there is no way those windows are legal.
I know it was my imagination, but I swear I saw blurry pale faces watching me from the other side of those dark windows.
Glancing in front of the gate, I saw a sign for the Guilford Sportsman's Association. These fellas had some bucks. That was a well paved road and an expensive gate. The truck just sat there for a minute after the gate opened, which was a little creepy, so I quickened my pace.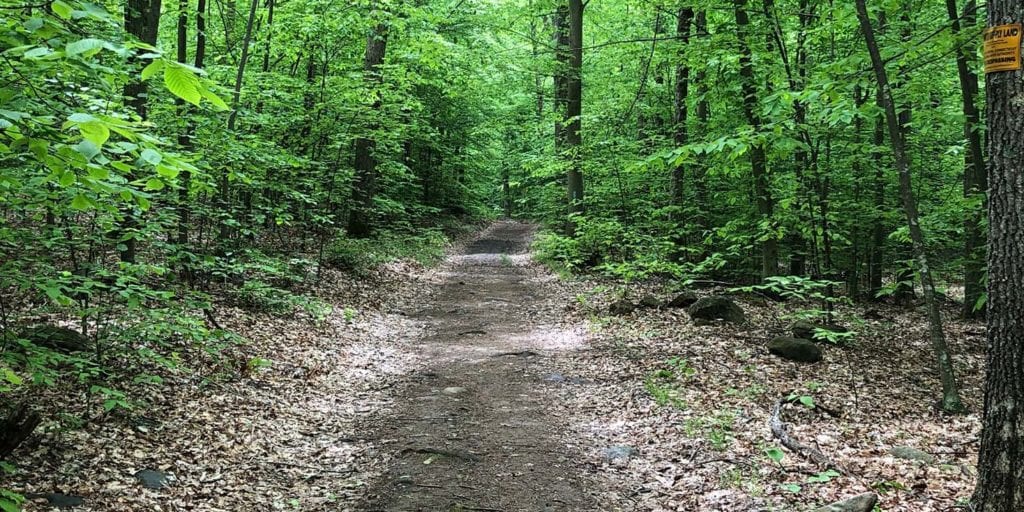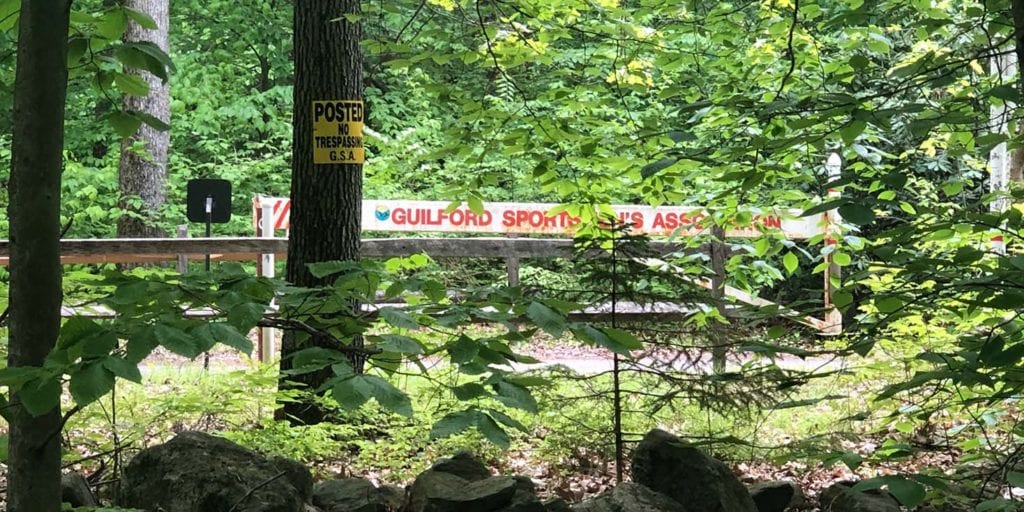 Hart Road
An old Caddy was creeping it's way up Hart Road as I marched quickly down the road looking for where the NET swung back into the woods on the left side of the road. It Was close according to the GAIA app.
The elderly man driving the car stopped to ask if I had seen any other people around. My instinct wanted to scream yes LOTS, but he looked harmless enough so I said no. He grinned broadly and said "Good, I can let my dog run." I breathed a soft sigh of relief. Paranoia keeps me safe.
The car moved on down the road, and as I turned onto the NET again, I suddenly heard pounding foot falls coming up behind me, approaching fast! I reflexively ducked and jumped into the woods to my left, ready to give the old man a good chop!
The shirtless young man that ran past me was grinning as he said "excuse me." I pretended to be very busy tying my shoe. Did I hear him laughing?
Final Section to Toll Road
The trail from about a mile before Hart Road to Toll Road is absolutely perfect for trail running. You can't ask for better tread. It even has packed duff and not dirt. This gives you a spring in your step, and I almost broke into a slow jog – almost.
Toll Road has a very large parking area, and I'm sure you could easily fit 20 vehicles. One fella pulled up in a truck and rolled down his window to ask if the flies were bad. I was chomping on a bar and just shook my head. He did not ask about the mosquitoes, and I did not want to squelch the fun for him.
After about 15 minutes, I checked my pack and headed across Toll Road. Section 8 ended just on the other side of the road, but I was headed for Section 7 next.