Desolation Loop – Wilderness Trail
Day Two on the Desolation Loop began before dawn. My eyes were just beginning to open when movement outside my shelter made me freeze. There appeared to be a small coyote sniffing in the leaves about 5 feet in front of my tarp-tent. It was still fairly dark, and hard to make out any details but it was definitely "dog like."
**Note that Day One includes all information for planning and logistics.
I clicked on my Fenix HM50R Rechargeable headlamp and abruptly blinded myself. I'm still getting used to using the new headlamp, including turning the very bright high beam in the right direction. Looking back through the mesh I saw the coyote was gone.
Not everything living was startled by the light. The netting on the front of my tent was covered in small vampires – aka mosquitoes. Ugh…
I was only on the Wilderness Trail for a mile and half before reaching Thoreau Falls Trail. It was a pleasant, easy flat hike to warm up this morning. Looking down, I saw old railroad ties crossing the graded trail, and raised my head to see them disappearing into the distance.
I always marveled at these traces of man. So much work had gone into gaining access to these mountains – mining, timber, camps – there had probably been hundreds of men and machines. Now there were just a few rotted timbers and old rusted remnants of tools and machinery that had been used to support those people.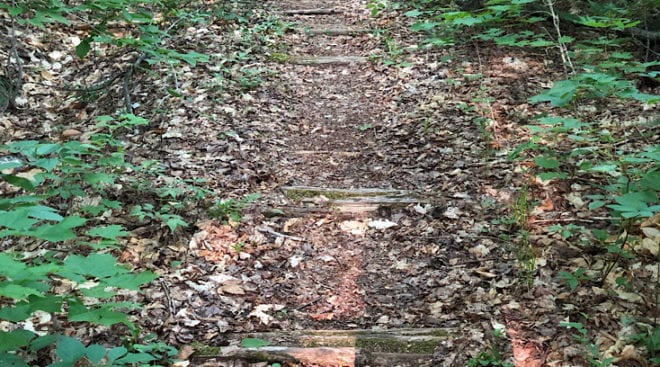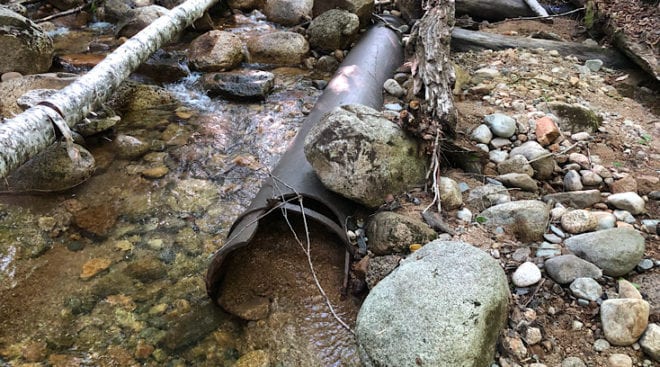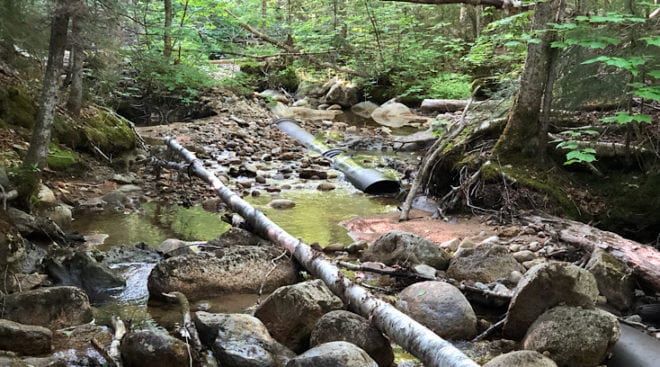 Desolation Loop – Thoreau Falls Trail
I had really been looking forward to Thoreau Falls. During the week, and in weather like today, it should be breathtaking. On the AT it had been one of my favorite short side trips in the White Mountains. The Falls were well worth the detour.
The trail itself was not well maintained, but I did not expect it to be since it received less traffic. Blow downs were frequent, and vegetation along the sides of the trail were fighting to take back the infrequently traveled tread. Foot bridges were old and rotted, but were still easy to cross as long as I took my time.
Like the Wilderness Trail, Thoreau Falls also had flashes from the past. Even more so than the Wilderness trail, there were old rusted chunks of metal, and I paused to take a look at them. Looking up from these old skeletons I slowly turned, studying the woods around me and wondering at where they had set up their camps and machinery. The forest had taken back all traces of any impacts by man.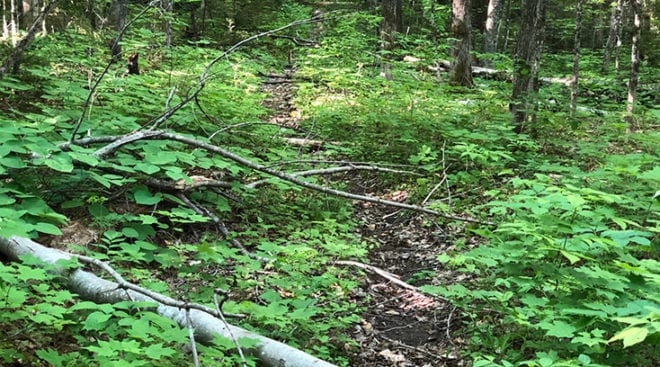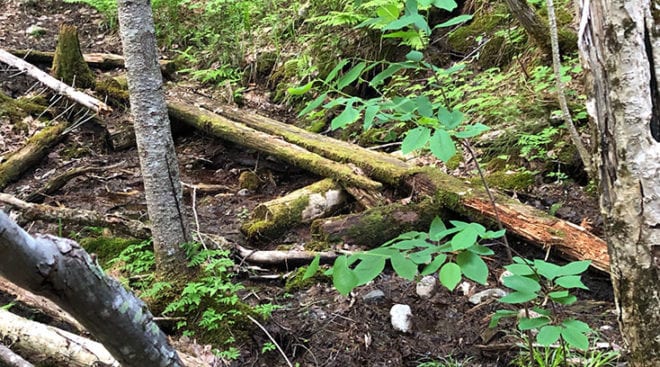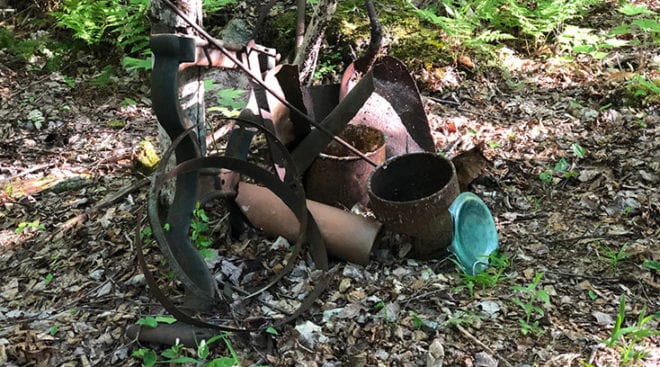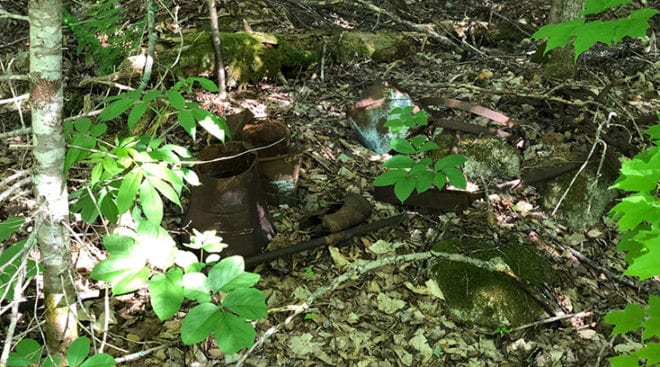 East Branch of the Pemigewasset
Reaching the East Branch of the Pemigewasset River I stood studying the water crossing. This crossing had been listed with a warning. The Bridge was no longer in place but I could see the abutments. The water was low, and I could possibly have leaped from boulder to boulder, but I did not want to take a chance of cracking my head. When I'm hiking alone and there is nobody to drag me out of the water I'm a little more careful.
I ended up going up-stream about 20 yards and fording easily. The current was not very strong, and it only came up to my knees, so I did not consider it a difficult crossing. It was really the only crossing of the trip (and there were quite a few) where I did not rock hop.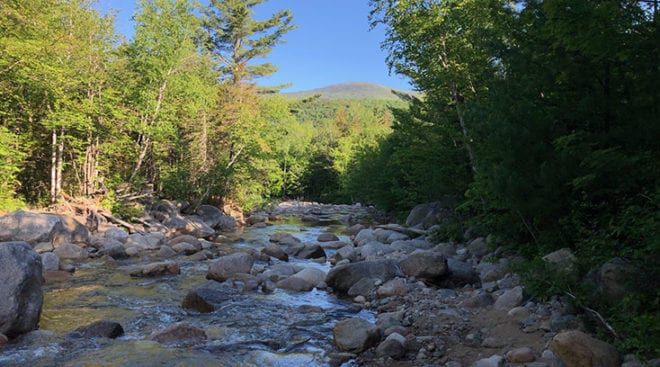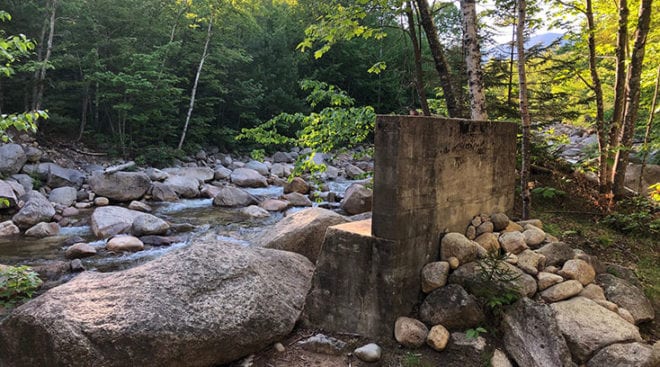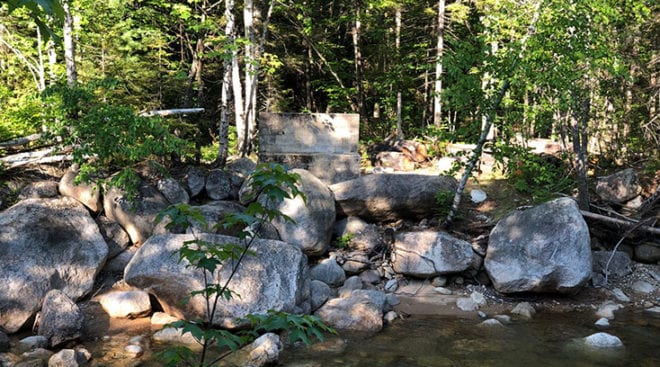 North Fork River
After crossing the Pemigewasset River the trail traveled along the North Fork. I traveled along old logging roads and railroad bed grade trail in some instances, but was mostly on well graded single track before reaching the climb to Thoreau Falls.
There was one wash out as the trail looped down alongside the North Fork River, and a couple of other sections with just a small lip of dirt, that I skipped across quickly.
The wash out did make me pause as I considered bush wacking up around it or climbing down to the river. I ended up lowering myself down, hiking across the debris field, and climbing up the debris filled slope on the other side.
There were a couple of these wash outs on the trip, and it was sometimes a little unnerving to climb down and walk under large overhangs of debris and dirt poised to fall. The ground was pretty dry though so I hurried along under the hulking overhangs.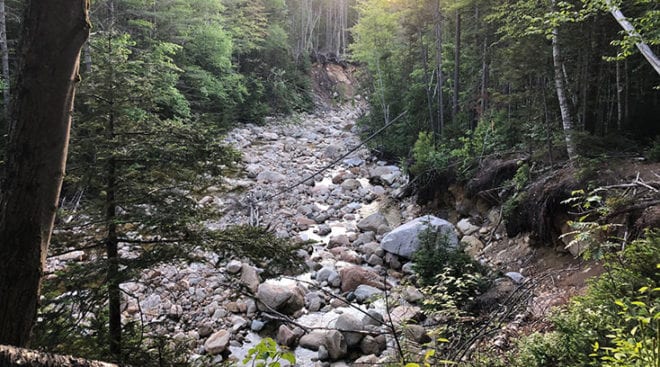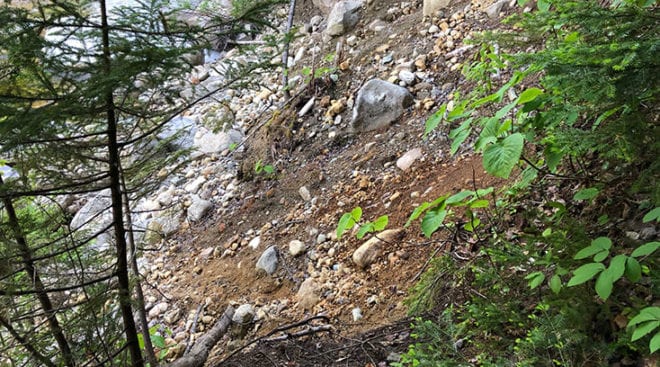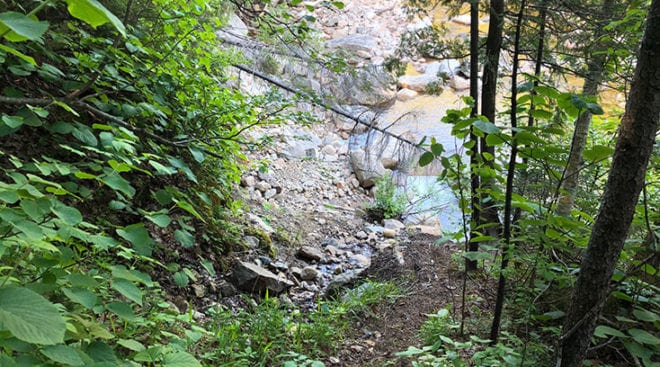 Thoreau Falls
Thoreau Falls was just as beautiful as I remember. Since water levels were low I went upstream about 10 yards and hopped from a large boulder over to a flat slab of rock. This was a day hiking dream, and I stretched out on the slab for a few minutes to soak in this completely serene setting.
These were the moments that made tough hiking worthwhile. The falls, slips and scrambles were forgotten in these moments of pure peace. It was a weekday and I felt like the only human on the planet. Even the small vampires kept their distance in the light Breeze.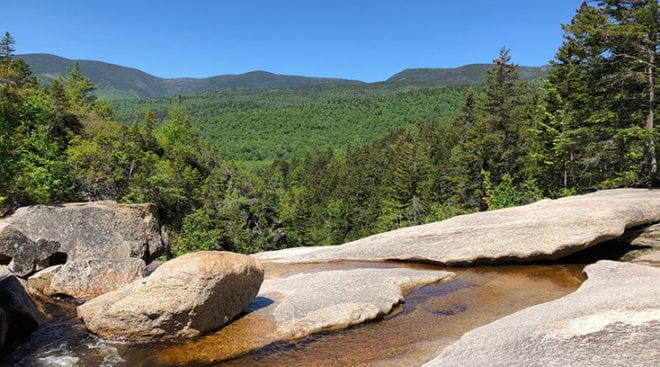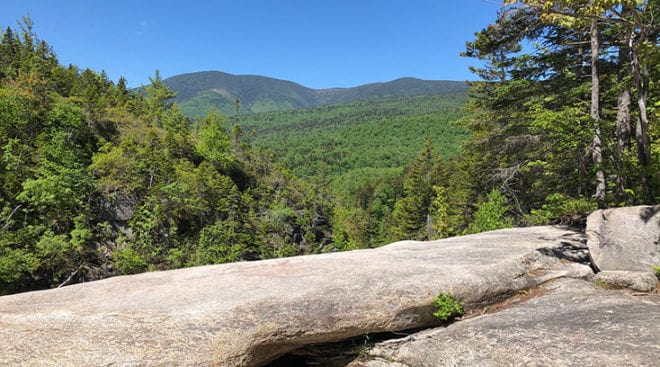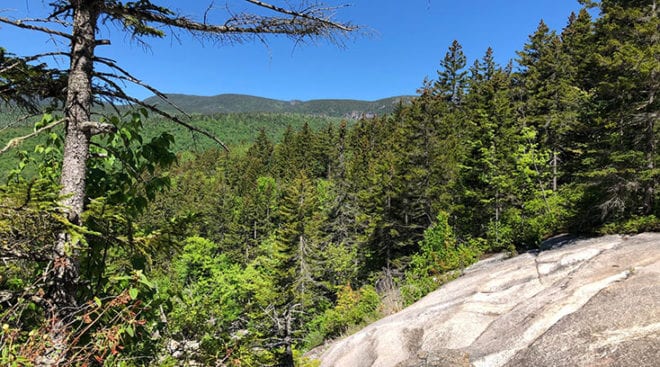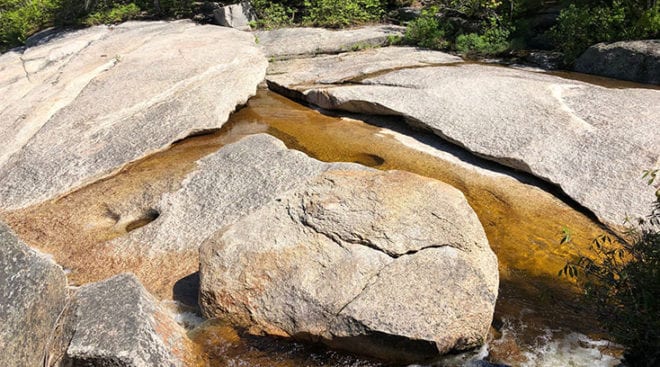 Desolation Loop – Ethan Pond Trail
The hike from Thoreau Falls up to Ethan Pond Trail was short. I immediately knew I was on Ethan Pond by the condition of the trail. This was also the Appalachian Trail and well used by thru-hikers and day hikers. The trail was clear and well graded, a brief reprieve from what was to come soon.
Reaching the Ethan Pond Trail, I hiked beside the North Fork before crossing a well maintained bridge and arriving at the junction for Shoal Pond Trail. I gazed down the Ethan Pond Highway before turning down Shoal Pond and almost immediately beginning to push aside undergrowth while balancing on bog bridges.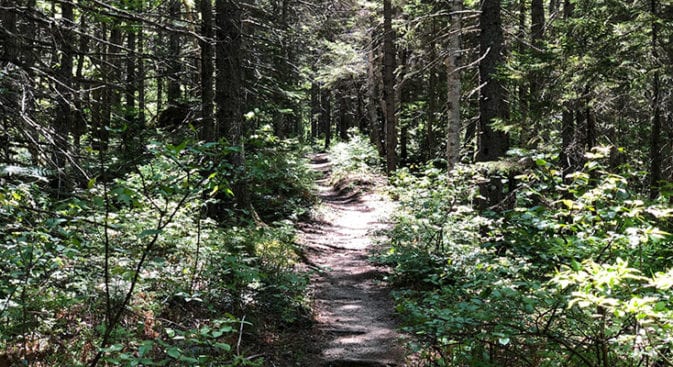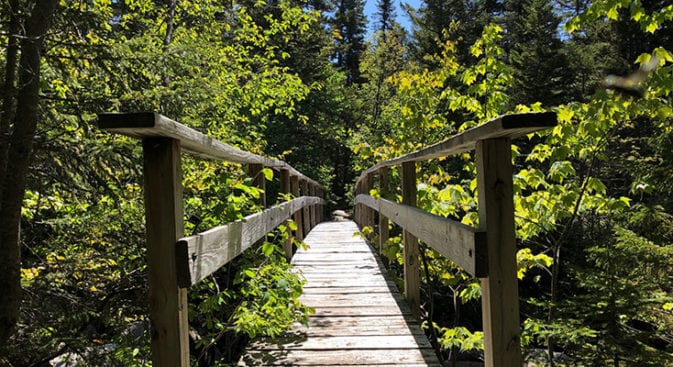 Desolation Loop – Shoal Pond Trail
There is lightly maintained and there is Shoal Pond Trail. I felt as if I was lost on the CDT in 2009. Shoal Pond itself was nice, and there was a section with an old logging road, but the bogs, rotted and broken foot bridges and blow downs made the rest of it tedious.
There were several instances where I had to get on my hands and knees to crawl under trees and push through dense foliage. The forest on either side of the trails was too dense to go around, either that or it was a watery bog. My feet were black with bog mud when I finished and I was not allowed to bring my shoes inside the house once I got home.
At one point I passed two hikers that looked as frustrated as I felt. I had seen two others on Thoreau Falls Trail but that had been it so far for people encounters. This really was a desolate loop.
Decked out in pants, long sleeve shirts, and hats, they stared at my shorts, short sleeve shirt and bandanna. They were clearly much smarter.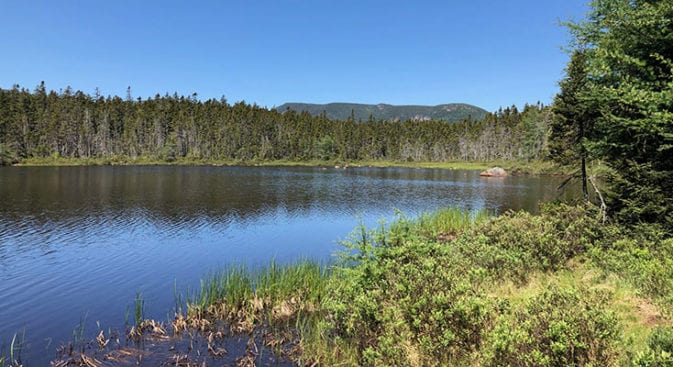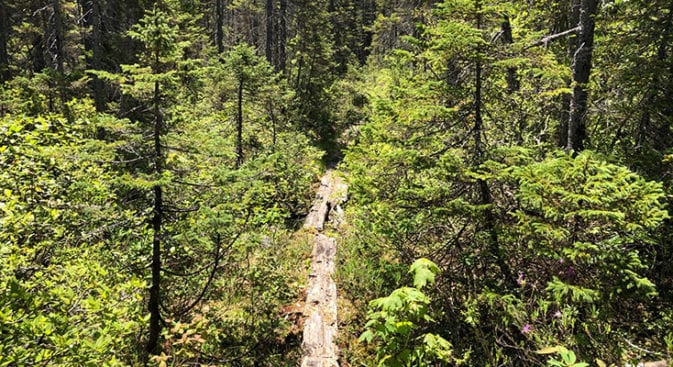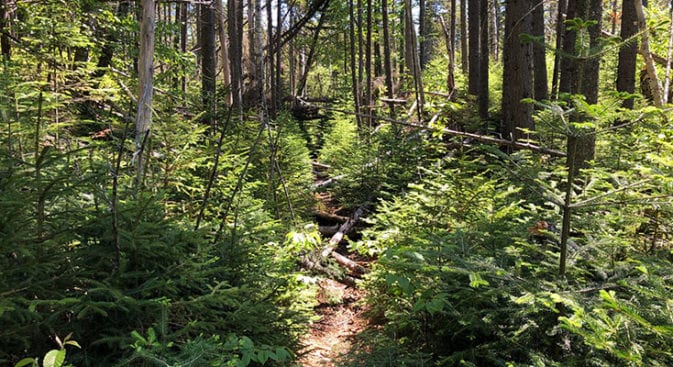 Anniversary
Finishing the Shoal Pond Gauntlet, I passed the junction for the Wilderness Trail and reached the junction for the Desolation Trail that went over Mount Carrigain. I had climbed Mount Carrigain years ago, but really wanted to climb it again. Views were amazing and I believe you can also still climb the fire tower. This was a highlight of the Desolation Loop.
Shoal Pond had taken me a little longer than anticipated, and I had taken a long break at Thoreau Falls. I was not sure if I could make it up and over Carrigain before dark. I needed to get home for my 19 year anniversary. My returning tomorrow would be a surprise!
It was only mid to late afternoon and I could not wait until tomorrow morning to hike over Carrigain. I needed to be back at my car no later than 1PM tomorrow, so I could be home for dinner. A lot of concessions are made for my hiking addiction. The least I could do was get home for an unexpected dinner on our 19 year anniversary.
Desolation Loop – Carrigain Notch Trail
The Carrigain Notch Trail was a pleasure after Shoal Pond Trail. There was a 400′ climb up and through the notch, but the trail was clear and open. It had more of an alpine feel. The climb up was moderate, and the climb down only slightly steeper.
Around the mid-way point I began seeing loose fields of granite. It looked as if dump trucks had brought in large loads of rock for construction. I learned later that it was the debris field from an avalanche. Imagine being anywhere near here when that happened! It does not really matter since I doubt you would be able to tell the tale!
After reaching the junction for the Desolation Trail I began looking for a place to camp. Suddenly, I heard the crash of a large animal off to my right through the open hard woods. Staring into the trees I saw him/her staring back at me. It was a small black bear that had paused to look back over it's shoulder at me.
"Keep going" I said loudly. Her/he turned and continued it's mad dash into the trees. Maybe I would hike a little further before setting up camp.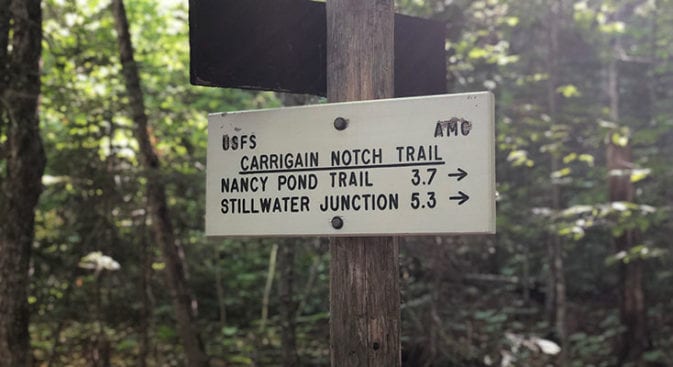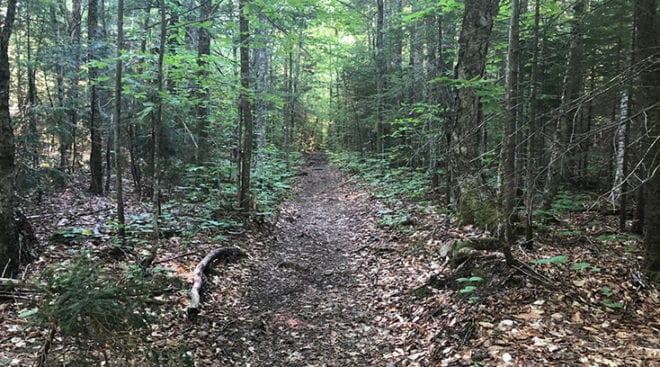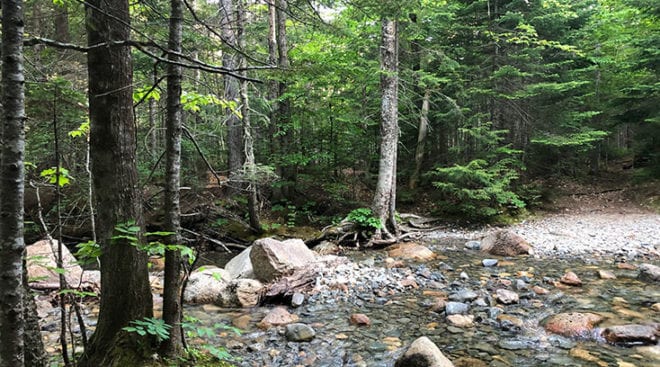 Home for the Night
A half hour later I reached a decent sized stream. Just before crossing the stream there was a wide open space in the trees. The space had clearly been used in the past, but did not look as if it had been used yet this season. I moved back into the trees and set up my Altaplex.
It was nice to stop a little earlier for camp. Since it was only 6 PM, I had time to make dinner and relax a little. I knew I would still be asleep by dark. After years of backpacking, my body quickly adjusted it's rhythms to mother natures rhythms.
My meal for the night was Black Beans and rice with some type of sauce. I had brought an opened meal from the aborted AZT hike, so I was not sure. I was cooking on this hike, and it was nice to have a hot meal. Small vampires attacked me as I cooked and ate, but I had put on my North Face Fleece Quarter Zip and Montbell Rain Pants, so they did not have much to target while I ate my food.
Entertainment for the night – Vampire destruction
This page has affiliate links for products and gear I purchase and use. If you click on one of these links, I receive a small commission at no extra cost to you. There may also be Amazon links and as an Amazon Associate I earn from qualifying purchases. You can read more about my thoughts on affiliate marketing.