Appalachian Trail – August 14, 2013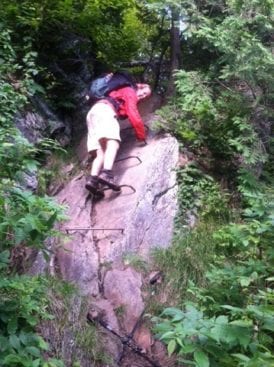 Bemis and Blue – two big, tough names in southern Maine. These were definitely memorable climbs, with steel rungs, cliff faces, shimmying sideways. I always pushed for 20 miles, and usually ended up in the high teens, but these rugged peaks in this more remote state were going to have none of that!
Our final climb of the afternoon was Old Blue, and I paused to look around at the summit, while Sandman went a few yards ahead and looked around the trees, where the trail hooked a left. I threw my pack up over my shoulder to continue, as he turned to me and shook his head, motioning for me to put my pack back down. "This is a good place to dry our gear" he said grinning. The fella around the corner was drying both himself and all of his gear, and using the surrounding bushes as his clothesline. It was too early for eyeball trauma, so I dropped the pack and began to unpack my tent and bag.
The wind was gusting hard, so everything spread over the stunted spruce trees dried out quickly. We sat on small boulders and snacked as we waited, Sandman had informed me that the next road we came to would take us to the town of Andover, ME. I told him I had not planned to go into town again, but if he could get a signal and call a shuttle, I would go with him since it was the end of the day. I looked down at my phone and smiled. There was no signal on this summit. I knew there would be no signal at the bottom on the road. We packed up and headed around the corner. The young NOBO had dressed, and we all chatted for a few minutes before moving in our opposite directions.
The climb down Blue was a different hike than the climb up. I reached the first slab of rock with metal rungs and hissed slightly as I stepped down too quickly and my shoe slid across the metal. I froze for a moment, and then turned to look down (always a mistake). This was clearly going to be a long, slow climb down. I'm not a fan of heights, and lowering myself on thin, bent metal bars, that appeared to be decades old, was a pain in the ass.
We made it down the ancient slabs of granite, and as I paced behind Sandman, I was startled to see him disappear into the bushes to the left of the trail. He had fallen, and was laying sprawled in the brush on the edge of the trail. I was beginning to understand where all the blood on his clothing had come from. I helped him up, made sure he was ok, and we continued down the trail. A few minutes later, we arrived at the road, and Sandman barely skipped a beat in dropping his pack and whipping out his cell phone in one smooth movement.
We had planned to go on to the next shelter, but I had told Sandman that if he could reach Pine Ellis we would go in for the night. According to our guide there was no signal and we needed to call from the top of Old Blue, where we had just found no signal. I watched as, amazingly, he reached Pine Ellis with one weak bar on his phone. He turned and grinned, as he informed me they would be there in 20 minutes.
David arrived in 20 minutes and whisked us away to the land of hot showers and hot food. Once at Pine Ellis I settled into my room, grabbed a shower, and sat on the porch and chatted with Eileen for a bit. I had met her and Paul 15 years earlier when I had hiked through the area. Paul had since passed away, but Eileen was still running the place with David's support. I expect she would probably retire soon.
I walked up to the General Store for dinner with Sandman and Dano. Dano was a NOBO attorney from Honolulu, out hiking the trail. The AT really does bring together people from all walks of life, and level set the playing field. Blue collar, white collar, ethnicity, etc. It begins to matter less and less, with everyone having one common goal, and suffering through the same trials and tribulations to reach it. Blisters, hunger, weather, fatigue – it all breeds common bed fellas.
We headed back to the Pine Ellis after dinner. I was now on chicken time – dawn to dusk, and headed up to my room to crash for the night. I needed to pack, in order to get ready for breakfast and an early start. There was not much to pack though, after only being out for night before heading for town, so I was asleep and slumbering in 30 minutes.
Hi! Some of the links in this post are affiliate links. This means that when you click on one of these links, I earn a small commission at no extra cost to you. Also, as an Amazon Affiliate, I earn from qualifying purchases. Thank you.