Summary
Location – Macedonia State Park
Trail – 6.8-mile loop trail
Parking – 41.78455,-73.49235 – There are three parking spots. One is on one side of the road, and two more are across the road. If these are full, there is additional parking about .3 south.
Getting to the Trail – When parking where there is one spot in front of the gate, go around the gate and down the dirt service road a short distance. You will see the trail visible on your right.
Highlights – Boulder scrambles, ridge walk with good views, walks along beautiful streams, moderate woodland trail
Resources
Connecticut Walk Book – 20th Edition by the Connecticut Forest & Park Association – American Legion and Peoples State Forest Trail – Pages 92-93.
Gaiagps – GPA App used to create a trail, determine driving directions and parking, and send the track to iPhone.
Difficulty
Moderate to Hard – If hiking CCW (counterclockwise) from the parking area, you will reach the only "hard" boulder scramble in the first mile. After this, the trail has some moderate rocky descent off the ridge, but the rest of the loop is primarily woodland hiking with small streams and moderate to easy ascents and descents.
Terrain – There was a short boulder scramble at the beginning, and it was moderately rocky hiking down from the ridge, but most of the trail was moderate to easy. There are woodland walks along streams and a little road walking in Macedonia State Park itself. This was a beautiful hike.
Clothing
Temperatures ranged from 68 – 72 degrees, and it was a fantastic day for a hike!
Socks – Ultralight Smartwool. These are cooler than the same Darn Tough in the summer.
Pants – REI cargo shorts for women.
Top – Patagonia button-up synthetic. It dries very quickly, and a long-sleeved shirt keeps me cool when it is warm.
Hat & Gloves – I did not use either for this hike.
Northface Daypack
Shoes –

Speedgoat 5's

. I was impressed with these shoes. This was their first hike.
Hiking Poles – Black Diamond Alpine Carbon Cork Poles (Review) – This is my second set. Unfortunately, I left my first set in a town along the Northville-Placid Trail.
It was a beautiful day, and I wanted to drive up through Kent, CT, so I bit the bullet and finally decided to hike the Macedonia Brook Loop Trail. I've been avoiding the trail because AllTrails lists it as "hard," and I don't usually enjoy a lot of rock scrambling. In addition, I find it a little tedious.
Macedonia State Park was a bit of a shocker. It was beautiful! As I drove along the tree-lined road, passing a fern-lined creek, I was surprised at the amount of both Day and Overnight camping available. This was a well-used park, but it was kept immaculate. But, of course, it was still a little early in the season.
I followed the dirt roads to my coordinates for parking and parked across the street where two spots were available. I need to get an old truck. I'm never comfortable leaving my car on the side of roads, even rural roads with very little traffic.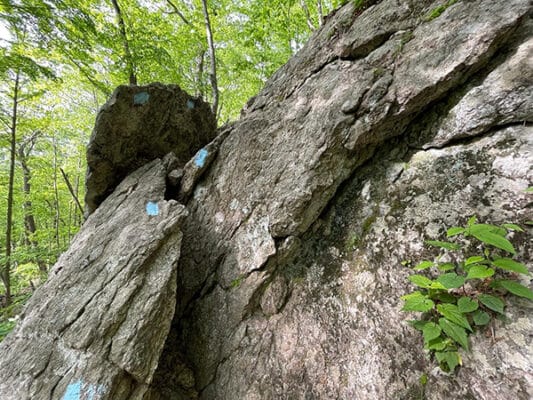 AllTrails warned of the trail's difficulty and not to bother with hiking poles, but I'm glad I brought them. I began climbing straight out of the box and did not reach the primary rock scramble for at least a half-mile. It was good to have the poles for the climb.
The rock scramble was a little tricky. You may struggle if you don't have some upper body strength, but it is the only tricky bit. Once you pull yourself up over the boulders, the rest of the hike is steep but manageable.
That's about it. There are some more rocks hiking down the ridge, but you can easily pick your way down. These rocks are not like the boulders you climb up. They will slow you down as you descend, but no climbing is involved.
After the small scramble, the views up on the ridge were beautiful. There are large rock slabs, so bring a snack or lunch and relax. In the Fall, these views must be gorgeous. You have long sweeping vistas out over the neighboring mountains and valleys; at one time, the Appalachian Trail was routed through this area.
After hanging out for about a half-hour, I picked my way off the ridge and descended through beautiful forests alongside a small brook before crossing Macedonia Brook Road, the central State Park Road. There is a trailhead here, so you can climb up for the views without dealing with the boulder scramble. This is good if you have kids or dogs.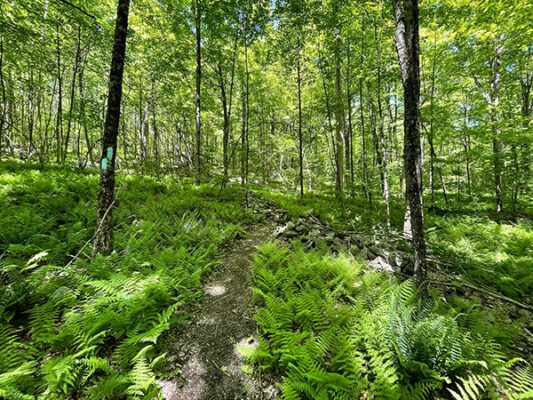 Crossing the road, I began a long moderate climb up through the forest on a well-maintained and marked trail. The entire loop is blazed, and the end of the circle where I parked is marked with small wooden arrows. I suggest you use Gaia or AllTrails for the handful of road crossings, but the rest of the trail is easily followed.
Before passing Hilltop Pond, I followed the almost magical Macedonia Brook, lined by lush ferns and stone walls. The Pond should be called Hilltop Swamp, but the swampiness allowed for good bird spotting, including one of my favorites, the red-wing blackbird.
There was a steep little drop before crossing over Weber Road, and then the last .3 miles were along a grassy old forest service road before I reached Chippewalla Road, where I had parked my car.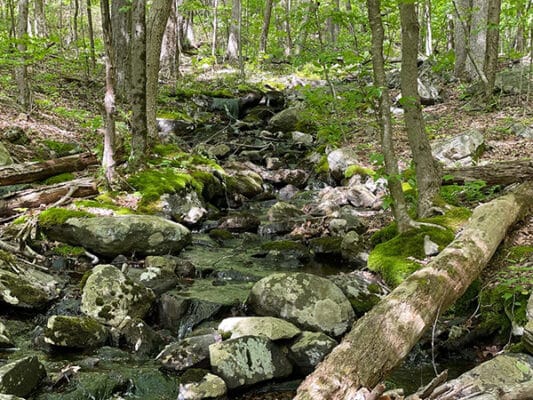 Conclusion
This was my first visit to Macedonia State Park, but it won't be my last. This lush park is beautiful and a great place to spend a day with your family. The day-use areas have fire pits and toilets, and everything is well maintained.
In addition to Macedonia Brook Loop, there are plenty of other trails I plan to explore in this park.
Related Posts