My Arizona Trail gear was planned around a high desert environment in early Spring. Temperatures can be quite cold and very hot in the desert, and the Sky Islands can get snow well into April and early May. Because of this, I carried a little more weight than I would on a typical three-season backpacking trip, but not by much.
Sleep System
I chose to use my Katabatic Sawatch 15-degree quilt on this hike. I also used Katabatic's Flex 22-degree quilt but wanted a warmer one for the AZT. I've used other quilts, but I still find that Katabatic has the best workmanship and keeps me the warmest.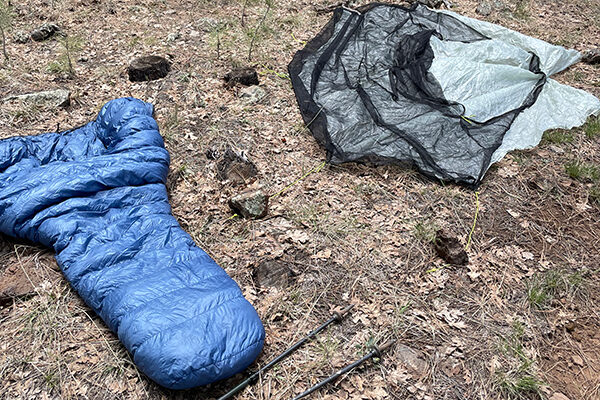 I slept comfortably down into the low 20s, meaning I slept without shifting due to cold spots during the night. Initially, I used straps to lock the quilt down but soon found them unnecessary and eventually resorted to depending on the elastic and collar.
If I buttoned the color, the elastic on the edges of the quilt naturally constricted and prevented cold spots. I occasionally had to pull the edge of the quilt over my butt when I flipped, and I will admit there were times I wished I had gotten a wide quilt.
A hood is one thing I miss on a quilt, so I wore my Feathered Friends EOS Down jacket on especially cold nights. Not having a hood that smothered me when I turned was nice since the jacket moved with me, and the hood stayed in place.
By pulling the hood down over my head and the top of my face and then tightening the collar on the quilt, I could get a tiny hole for my nose to poke through and receive oxygen. This worked out well since I am also a borrower, which I try not to do since it reduces the loft of the Down.
My poor sleeping pad was a victim of the desert. On the first half of my hike, I used my Neoair X-lite pad. Once it got impaled on a cactus, I purchased a Nemo Tensor pad since it was the pad REI had in stock.
I have a review on both pads that explains why I prefer the X-lite, so I won't ramble on in this post.
My sleep system all-star was my new Sea-to-Summit Inflatable pillow, mainly because I was not constantly having to fluff back up a small brick all night.
I've always stuffed my clothes in a stuff sack or pod, and I wish I had made the change sooner. The pillow improved my sleep quality, which in turn improved my hiking. Most importantly, it mentally made the hike much more enjoyable. I'm pretty cranky without the right amount of sleep.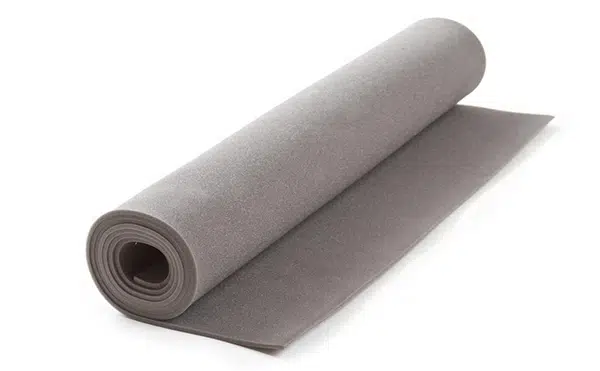 Finally, my favorite piece of gear – the Thinlight Foam Pad – 1/8 from Gossamer Gear. I use it for everything. On this hike, it was primarily my sit pad and went under my sleeping pad to prevent the pad from sliding and to protect my sleeping pad from pokies.
I'll note that this pad is commonly out of stock at Gossamer Gear, but it now looks like ULA is carrying a similar pad, which will be my next purchase.
Shelter
I have used a Z-packs Hexamid in the past and liked it, so on the Arizona Trail, I used a new Hexamid without a Dynema floor but fully enclosed netting. In addition, I used a piece of Gossamer Gear Polycryo for the floor, and although it looked tinsel thin and fragile, it lasted the whole trip.
One note on the Hexamid that is available now. The current Hexamid is the pocket tarp with doors and no floor. Zpacks no longer offers the Hexamid I used.
My favorite thing about the Hexamid was the netting floor. At times, it was tough to find good camping on the AZT, so I would find a tiny flat spot that had no rocks and was out of the crazy, blasting wind!
Let me note that the AZT is the rockiest trail I have hiked – easily THE FREAKIN MOST ROCKY!
I also used the Hexamid as a bivy, flipping it over with the netting on top and Dyneema on the bottom. This kept out the creepie crawlies. In hindsight, I wish I had taken a bivy and a small tarp on the hike. This was the perfect trail with almost no rain.
For all those thru-hikers saying, "Just cowboy camp!" I used to cowboy camp more often, but unseen critters have taken nips out of me while I sleep, so no more sleeping with no net for this gal.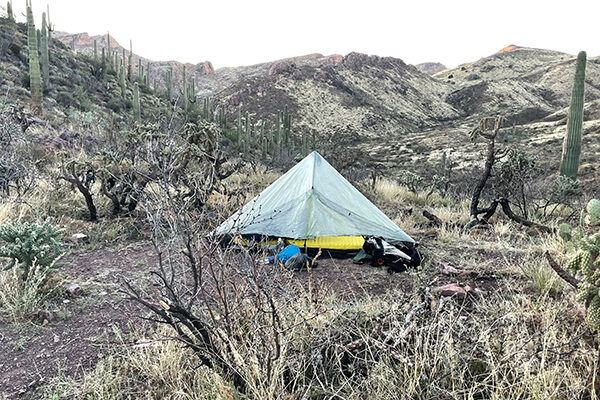 The challenge I had with this particular Hexamid was the pocket doors. The shelter had to be set up fairly level for them to be tight.
I'm not saying there is no user error in the setup, but I've gotten pretty good at setting up tarps and shelters over the years. It was not a big deal with no rain, though, so I accept that minor annoyance for a 10-ounce shelter.
As mentioned above, the Polycryo lasted me the whole hike. It was tougher than I expected. The AZT was windy, though, and I ended up putting the Polycro inside the tarptent on the floor, and this caused its own problems.
Since the netting on the Hexamid was so thin, not having some protection under it on the hard rocky ground caused holes in the netting. There were not many, though, and it did give me a chance to use my duct tape.
Arizona Trail Gear – Backpack
My backpack was the Circuit by ULA Adventure. I used a Circuit years ago and decided on one again for this hike. As expected from ULA, it is durable, light, and quite comfortable.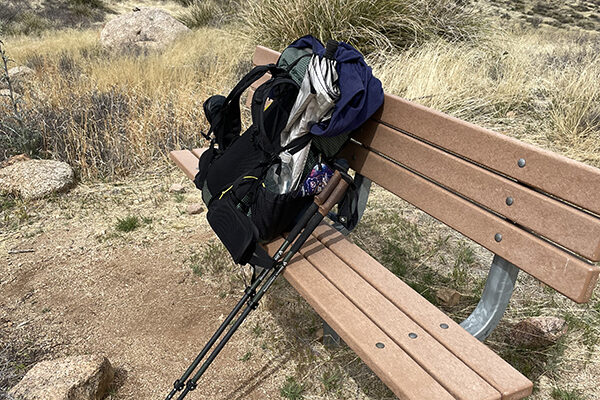 The Circuit is a 68L backpack with all its pockets, so it is BIG, but it is still only 37 ounces or just over 2 pounds. I wanted the additional capacity for heavier water carries in the desert.
I never carried more than 3 liters of water and probably could have used my Ohm, but I'm glad I had the flexibility of a larger pack. This will also be my winter backpack.
I didn't use a pack cover but a compactor bag in the backpack interior. My quilt and extra clothes went inside the compactor bag to keep them dry. These packs are water-resistant and dry fast, so I don't find a cover necessary.
The shoulder pouch I used was by Hyperlite. I've tried many and like this one because it is waterproof, padded, durable, and has a net pocket for my Garmin InReach.
Arizona Trail Gear – Clothing
My favorite piece of clothing was my new 8 oz. Chameece jacket from Montbell. I needed a mid-layer for the cold and like 100-weight full zip fleece jackets over my base layers.
A full-zip layer makes it easier to regulate my body temperature. A half-zip is a pain to pull over wool layers for me, and wool is what I use for a base layer in colder temperatures. I often end up tangled in the fleece using profanity as it sticks to my wool and bunches up.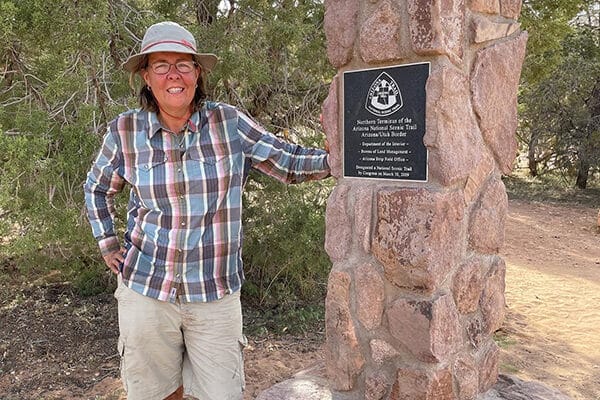 This new Montbell fleece is warm and blocks wind well. It is also durable and dries quickly. I highly recommend this jacket to anyone looking for a lightweight fleece layer.
My other layers included my Feathered Friends EOS down jacket, which I slept in when it was below 40 degrees. If it was cold enough for a beenie, I also hiked in the EOS and used the hood, which is very warm. This did not happen often.
Additional Clothing Layers and Foot Wear
Smartwool Socks (2 Pair)
HOKA Evo/Mafate (2 Pairs)
Dirty Girl Gaiters
Montbell Versalite Rain Jacket
Montbell Versalite Rain Pants
Patagonia Button-Up Shirt
REI Buff
Outdoor Research Sun Hat
Patagonia Sports Bra
Darn Tough Socks
One thing on the socks. Both Smartwool and Darn Tough make awesome socks, but I ended up not using the Darn Tough socks on this hike. They were too hot for me in an already hot environment.
It seems like Darn Tough has a tighter weave than Smartwool, which is probably why they last a little longer. In cooler temperatures, I use Darn Tough.
Arizona Trail Gear – Cooking and Food
On this trip, I cooked. Sometimes, I cold soak, but my food has changed a lot over the years, and I enjoy a hot meal at the end of the day.
Freeze Dried or Dehydrated meals are what I usually carry with me for dinner. These meals have gotten so much better over the last couple of years, and there is a lot of competition in this space now. My current favorites are Stowaway Gourmet and Peak Refuel meals.
I also use a lot of recipes from backcountryfoodie.com. I get new recipes, good nutrition articles, etc., for long-distance hikers. The smoothies, snacks, and cold soak recipes are some of my favorites.
Resupplying with boxes has always worked well for me, and this trail was no exception.
Some of my breakfasts, lunch, and snacks were purchased at grocery or convenience stores. This allows me to switch things up when I get tired of certain foods.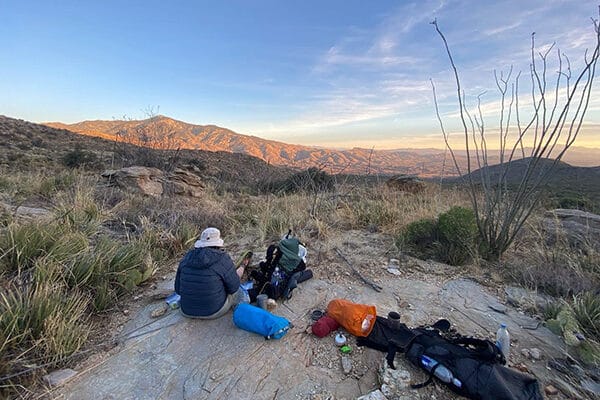 My stove kit included my Pocket Rocket 2, Vargo Titanium Bot pot, Vargo folding spoon, and two small BIC lighters. In addition, I labeled and shipped gas canisters in my resupply boxes if needed.
I like the Vargo pot because the lid screws on, allowing me to use it for cold soaking. If I had to buy the pot again, I would probably have gotten the smaller size.
The Vargo folding spoon is a PIA. It constantly folded up if I had to stir anything dense. It seemed to pop loose no matter how hard I slid down the latch. This will be the Vargo folding spoon's last hike.
Arizona Trail Gear – Toiletries and First Aid
Travel toothbrush
Travel toothpaste
Floss (doubles for sewing)
Fingernail clippers
Tiny fingernail file
Kula Cloth
Bandanna (bandage, cleaning)
I lost my Kula Cloth before Sunflower and purchased another one at REI. It is indispensable for me. It keeps me cleaner and prevents rashes. The Kula also has less odor than a bandanna or wipe.
Another hiker gave me a wipe, but I did not find it absorbent, and there was nowhere to put it when I was not using it. I can clip the Kula to the outside of my pack. I saw others ball up their wipes and put them in their socks, but – yuck.
First Aid
Tinactin (must-have)
Afrin (AZT congestion!)
Leukotape
Immodium
Hydrocortisone
Bandaids (multiple sizes)
Large Bandage
Benadryl
This was my first time using Afrin. My congestion on this trail was like no other trail! I'm not sure if it was dust or allergies, but I had to use Afrin every night to sleep. It is amazing how well it works, and Afrin is not fibbing when it states it lasts 12 hours.
I also had a rash on my inner thighs (tough trail) for the first time, so I put Hydrocortisone on it at night and slept with my bandana between my legs, so my skin did not stick together. By morning it was always remarkably better.
Arizona Trail Gear – Miscellaneous
Sawyer Squeeze – I've used this filter for years. I back-flush it each time in town, and it worked flawlessly on the AZT.
Umbrella – I used a Lightrek umbrella by Gossamer Gear. The umbrella was light, durable, and easy to use with its clip – which I forgot. I did not use it north of Pine, AZ, but it saved my fanny a few times on the southern section of the trail, both from the sun and the wind when I cowboy camped.
The umbrella was also used as a windshield to keep from getting sandblasted.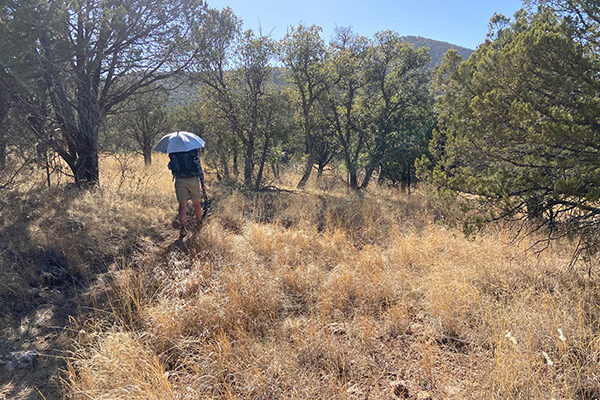 I did not use the umbrella as much as I expected, but I was glad I had it when I needed it.
Water bottles – Two Smartwater bottles and a Platypus 1L bag. The only change for me would have been a wide-mouth bag to scoop water more easily.
Trail runners – I used HOKAs for the first 400 miles. I used my Hoka EVOs (the best trail runners they make and discontinued this year). On the second half of the trail, I used the HOKA Mafates. They have the best traction I've used on a trail runner and were the most uncomfortable HOKAs I have worn.
The HOKA Mafates gave me my first blister and left bruises on my feet where the toe boxes bent across the top of my toes.
Arizona Trail Gear – Final Thoughts
The Arizona Trail is a trail of extreme heat and cold, so I carried an extra clothing layer and a warmer quilt than I would in most three-season hiking, but I was glad I brought both.
As with any gear, much of it is a personal choice. I've recommended backpacks and shoes that others try and don't like, so make sure you try all of your gear before starting your hike. Test it more than once if possible.