The New England Trail, or NET Mattabesett – Section 10, made me work for my views! The climbs were not long, and the New England Trail does not bother with those pesky switchbacks. Loose rocky tread and short steep climbs had me gasping a little – just a little!
This section of the trail included cardio workouts rewarded by great views. The Tri-Mountain view was one of my favorites of the New England Trail. The only minor disappointment was Blue Trail Range on the other side of the lake, below the view, where it sounded like a small war in progress.
NET Mattabesett Trail Section 9 – Quick Glance
Miles: 6.10
Start – Trail Head & Coordinates: 498-380 Stage Coach Road, Durham CT – 41.429543, -72.727660 – Parking Spaces – 2
End – Trail Head & Coordinates: 458R Powder Hill Road, Durham CT – 41.474738, -72.730640
Additional Planning Information: Planning Page
Difficulty: Moderate
Related Post: My Daypack Essential Items
NET Mattabesett Section 10 – Hiking
Section 10 started where the trail came out on Stage Coach Road. The New England Trail Maps indicate there is room to park two cars, and while there is room, I would not leave my car there. I wouldn't say I like leaving my car on the side of the road, and I always look for a parking area with decent traffic.
If I were to hike Section 10, I would leave my car at Softail Cafe and have lunch before spending the afternoon hiking section 10 and working it off. Make sure you digest before starting the climbs, though. Remember, your body will work on all that yummy food before it begins sending energy to your muscles!
Stage Coach Road took a short walk to New Haven Road, where I took a right onto a much busier route. I walked about 3/4's of a mile, passing the Softail Cafe and arriving at the hidden trailhead. There is no signage, but you will see it in the woods at the end of the guard rail, across from the last house on the right.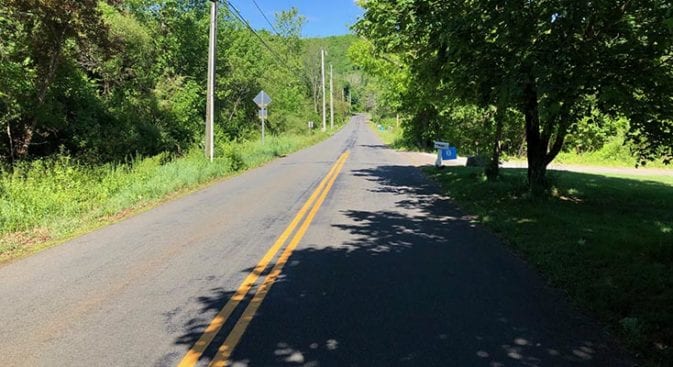 Beginning the Climbs
Leaving the road, the trail dipped down over a small creek and immediately began climbing. The climb was long and fairly gradual, and I settled into easy climbing.
Climbing up to the ridge above Pistapaug Pond grew steeper, but it was fairly easy except for a few bumps. I did not have to stop and catch my breath. Like everything else, climbing is relative to one's condition, and mine is about average right now.
There were a couple of views down towards Pistapaug Pond, but nothing too dramatic, and I began the descent down to Howd Road. The hike down to the road was quick, with one small reroute to bypass some eroded trail that had become pretty steep and degraded.
Reaching the bottom, I looked up at the closed trail. I was glad I had not had to slide down that loose rock, especially since I was not using hiking poles today!
Howd Road
Howd road was a tranquil, rural blacktop road. Maps state there is room for two cars to park, and there is if you park the cars in two separate spots. Again, this is probably not a spot I would leave my car in unless doing a quick climb up to Tri-Mountain.
A quick climb to Tri-Mountain is probably a little misleading. The climb up from Howd Road was STEEP, and I was surprised to see a mother, her newborn, and a small girl of around six coming down the trail. Impressed is probably a better word. They looked like they were out for a stroll in the park – laughing, chatting, and not even breaking a sweat!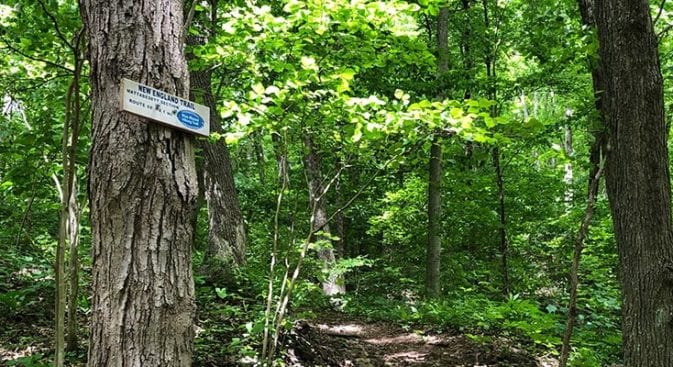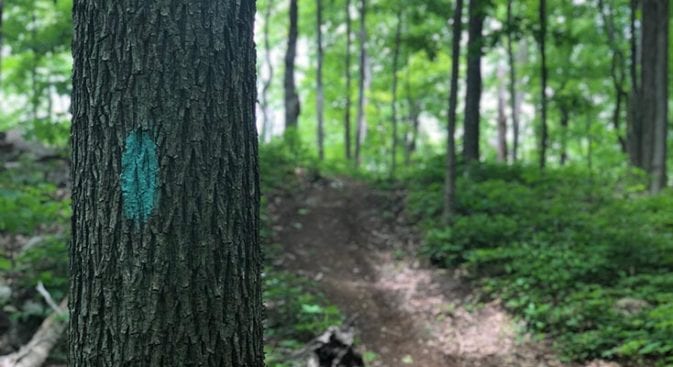 Tri-Mountain Views
The views from Tri-Mountain made the climbing all worth it! There was even a nice little grassy patch at the summit where I stretched out and relaxed while listening to semi-automatic gunfire – ugh. I have no issues with gun ranges, but they are EVERYWHERE in Connecticut.
The difference between gunfire in Connecticut and the south is that it seems more contained up here. Growing up hiking the southeast, I always felt like I needed to wrap myself completely in neon orange and run screaming through the woods.
There may have been a couple of instances where stray bullets popped nearby trees, but I don't mention those.
The hike down from Tri-Mountain was on a nice well, maintained trail. As I drew closer to Durham Road (Route 68), I joined a fiber optics corridor, the perfect pathway for a trail.
Just south of Durham Road is Cattail Shelter. The shelter is maintained by a residence that is not far away. The shelter, or shelters, are fundamental and kept clean and neat. A sign of our times was immediately thinking the 5 gallons of water in the first shelter was a giant bottle of hand sanitizer. In my defense, though, it looked like a huge sanitizer bottle!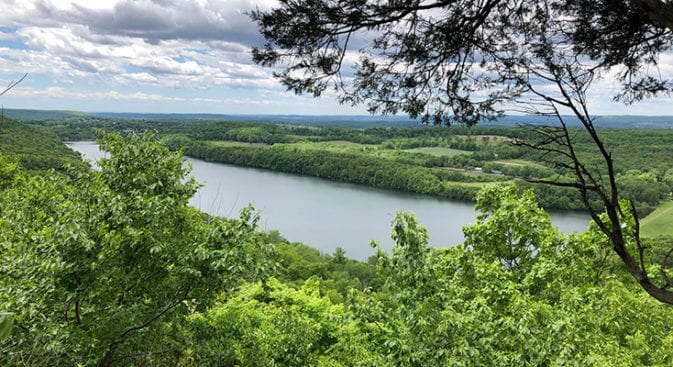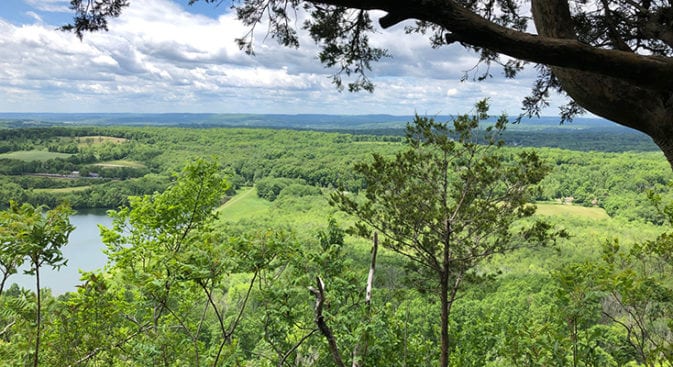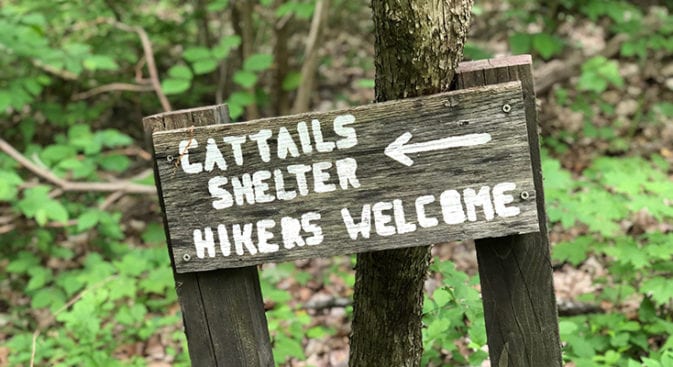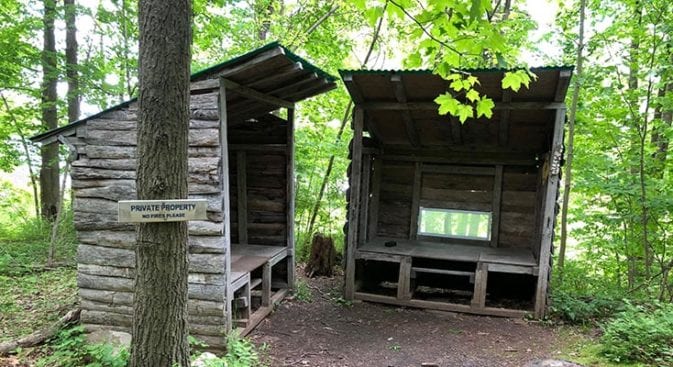 Very Busy Ending
Durham Road was not far past Cattail Shelter. The New England Trail does not have many shelters, but the ones they do have are close to where they can easily be maintained. I don't stay in trail shelters for many reasons, and this is probably reason #1.
Durham Road was crazy busy! I felt like I was playing "Frogger" as I tried to cross the road before vehicles barreling around the curves from both sides crushed me!
Finally crossing the road, I took a left and began hiking toward the trailhead. The road made me nervous as traffic whizzed by without even slowing. There was almost no shoulder.
The map indicated two parking spaces on Durham Road. Ha! I would not consider parking on that road. I would either get squished or come back to a rock-battered vehicle.
Just past Skeet Club Road, there was a little used service road on my right that paralleled Frogger (Durham) Road. I could see a Fiber Optics sign up the hill through the woods. Glancing at my map, I immediately headed up the service road. There was no way I was staying on the busy two-lane road.
The service road intersected the New England Trail at the trailhead and beginning of Section 11.