NET Mattabesett Trail – Section 11
The New England Trail, or NET Mattabesett – Section 11, was similar to NET Mattabesett – Section 10. The climbs on Section 11 were a little shorter, and they may not have been quite as steep, but there was still no lack of "roller coastering" on Section 11.
The difference with this section was that once you got up to the ridge and cliffs, you traveled along them for a few miles. There were great views for an extended period and plenty of places to stop and relax or have a snack. I'm partial to snacking whenever the opportunity arises, so I officially approve of NET Mattabesett Trail Section 11 of the New England Trail!
Net Mattabesett Section 11 – Quick Glance
Miles: 6.30
Start – Trail Head & Coordinates: 458R Powder Hill Road, Durham, CT – 41.474738, -72.730640 – Parking Spaces – 2
End – Trail Head & Coordinates: Meriden Rd, Middlefield CT – 41.530723, -72.739620 – Parking Spaces – 8
Difficulty: Moderate
This site includes an Overview of the New England Trail and a Planning Page to help you set up your hike. Information on what to carry in a day pack is also available.
Net Mattabesett Section 11 – Hiking
NET Mattabesett Section 11 started at a challenging location on Route 68. There is a lot of traffic and no good place to park your car. However, there is good parking at the northern end of Section 11, so I suggest leaving your car there and getting a ride or taking an Uber back to the south end of Section 11.
Walking up Route 68 was not an option, so I jumped on the service road just past Skeet Club Road. The service road took me up to the Fiber Optic Corridor before intersecting the trailhead for this section. There were no Private Property or Trespassing signs, so I figured I was OK using the Fiber Optic road.
Crossing the railroad tracks just past the trailhead, I began a long gentle climb that remained relatively easy for about the first mile. The prior section included some tough spots, so it was good to see that this section of The New England Trail had more accessible hiking.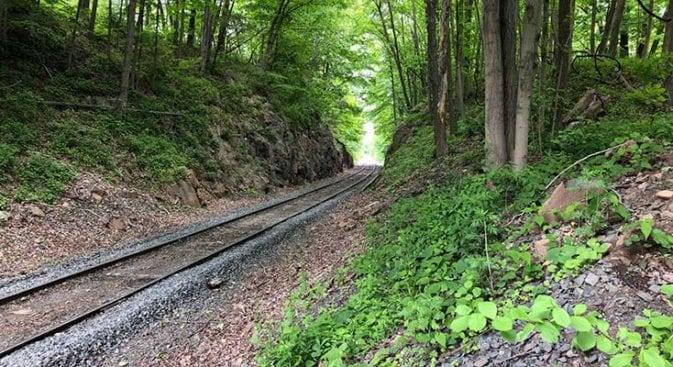 Here Come the Climbs Again…
The easy, gently rolling hills did not last long. About a mile into section 11, I slid down a small, steep hill and immediately climbed a long steep hill. This reminded me a lot of the last section.
The climb up The New England Trail to the ridge was not overly taxing, and once I reached the top, I was rewarded with some lovely views. The ridge walking continued with a few small, quick climbs over rocky outcroppings. There was a steady breeze, and the temperatures were perfect, in the low 70s. Also noticeable in these last two sections was the lack of biting devils – aka mosquitoes.
The trail wove its way down the ridge, allowing for numerous views over the valleys below. There were no other people, and it was a beautiful walk along the edge of the cliffs. So far, I had had the whole trail to myself!
I reached power lines, which had some of the best views, and almost missed the turn-off for the New England Trail. Once I entered the woods on the other side of the lines, a small trail cut quickly off to the left. The better-used trail continued through the woods, so keep an eye out for the turn.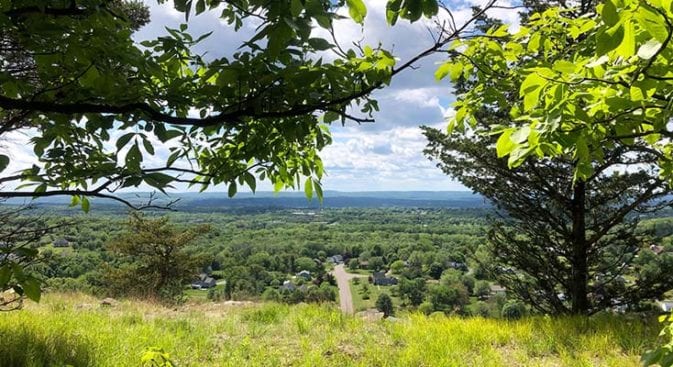 Powder Ridge
The small side trail that was the New England Trail cut sharply down to the cliffs before turning to continue along the edge. There was a well-used campsite where the trail was hooked to the right. As I continued along the ridge walk, I was not surprised to see more campsites. Camping was prohibited, but I've seen several thru-hikers on the sections I've hiked.
I was surprised when I came upon a sign for the Powder Ridge Ski Resort. I must have missed the resort when I was reviewing my maps. The resort was used for mountain biking, but I imagine most of the use was on the weekends. There were no riders while I was out there.
Continuing, I came out of the trees and onto the top of the old ski runs. There was old equipment, but it looked like the area had been converted to Frisbee Golf. After a couple of runs over, I came across a couple of guys that looked like they were working to install new equipment. One of the lifts also appeared to have been renovated.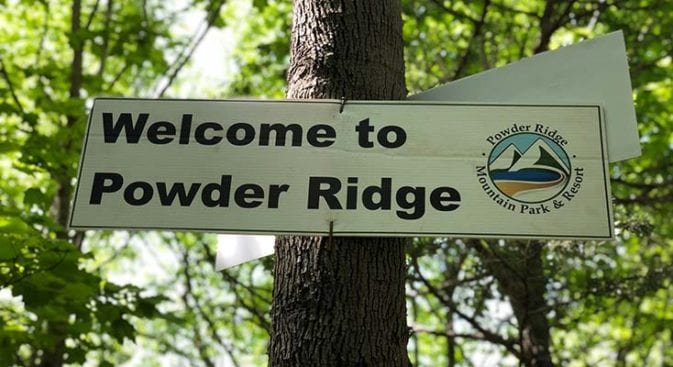 Beseck Mountain
The New England Trail continued over to Beseck Mountain. There was an old structure off through the trees; of course, I had to cut over to nose around. Then, hearing voices, I glanced down an old service road to see some trucks parked. The men had not seen me, so I returned to the trail. I always let my intuition guide me.
The trail wove in and out of slabs of rock along the edge of the cliff, and at about the same time I heard voices, I smelled pot. I popped out of the bushes and into a haze of marijuana. That was amazing, with the breeze blowing.
Stepping up onto a slab of rock, I saw three people sitting on the edge of the cliff in front of me. Well, at least the two young men were seated and passing a joint between them. The third young woman was attempting a handstand on the rock slab – near the edge. She probably needed to lighten up on the Cray Cray weed.
They glanced up as I approached, frowning slightly. I smiled and waved in as friendly a manner as possible. No threat here, just passing through. I communicated through my smile as I moved on quickly.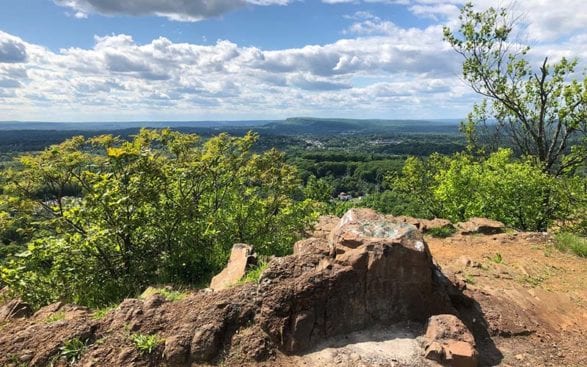 Old Dwellings
As I went down Route 66 (Meriden Road), the trail finally began to angle off the ridge. I could hear traffic and glanced down to see Black Pond below.
There were a couple of steep ups and downs before finally reaching Baileyville Road (147). One section was so steep and rocky that my feet slid out from under me, and I came crashing down on my side. I did not have far to fall, though, since my forehead was almost touching the trail already.
This section was well-used near the road, so it was pretty eroded. Rounding the corner, I came up short, staring at an old chimney. It had belonged to an old home, but how could they possibly have built it on the side of this hill? I studied the stones looking for any date or inscription – nothing. These glimpses from the past always fascinate me.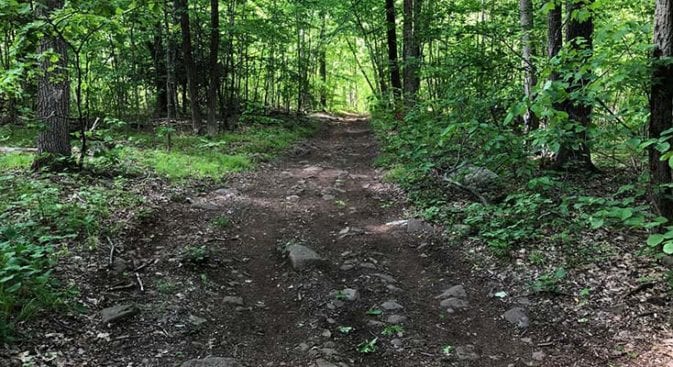 End of the Hike
Taking a left on Baileyville Road, I walked up to Route 66, where I crossed the busy 4-lane road. ere was a nice crosswalk. e trail continued into the parking lot of Guida's Restaurant before hooking left into the woods and beginning Section 12.
I SO wish Guida's had been open. It has been operating since 1946 and was supposed to have awesome hot dogs. I love hot dogs…and milkshakes…and crinkle fries…and, and…
A woman was peering into the trees at the trail, and she stopped to ask me where I was coming from. r eyes widened a little when I told her where I had started that morning. Some people don't hike long distances daily, so she was slightly surprised.
We chatted for about 15 minutes before I headed up the trail. I h parked my car at the parking area beside Route 66, and there was a connector trail from the parking area to the New England Trail. It was a good day on a nice section of the trail.
This page has affiliate links for products and gear I purchase and use. If you click on one of these links, I receive a small commission at no extra cost to you. There may also be Amazon links and as an Amazon Associate I earn from qualifying purchases. You can read more about my thoughts on affiliate marketing.