Nausea woke me up early this morning. I'm used to my stomach rumbling in the mornings, but nausea – not so much. I crawled out of my Altaplex and immediately realized that nausea was not the only issue. Leaping to my feet I made a dash in one direction and then several others before finally just charging straight downhill. Finding privacy out here is not always as easy as it would seem.
Related Posts: Colorado Trail – 2020; Colorado Trail Day 14
Collapsing back onto my Neoair about 20 minutes later, I was covered in a light sheen of sweat and knew today would probably be a tough hike. As the light began to lighten I drifted back off into restless dozing.
I lay listening as Sam and Shy began moving around. Sam had the loudest sleeping pad I had ever heard – some type of Big Agnes Pad. I actually had to wear my earplugs if she was closer than about 30 yards. It always sounded like she was thrashing around on an inflatable raft when she rolled over or moved around. My Neoair was silent compared to that sleeping pad.
Suddenly, a small black head peered up under my vestibule, pulling out the stake as she moved up under the thin material to look in at me. I unzipped the netting and Shy stepped in to curl up on my quilt next to me and go back to sleep. Sam must have kicked her out of her tent. I smiled as I watched her. She and Sam were probably going home today, and I would miss hiking with Shy. Shy's leg was swollen, and she was not enjoying her hike anymore. It was time for the old girl to get some rest.
Ten minutes into the morning's hike I was racing off trail to take care of business. Hiking is miserable with a permanent case of mile nausea, and other issues. Damnit! It really was no fun to hike with an upset stomach. Samantha was going to have Alfredo pick her up at Cottonwood Pass, and I had decided to go in to Salida if I did not feel any better by the time we got there.
Thankfully, we had a mile and a half walk down to Timberline Junction but it still took us about twice as long as it should have due to my need to visit the woods every few minutes. There were a couple of small climbs after that, but they felt like Everest as I alternated between leaning over my hiking poles every few feet, and sprinting into the woods. Sam and Shy were patient, and I could see them up ahead. They stayed just close enough to see me, and plopped down beside the trail when made a detour.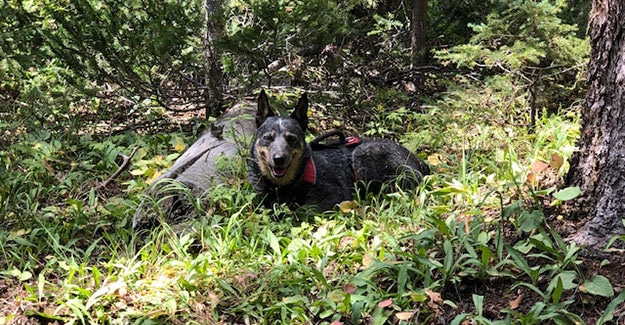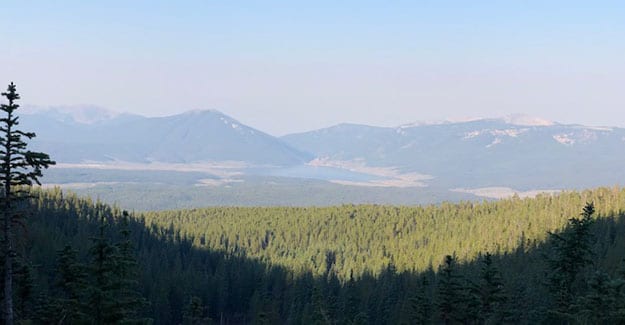 This section of trail was wide and rocky. The Colorado Trail is multi-use, which I have no issue with, and dirt bikes raced past us. All of the riders said thank you as they slowed down to minimize dust. Some hikers don't like multi-use trails, but I'm not one of them. Getting people outside, no matter how they choose to enjoy the wilderness, is positive in my book. Besides, I also enjoy horses, llamas, goats, mountain bikes, dirt bikes, etc., The Colorado Trail is used by many.
Hiking between Lake Ann Pass and Cottonwood Pass was a blur, but there were sections I remember. We hiked down through forests of Spruce and Aspen, interspersed with small meadows where we would pause to look out over the valleys below. Well, I would pause at least. This section was probably beautiful during wildflower season. Finally, we dropped down through a final grove of Aspen and the trail spit us out at Indian Creek Trailhead.
From Indian Creek trailhead we had a 7.3 mile climb up to Cottonwood Pass, about 2,156 feet in elevation gain to 12,126. I walked about 15 feet, threw down my backpack, and flopped down on a rock. Sam had decided she did not want Shy to do the climb and was trying to use her InReach to tell Alfredo where to pick us up. I say "Us" because I was not arguing. I felt like crap and would be going along for the ride to town.
I was not as engaged in our pick up as I should have been, but saw Sam struggling and finally roused myself to give Sam our GPS coordinates for Alfredo to put in Google Maps. We did not have a cell signal so I could not access Google or login to GAIA to see the local road system, but I hoped we were not too far from a main road. You just never knew out here.
As we sat waiting, a man walked up with a fly rod. We chatted for a minute as he proudly told us he had caught over 100 trout in a nearby stream. Wow. The conversation did not naturally flow to hitching a ride, so I finally just asked if he could take us out to the main road. Our timing was perfect. The one pick-up truck in the dirt parking area belonged to him and he was leaving.
In these crazy times the fly fisherman driver wore a mask, and we wore masks also. In rural Colorado this seemed to be unusual. In my limited experience out here masks were not that popular along the trail, at least in small towns. Even restaurants in small towns said "It's up to you," when I had asked, as they served food with buffs and masks hanging around their necks.
The large cities practiced mask etiquette, but rural Colorado seemed not to worry about Covid as much. Interestingly, Colorado is one of the lower ranked states on a rate basis – coming in 11th. They are not really a touchy feely kind of state so maybe social distancing is their ace in the hole.
To say the 14 mile ride out on that god awful dirt road was rough would be a gross understatement. I watched as small Polaris machines zipped by us. Clearly pick-up trucks were not well suited for this boulder strewn, crater marked dirt road I thought as I got thrown from side to side in the cab of the truck.
Pride is a powerful thing, and it took every ounce of willpower I had not to throw up repeatedly. I was in the front passenger seat, and leaning forward I silently gripped the handle above the window as Sam chattered away from the back seat. That hour was the longest of my life. I was drenched by the time we arrived at the Taylor Park Trading Post.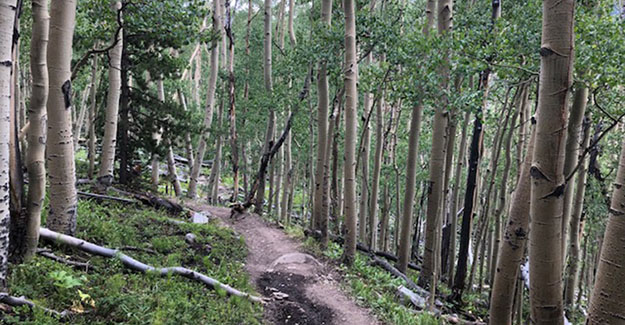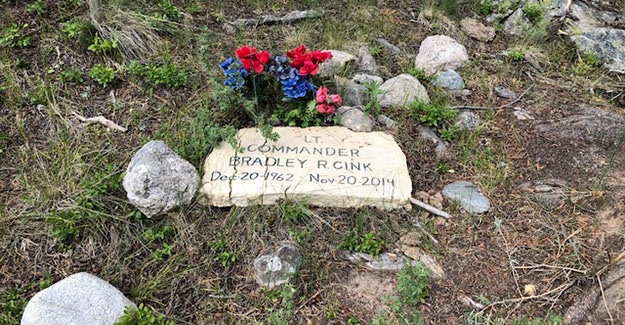 Taylor Park Trading Post was a little hole in the wall that had a General Store, Restaurant, and 1,000 dirt bikes and ATV's. I stumbled out of the pick-up truck as soon as it stopped in the parking lot and made my way over to the grass in front of the restaurant where I collapsed on the ground. Weakly smiling and waving I thanked the fly fisherman for the ride and collapsed back onto my Thinlight pad to wait for my nausea to subside.
Most people will tell you I have a VERY healthy appetite, probably assisted by a lot of backpacking, but I turned my head away from the two slices of apple pie that Sam had purchased from the restaurant. Not even town food could tempt my angry stomach.
What was frustrating was that I had RELIGIOUSLY used my Purel hand sanitizer, and filtered under 9,000 feet. Why was I sick?! I've found that when I do have stomach issues, 90 percent of the time they are attributed to not washing my hands enough when backpacking. Over the years I had learned to always carry a small bottle of sanitizer in my pocket, and I used it constantly. I had not had serious stomach problems in years.
I had booked a room at the Salida Hostel. It was on the edge of town, and a nice, quiet, reasonably priced place. Sam and Alfredo dropped me off where I checked in, headed up to my room, ordered some food that I just picked at, and promptly fell asleep. I woke up periodically to stumble to the bathroom, but immediately fell right back to sleep. This pattern continued for the next 24 hours.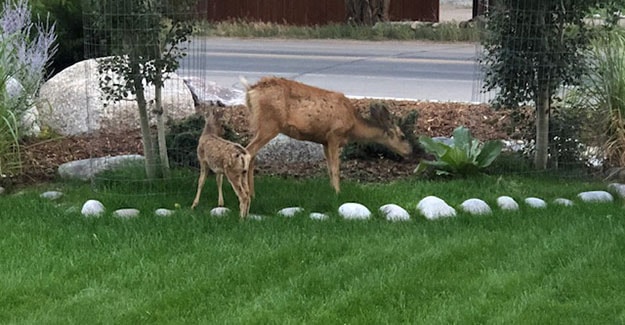 This page has affiliate links for products and gear I purchase and use. If you click on one of these links, I receive a small commission at no extra cost to you. There may also be Amazon links and as an Amazon Associate I earn from qualifying purchases. You can read more about my thoughts on affiliate marketing.