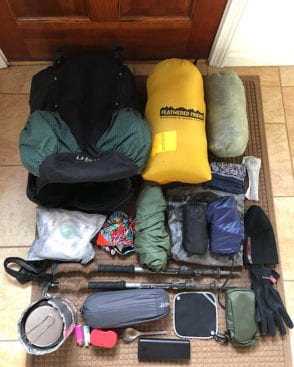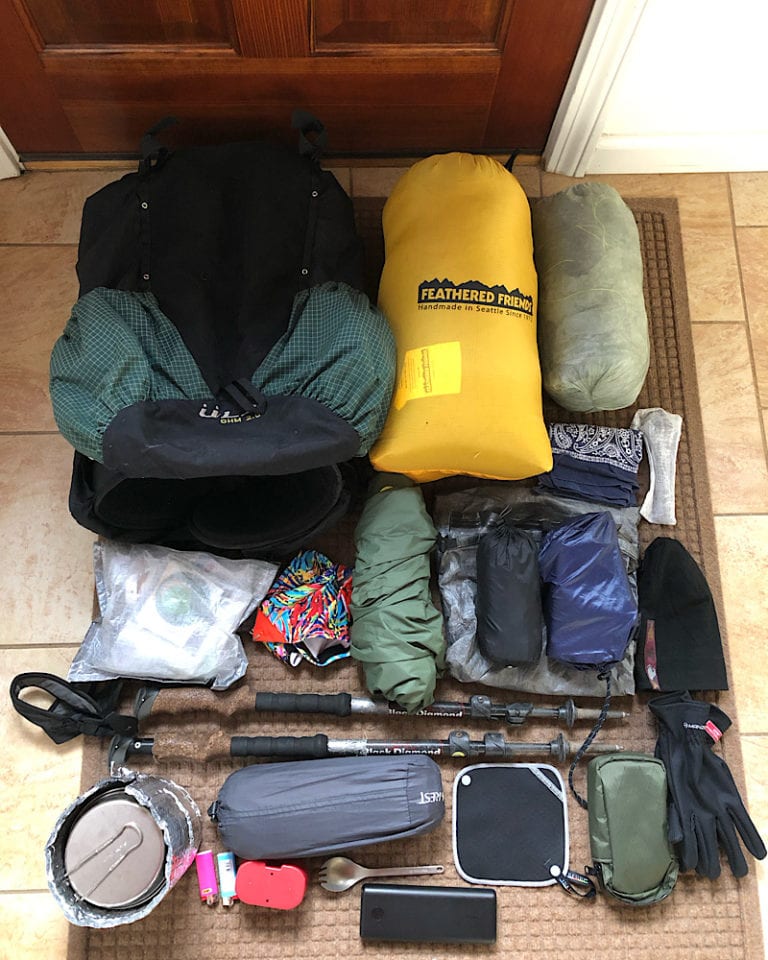 Gear for the Arizona Trail is not much different than what I use on other three-season hikes.
The Arizona Trail is a trail of extremes. The trail traverses diverse eco-systems, traveling between "Sky Islands." Hikers can travel from the desert floor to high alpine altitudes in the same day – desert heat to knee-deep snow.
This means I carry cold-weather gear when I hike the Arizona Trail in the Spring and Fall.
Water can also be scarce on the Arizona Trail, and often you are sharing water with both domestic and wild animals. You may need to carry additional water and treatment methods.
Arizona Trail Gear – Post Thoughts
I finished my most recent thru-hike of the Arizona Trail about two weeks ago. I've put together a post with thoughts on my gear. Hopefully, it helps with your decisions. I'm also always happy to answer any questions. It was a great hike and trail.
Gear List – Big Three
Katabatic Sawatch – I don't usually use quilts when temps drop below 30 degrees, but I've decided to take my Katabatic Sawatch Quilt. I added two ounces of Down to it and it worked well in cold temperatures on the Northville Placid Trail.
Zpacks Hexamid – I used my old Hexamid for years and decided to purchase a new floorless Hexamid @ 10 ounces. It does have fully enclosed netting since I hate sleeping with bugs (I've been a bit a few times by spiders). I'm using a piece of Polycro from Gossamer Gear for the floor. Once I cut it down to size it weighs about 2 ounces. It is amazingly durable. I also use a 1/8 Thinlight Pad that weighs about 1.5 ounces once I cut it in half. It mainly serves as my sit pad, and to stop my sleeping pad from sliding around on my footprint or tent floor. It also makes a good cozy for my pot.
ULA Ohm 2.0 – My 36 oz. Ohm can't be beaten for quality, durability, and comfort. I've worn these backpacks for years and have a review of the most recent Ohm 2.0. I've tried many brands – Hyperlite, Gossamer Gear, Osprey, Zpacks, etc., but for comfort over long distances, I always come back to ULA.
Sleeping
Cooking
Footwear
Clothing
Electronics
Arizona Trail Gear – Miscellaneous Items
Arizona Trail Gear List – Final Thoughts
I test a lot of gear throughout the year and usually take what works best on my longer hikes. There are some items I take new though if I trust the brands.
If you have any questions, please feel free to email me @ contactaveragehiker@gmail.com. I always enjoy discussing hiking and gear.
Related Links